C.J.
From Nookipedia, the Animal Crossing wiki
"What up, fishionista! C.J. here, comin' at you live from, uh... r-right in front of you! Nyuk!"
— C.J., Animal Crossing: New Horizons


Species
Gender
Beaver
Male
Birthday
March 7th
Favorite saying
"A night cruise is a good way to catch night fish."
Role
Fishing Tourney host
Buying fish
Fish models
Main appearances


Other appearances

Name in other languages

 

ジャスティン

 

저스틴

 

Castorino

 

Lomeus
C.J. is a beaver in the Animal Crossing series who debuted in Animal Crossing: New Horizons. He is the son of Chip, and replaces him as the host of the Fishing Tourney, a fish-catching event held throughout the year. He is also a regular visitor to the island.
C.J. and Flick appear to work together, with C.J. referring to him as his partner, mentioning that they live together, and implying he commissions him to create the fish models for the player.
Characteristics
[
edit
]
Appearance
[
edit
]
Like his father Chip, C.J. is a beaver, having the same appearance as Chip, but also with a few differences: his inner-ears are light-blue, while his eyes, which are bigger than Chip, have blue irises and dark-blue pupils. He also has a yellow tuft of hair sticking out on top of his forehead.
Personality
[
edit
]
Like his father Chip, C.J. loves hosting Fishing Tourneys. He is also shown to have a background in streaming and internet presence, as he will challenge the player to catch three fish of a certain size, claiming it is to "keep the fans happy." When visiting the player's island, he mentions that his "old man" showed him the ropes of fishing but never was able to do it.
Appearances
[
edit
]
In New Horizons

[

edit

]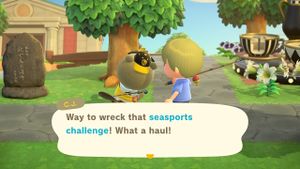 In Animal Crossing: New Horizons, when C.J. appears on the player's island, he will challenge them by either catching three small fish, big fish or five fish of any kind. Once the challenge is complete, the player can sell fish to him for 1.5x the sell price at Nook's Cranny. He can also have his roommate and business partner Flick make fish models for free if the player gives him three of the same fish, and he will mail the model the following day.
C.J. also hosts the Fishing Tourney in January, April, July, and October. His dialogue during this time has puns related to the ocean or fishing.
C.J. can also visit The Roost if his amiibo card is scanned at the amiibo phone; he brings Flick as a guest and vice versa. C.J. also appears alongside Chip if the latter's amiibo card is scanned. If the player scans his amiibo card in Happy Home Paradise, he will also bring along Flick to his vacation home.
In Pocket Camp

[

edit

]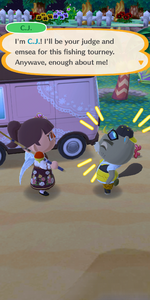 C.J. was added to Animal Crossing: Pocket Camp in November 2020, and has since replaced Chip as the host of the Fishing Tourneys. He functions similarly to Chip, by accepting tourney-related fish and adding it to a total size counter, and by providing the player challenges for them to complete for prizes.
Other appearances
[
edit
]
In Super Smash Bros. Ultimate

[

edit

]
Spirits
[
edit
]
Category
Class
Slot cost
Support Spirit
Advanced (★★)
1 (⬢)
Ability
Item Gravitation
Acquisition
Battle via Spirit Board (during the event "Animal Crossing Spirits! Yes, Yes!"; available normally once obtained or since July 21, 2020)
Battle information
Enemy fighters
Male Inkling
Type
Shield
Power
4,400
Stage
Wuhu Island (On the boat)
Rules
Assist Trophy Enemies (Starfy)
Item: Unira
Conditions
Defeat the main fighter to win
Hostile assist trophies will appear when the enemy's at high damage
The enemy favors side specials
Only certain Pokémon will emerge from Poké Balls (Goldeen)
Music
Kapp'n's Song
Villager information
[
edit
]
In New Horizons

[

edit

]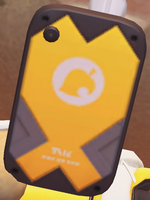 Birthday
Gender
Species
March 7
Male
Beaver
Initial NookPhone
   Yellow
Final NookPhone
   C.J.'s NookPhone
Happy Home Paradise traits
Umbrella
Fish Umbrella
Hobby
Fitness
Book
Sports
In Happy Home Paradise

[

edit

]
In Animal Crossing: New Horizons – Happy Home Paradise, C.J. will share a house with Flick.
C.J.
Client's vision
Vacation-Home Concept
Shares house with
Flick
Unlocked items

Furniture:
Card profiles
[
edit
]
amiibo card
[
edit
]
#412 C.J. -

Series 5
| | |
| --- | --- |
| Star sign: | Pisces |
| Birthday: | March 7 |
Gallery
[
edit
]
Names in other languages
[
edit
]
ジャスティン


Jasutin
Justin, likely a pun of the famous Canadian singer, since "beaver" sounds similar to "Bieber."

---

저스틴


Jeoseutin
Same as his Japanese name.

---

俞司廷


Yú Sītíng
From 贾斯廷 Jiǎsītíng (Justin) and the surname 俞 yú, consistent with Chip's Chinese name.

---

俞司廷


Unknown

---

Си-Джей


Si-Djey
Transliteration of his English name.

---

C.J.

Same as his English name.

---

Lomeus
Extending from Bartholo, Chip's German name, to form "Bartholomeus," the Latin equivalent of "Bartholomew."

---

CJ

Same as his English name.

---

Pollux

Extending from Castor, Chip's French name, and the mythical twins Castor and Pollux.

---

Castorino

Literally little beaver, the Italian for nutria, a sub-species of beaver - widely, a simple nod to Chip's Italian name, Castore.