Luna
From Nookipedia, the Animal Crossing wiki
This article is about the special character. For the villager whose Spanish name is Luna, see Cherry. For French, see Shari.
"Dreams are but a reflection of your unconscious self."
— Luna, Animal Crossing: Happy Home Designer, Welcome amiibo, and New Horizons


Species
Gender
Tapir
Female
Birthday
February 29th
Role
Dreams
Main appearances


Other appearances
Luna is a tapir introduced in Animal Crossing: New Leaf who allows the player to visit other towns via dreams. Her name comes from the relation between night's sleep and the moon; similarly, her Japanese name contains "yume," the Japanese word for "dream."
Characteristics
[
edit
]
Appearance
[
edit
]

Luna is a blackish-brown tapir with blonde hair tied in a bun, three white flower decorations with blue gems at their centers on her bun, ears with white tops, pink eyeshadow, blue "freckles" below her half-closed eyes, and red lipstick. She wears a white dress with pink linings, and red heels.
Personality
[
edit
]
Luna talks like a snooty villager and likes dreaming.
Appearances
[
edit
]
In New Leaf

[

edit

]
In Animal Crossing: New Leaf, Luna works in the Dream Suite. She allows the player to visit a previously visited town or any town found via SpotPass. In the world of dreams, the player can do anything they like, but any changes will not be saved and items cannot be brought back to the real world.
In New Horizons

[

edit

]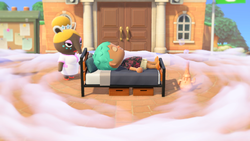 While initially absent from Animal Crossing: New Horizons, Luna, along with dreams, was added in the 1.4.0 Free Summer Update Wave 2.
The Dream Suite building does not exist in New Horizons and Luna never appears while the player is awake, unlike in New Leaf. Instead, the player can access Luna's services by sleeping in any bed within their home; beds placed outside and in other villagers' homes do not work. They also cannot be accessed on another player's island, or while the airport gate is open. Her services work the same as they do in New Leaf. When the player uploads their dream, Luna will mail them a Dream Bell Exchange Ticket the next day, which can be sold at Nook's Cranny for 5,000 Bells. She will send them another for each subsequent update made to the dream.
Prior to its removal in version 2.0, when the player scans Luna's amiibo card and tries to invite her, she will say:
Hello, this is Luna. Ah! It is you, Player. How may I help you?
A campsite, you say? To decompress and dream beneath a canopy of stars sounds wonderful... but no, I cannot.
There are many sweet dreams to compile and many travelers in need of a guide. Another time, perhaps.
Other appearances
[
edit
]
In Super Smash Bros. for Nintendo 3DS

[

edit

]
Luna appears as a trophy in Super Smash Bros. for Nintendo 3DS.
Description
NTSC-U: In some parts of the world it's believed tapirs eat dreams, but this one runs the Dream Suite to share dreams. Once you've given her a Dream Address and lain down, she'll send you off to sleep. Soon you'll find yourself in a town worthy of a dream. Enjoy your adventure!

PAL: In some parts of the world, tapirs are thought to eat dreams, but this lovely gal lets you share dreams in her Dream Suite. Just give her a Dream Address and lie down on the bed. She'll count sheep to help you drift off, and before she even gets to three, you'll open your eyes in a dreamtastic town, ready for adventure.
Acquisition
Random
Villager information
[
edit
]
In Happy Home Designer

[

edit

]
Luna
Birthday
February 29
Default umbrella
Elegant Umbrella
House request
Client's vision
I'll leave it up to you!
Favorite song
 K.K. Lullaby
Unlocked items
Furniture:

 

Aroma Pot

 

Perfume Bottle

 

Luna's Pic

Clothing:

 

Elegant Umbrella

Starting house:
In Happy Home Paradise

[

edit

]
Luna
Client's vision
Vacation-Home Concept
Unlocked items

Furniture:
Card profiles
[
edit
]
amiibo card
[
edit
]
#014 Luna -

Series 1
| | |
| --- | --- |
| Star sign: | Pisces |
| Birthday: | February 29 |
| Dice value: | 1 |
| Hand sign: | Paper |
Gallery
[
edit
]
Luna may be based on the Japanese myth of the baku, creatures that eat bad dreams of sleeping people and take the form of tapirs.
One of Katrina's fortunes implies Luna has trouble sleeping due to frequent nightmares, also hinting at the irony due to the Japanese folklore she may be based on.
Names in other languages
[
edit
]
ゆめみ


Yumemi
From 夢見 yumemi (dreaming)

---

몽셰르


Mongsyereu
From 夢 Mong (dream); also a pun on "mon chèr" (French for "my dear")

---

梦美


Mèng Měi
Dream Beauty, 美夢 (sweet dream)

---

Serenada
From Serenade

---

Alakama

A pun on a la cama, Spanish for "go to bed"

---

Serena

Based on sereine, meaning "serene"

---

Sonia

Italian given name. Sounds like "sogno," Italian for "dream."