Daisy Mae
Jump to navigation
Jump to search
This article is about the special character. For the villager, see Daisy.

"Turnips, turnips! Watch 'em rise! Try to earn a nice surprise!"
— Daisy Mae, Animal Crossing: New Horizons
Daisy Mae
 

 

ウリ

 

무파니

 

曹卖

 

Porcelette

 

Brunella

 

Juliana

 

Jorna

 

Daisy Mae

 

Дейзи-Мей




| Species | Gender |
| --- | --- |
| Boar | Female |

Birthday
May 5th
Service
Selling Turnips
Main Appearances
Other Appearances
Daisy Mae is a special character who debuted in Animal Crossing: New Horizons. She sells Turnips to the player, taking over the role established by Joan, her grandmother, in previous games.
Appearances
[
edit
]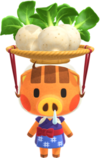 In New Horizons

[

edit

]
Daisy Mae visits the player's island every Sunday, arriving at 5 A.M. and leaving at 12 P.M. She wears a blue dress with a red bow and a white hood, with similar pound-sign patterns to Joan's work pants. She also has a drip of blue mucus running from her nose. She has black eyes with large red cheeks and a basket with turnips on her head.
If the player buys at least 100 Turnips from her on Sunday, they'll receive Bamboo Shoots from her via mail the next day.
Other appearances
[
edit
]
In Animal Crossing: Pocket Camp

[

edit

]
Daisy Mae is a guest character in Pocket Camp. She hosted the Daisy Mae's Pickin' Patch garden event from April 30, 2020 to May 11, 2020, providing the player with furniture from the Farm-Fresh Veggie Patch Set.
Gallery
[
edit
]
Screenshots
[
edit
]
According to the official companion guide for New Horizons by Future Press, Daisy Mae has a bad habit of eating Turnips rather than selling them, much to Joan's dismay.
One of Isabelle's quotes when asked about island evaluation, relayed from Daisy Mae, suggests that she took over Joan's role due to her weakening knees.
Names in other languages
[
edit
]
ウリ


Uri
From ウリ坊 uri-bō (wild boar piglet) and 売り uri (to sell)

---

무파니


Mupani

---




曹卖

 

/

 

曹賣


Cáo mài

The Chinese family name 曹 (Cáo) has the same pronunciation as 炒 (stir-fry). 炒 also holds the modern meaning 'mark up for profit'. So literally 炒 ('mark up for profit') and 卖 (sell).

---

Дейзи-Мей


Deyzi-Mey

Phonetic transcription of her English name

---

Daisy Mae

---

Jorna

---

Juliana

Likely from Hesperis matronalis/Juliana and a nod to Joan's Spanish name, Juana

---

Porcelette

From porc (pork), and a nod to Joan's French name, Porcella

---

Brunella

From bruno (brunet) and ravanello (turnip), and a nod to Joan's Italian name, Nella
ウリUriFrom ウリ坊 uri-bō (wild boar piglet) and 売り uri (to sell)무파니MupaniUnknownUnknownUnknownUnknown曹卖曹賣Cáo màiThe Chinese family name 曹 (Cáo) has the same pronunciation as 炒 (stir-fry). 炒 also holds the modern meaning 'mark up for profit'. So literally 炒 ('mark up for profit') and 卖 (sell).UnknownUnknownUnknownДейзи-МейDeyzi-MeyPhonetic transcription of her English nameDaisy MaeUnknownJornaUnknownJulianaLikely from Hesperis matronalis/Juliana and a nod to Joan's Spanish name, JuanaUnknownUnknownPorceletteFrom porc (pork), and a nod to Joan's French name, PorcellaUnknownUnknownBrunellaFrom bruno (brunet) and ravanello (turnip), and a nod to Joan's Italian name, NellaUnknownUnknown
Special Characters
[
edit
]