Neon tetra
From Nookipedia, the Animal Crossing wiki
| | | |
| --- | --- | --- |
| | Neon tetra |   |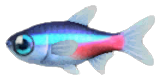 Real-world info
Name: Paracheirodon innesi
(neon tetra)
Family: Characidae (characids)
Main appearances
Other appearances
Names in other languages
ネオンテトラ
霓虹灯鱼
Néon bleu
Tetra neón
Pesce neon
Голубой неон
네온테트라
霓虹燈魚
Néon bleu
Tetra neón
Neonsalmler
Neontetra
The neon tetra is a river fish in the Animal Crossing series introduced in Animal Crossing: City Folk. It can be found from 9 AM to 4 PM from mid spring to late fall. It is the smallest fish in the Animal Crossing series.
Catch details
[
edit
]
In City Folk

[

edit

]
In New Leaf

[

edit

]
In Pocket Camp

[

edit

]
In New Horizons

[

edit

]
Donating to the museum
[
edit
]
In City Folk

[

edit

]
Upon the player's donating the fish to the museum, Blathers will say the following
"That metallic blue body! Hoo, that crimson tail! That pristine white belly! ...Now, THIS is what I call a tropical fish! No wonder this fish has the word "neon" in its name, eh wot? One of these should liven up the museum nicely!"
It can be found in the small tank to the left with the goldfish and popeyed goldfish in City Folk.
In New Leaf

[

edit

]
"Neon tetras get their name from the beautiful blue metallic line on their bodies. Although they're shy, gentle fish, surprisingly they're related to the piranha, though very distantly. They have very sharp and narrow teeth, an odd contrast to their beauty. They are delicate fish who tend to be very sensitive to the cleanliness and temperature of water."
In New Horizons

[

edit

]
When donating to the museum, Blathers will say the following: When donating to Blathers or selecting "Tell me about this!" in New Horizons, he will provide the following information about the fish:
"Hoo! Wonderful! The neon tetra is truly a marvel of the tropical-fish world. Just look at how tiny it is! And how very filled with...neon! I imagine its environment must be just as flashy as it is for it to have developed such colors. I wonder how flashy I might be, had I been raised somewhere even half as vibrant?"
Once donated to the museum, the neon tetra can be found in the small fish tank in the first exhibit room with the betta and rainbowfish.
Fishing Tourney
[
edit
]
During a Fishing Tourney, when given a neon tetra, Chip will say the following dialogue.
In City Folk

[

edit

]
"Boy, do those neon tetras go down smooth... I think. Nyuuuk nyuk nyuk nyuk!"
In New Leaf

[

edit

]
"Man, those neon tetras, I could eat these while juggling chainsaws. It's a bit risky for amateurs though. Come to think of it, I have no idea why I'd want to juggle chainsaws while trying to eat... Oh well, down the hatch for you!"
Gallery
[
edit
]
Real-world information
[
edit
]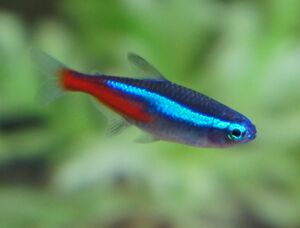 Neon tetras are native to backwater and clear water streams in southeastern Colombia, eastern Peru, and western Brazil, living in the Amazon river. Neon tetras are a popular aquarium fish, mainly because of its appealing coloration. It has a light-blue back that meets a silver-white abdomen, with a red and blue stripe in between them. It is however, transparent. During the night, when the neon tetra is inactive, it loses its red and blue stripe, which turns silver. There is a slight difference between male and female neon tetras. The males have a straight red-blue stripe while females have a slightly crooked stripe, because of their rounder body shape. Neon tetras can be afflicted by "Neon Tetra Disease" (or NTD), which is incurable. It involves the loss of coloration in the bodies as well as restlessness.
Names in other languages
[
edit
]
ネオンテトラ


neontetora
neon tetra

---

네온테트라


neonteteura
Neon tetra

---

霓虹灯鱼


níhóngdēng yú
Neon tetra (lit. "neon fish")

---

霓虹燈魚


Unknown

---

Голубой неон


Goluboy neon
Neon tetra (lit. "light blue neon")

---

Neontetra

Neon tetra

---

Neonsalmler

---

Tetra neón

Neon tetra

---

Néon bleu

Neon tetra (lit. "blue neon")

---

Pesce neon

Neon tetra (lit. "neon fish")