Mitten crab
From Nookipedia, the Animal Crossing wiki
| | | |
| --- | --- | --- |
| | Mitten crab |   |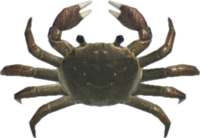 Real-world info
Name: Eriocheir sinensis
(Chinese mitten crab)
Family: Varunidae
Main appearances
Other appearances
Names in other languages
シャンハイガニ
中华绒螯蟹
中華絨螯蟹
참게
Crabe chinois
Crabe chinois
Cangrejo de Shanghái
Cangrejo de Shanghái
Granchio guantato
Мохнорукий краб
Wollhandkrabbe
Wolhandkrab
The mitten crab is a river fish in the Animal Crossing series introduced in Animal Crossing: New Leaf. It can be found from 4 PM to 9 AM throughout fall.
Catch details
[
edit
]
In New Leaf

[

edit

]
In Pocket Camp

[

edit

]
In New Horizons

[

edit

]
Donating to the museum
[
edit
]
In New Leaf

[

edit

]
After being donated to the museum, the mitten crab can be found in the left room inside the third tank. The exhibit has this to say about the mitten crab:
"Officially known as the mitten crab, they also go by the name "shanghai crab." They are commonly used in Chinese dishes, which is how most people become familiar with them. Their breeding habits are the complete opposite of salmon in that they hatch in the ocean first. They move up rivers when they reach adult size, returning to the ocean in order to spawn."
In New Horizons

[

edit

]
When donating to Blathers or selecting "Tell me about this!" in New Horizons, he will provide the following information about the fish:
"The mitten crab was named for its impossibly adorable and fuzzy little pincers. These cute crustaceans embark on quite the journey. They're first born in brackish waters. Then they mature in freshwater. Finally, they travel to the ocean to create more mitten crabs! Hoo! How I delight in the thought of thousands of tiny mittened crabs scuttling about!"
Once donated to the museum, the mitten crab can be found in the lower level of the waterfall tank with the sturgeon and the king salmon.
Fishing Tourney
[
edit
]
In New Leaf

[

edit

]
During a Fishing Tourney, when given a mitten crab, Chip will say the following:
"When you boil a mitten crab, the tastiest part is the eggs! Ever had crab eggs? Quite gravy! Think I'll just help myself to this guy raw, though! YUM!"
Gallery
[
edit
]
Real-world information
[
edit
]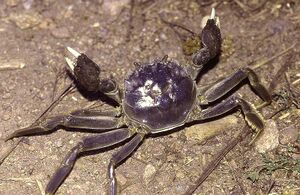 The 'mitten crab', also known as the 'Chinese mitten crab' or 'Shanghai crab' is a burrowing crab originating in Asia. On its claws are dense bristles that give it the appearance of wearing "mittens." This crab is also an invasive species in the U.S. and Europe, due to illegal transport and the crab's ability to survive in adverse conditions such as swimming pools. The 'mitten crab' is also a delicacy in Shanghai during the fall season, and it can now even be found in vending machines in China.
More information on this topic is available at Wikipedia..
Names in other languages
[
edit
]
シャンハイガニ


shanhai-gani
Shanghai crab

---

참게


chamge
Crab

---

中华绒螯蟹


zhōnghuáróng'áoxiè
Chinese mitten crab

---

中華絨螯蟹


Unknown

---

Мохнорукий краб


Mokhnorukiy krab
Moss crab

---

Wolhandkrab

Mitten Crab

---

Wollhandkrabbe

Wool hand crab

---

Cangrejo de Shanghái

Shanghai crab

---

Crabe Chinois

Chinese crab

---

Granchio guantato

Gloved crab