GracieGrace
From Nookipedia, the Animal Crossing wiki

The inside of GracieGrace in Animal Crossing: New Leaf.

Music (New Leaf)
https://nookipedia.com/wiki/File:NL_GracieGrace.flac
Function
Designer store
Services
Clothes,
Furniture
Staff
Gracie
Label[nb 1]
Opening Hours
9 AM – 9 PM[nb 2]
Main appearances


Other appearances

Names in other languages

 

グレイシーグレース

 

Unknown

 

Unknown

 

Grazias Grazie

 

Unknown

 

Unknown

 

Unknown

 

Unknown

 

Unknown

 

Unknown

 

Unknown

 

Unknown
GracieGrace is an upscale clothing and furniture store owned by Gracie in Animal Crossing: City Folk and Animal Crossing: New Leaf. It is operated by Labelle in City Folk and Gracie in New Leaf, and it offers exclusive clothing and furniture series.
Appearances
[
edit
]
Animal Crossing: City Folk

[

edit

]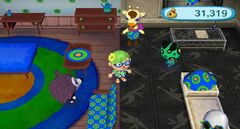 In City Folk, GracieGrace can be found in the city overlooking the center and city fountain. The prices are very high and the clothes and items sold there are very classy. It features the original Gracie shirts from Animal Crossing and Animal Crossing: Wild World along with new Gracie designs. Some of the designs, such as the tuxedo, are newer versions of clothing from the Able Sisters store. New Gracie accessories are available, too, as are furniture, wallpaper and carpet. Due to her celebrity status, Gracie does not run the shop personally; instead, Labelle the hedgehog fills in for her, but Gracie will occasionally appear to check up on the store and to offer fashion advice and critique. If the player chooses to wear a style like the GracieGrace outfit, they will get ten percent off everything in the store. Villagers may be found inside the store, usually complaining about the high prices.
Animal Crossing: New Leaf

[

edit

]
In New Leaf, GracieGrace makes a return on Main Street, where it is located on the third floor of T&T Emporium. The store sells the same items as seen in City Folk; however, Gracie runs the store herself because Labelle now works at the Able Sisters. During the sales taking place on the last month of each season, some of the furniture is sold out, but a new series called the Card Series takes the place of the sold out items. No furniture sold at GracieGrace, aside from the Card Series, can be refurbished. Smug and snooty villagers who shop there will often compliment Gracie on how "fashionable" and "elegant" she is. They will also say that the high prices in the store show that what they're buying is of good quality. Cranky and big sister villagers, however, will complain about the high prices.
Furniture
[
edit
]
GracieGrace's furniture and clothes change seasonally, unlike Tom Nook's or the Able Sisters, which change daily.
In City Folk

[

edit

]
In New Leaf

[

edit

]
Clothing
[
edit
]
Gracie also sells tops, headwear, accessories and umbrellas in her shop. Below is a list of the available clothing.
Bathrobe
Blue Argyle Top
Butterfly Shirt
Cake Shirt
Caterpillar Tee
Coral Shirt
Cool Shirt
Cow Shirt
Cyan Argyle Top
Flan Shirt
Giraffe Shirt
Gracie's Top
Groovy Shirt
Hot Dog Shirt
Ladybug Shirt
Maid Dress
Orange Pinstripe
Pink Argyle Top
Pleather Vest
Pulse Shirt
Red Argyle Top
Sandwich Shirt
Shirt Circuit
Tiger Shirt
Trenchcoat
Tuxedo
Witch Shirt
Zebra Shirt
Headwear
[
edit
]
Banana-Split Hat
Bridal Veil
Coin Headpiece
Elegant Hat
Funky Wig
Gracie Hat
Headband
Hot Dog Hat
Retro Helmet
Sundae Hat
Tiara
Witch's Hat
Accessories
[
edit
]
Aviator Shades
Gracie Glasses
Heart Shades
Masquerade Mask
Star Shades
Tortoise Specs
Umbrellas
[
edit
]
Elegant Umbrella
Gracie Umbrella
Modern Umbrella
Petal Parasol
GracieGrace holds a sale at the end of every season. During this period of time, items may disappear and be replaced with a "Sold Out" sign, suggesting that some villagers have bought them, though this cannot be seen by the player. The sales are as follows:
Starting the 15th of the last month with 20% off.
Starting the 21st of the last month with 30% off.
Starting the 26th of the last month with 50% off.
The player is also able to obtain a 10% discount by presenting a complete look to Gracie.
Gallery
[
edit
]
Sprites and models
[
edit
]
Screenshots
[
edit
]
Exterior
[
edit
]
Referencing the expensive prices, jocks will often talk about how one can build a stadium out of food for the price of something in GracieGrace in City Folk.
Sometimes a lazy villager in the store will say that they mistook the store for a candy shop in City Folk.

Fashion