Bonbon
Jump to navigation
Jump to search


Species
Personality
Gender
Rabbit
Peppy
Female
Birthday
March 3rd
Quote
"Hindsight is always 20/20."
Catchphrase
"deelish"
Clothing
Chocomint Tee[nb 1]
Sleeveless Tunic (Mint)[nb 2]
Main appearances
Other appearances
Name in other languages


 ミミィ
 미미
 Lolly
 Henrike

 妙妙
 Sylvette
 Chocolat
 Bonbon

 妙妙
 Sylvette
 Chocolat
 Бонбон

Phrase in other languages


 ヤバッ
 어뜨케
 hurrah
 hüppi

 不妙
 nananère
 oh lalá
 heer-lijk

 不妙
 nananère
 oh lalá
 вкусняшка
Bonbon is a peppy rabbit villager in the Animal Crossing series who first appears in Animal Crossing: New Leaf. Her may name come from the small, round, chocolate confection of the same name.
In New Horizons, Bonbon has the play hobby and can run around with their arms extended at any time, rather than only outside Resident Services during a scripted activity with a group of villagers.
Characteristics
[
edit
]
Appearance
[
edit
]
Bonbon is a brown rabbit with blonde bangs. Her paws are light pink, but her feet are dark brown, which makes it appear that she is wearing shoes. She has pink eyeshadow and pink blush. Her makeup can make her look like a snooty villager. She has a yellow nose.
Personality
[
edit
]
Below is a brief description of the peppy personality. For more information, click here.
Bonbon is a peppy villager, meaning she will appear quite stubborn and forgetful, usually forgetting any small arguments she may have had with other villagers and the player, she will also appear very hyper. As a peppy villager, she will have an interest in sugary snacks and reading Ms. Nintendique magazine - a magazine read by both peppy and snooty villagers. She, like other peppy villagers, may claim to have appeared in the magazine.
Villager information
[
edit
]
In New Leaf

[

edit

]
Picture
Hindsight is always 20/20.
Biography
Siblings
Youngest of two
Skill
Competitive eating
Goal
Swimmer
Fear
Monster Mask
Favorites
Clothing
Cute
Historical
Color
White
Coffee
Type
Mocha
Milk
The regular amount
Sugar
Two spoonfuls
Ideal Gifts for Bonbon – White Cute
https://dodo.ac/np/images/3/33/BonbonPicACNH.pngYoungest of twoCompetitive eatingSwimmerMonster MaskCuteHistoricalWhiteMochaThe regular amountTwo spoonfuls
In New Horizons

[

edit

]
Birthday
Personality
Catchphrase
March 3
Peppy (A)
deelish
Default Clothing
Sleeveless Tunic (Mint)
Favorite Styles
Cute and Elegant
Favorite Colors

 

Aqua

and

 

Yellow

Hobby
Play
Carried Bag
Classy
Book
Comic
Food
Sandwich
Drink
Smoothie or coffee cup
Popsicle
Chocolate
Ideal Clothing for Bonbon – Aqua / Yellow Cute and Elegant Clothing
In New Leaf

[

edit

]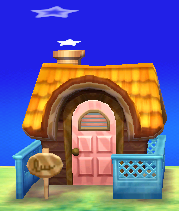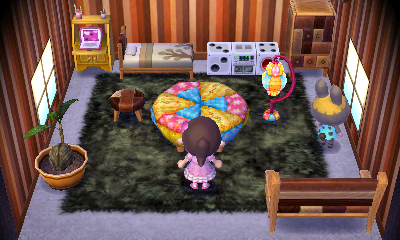 Items:

 

Patchwork Table

 

Modern Wood Bed

 

Dice Stereo

 

Modern Wood Sofa

 

Home-Computer Rack

 

Modern Wood Closet

 

Modern Wood Stool

 

Patchwork Lamp

 

Coconut Palm

 

Modern Wood Clock

Wallpaper:
 

Modern Wood Wall

Floor:
 

Sleek Carpet

Music:
K.K. Disco
In New Horizons

[

edit

]
In New Horizons, if Bonbon is one of the villagers who moved in during the main storyline after the villager house development quest, her house will have a combination of non-craftable furniture, plus items crafted by players during the island development storyline, primarily from the Wooden Block Series.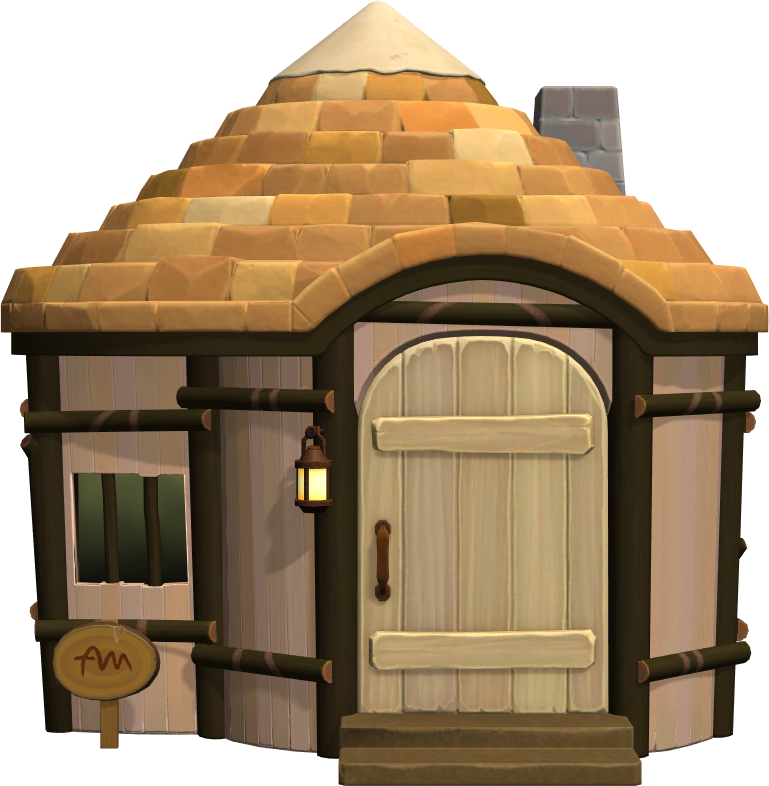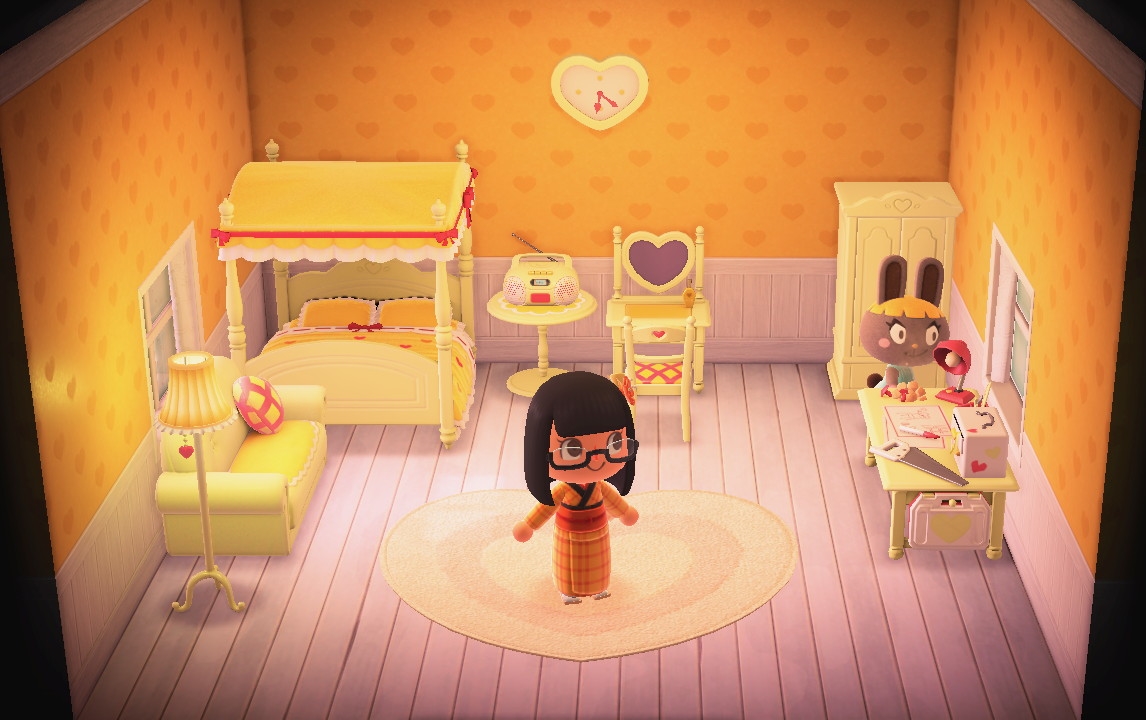 Card profiles
[
edit
]
amiibo card
[
edit
]
amiibo card

Card back

#049 Bonbon -

Series 1

| | |
| --- | --- |
| Star sign: | Pisces |
| Birthday: | March 3 |
| Dice value: | 5 |
| Hand sign: | Scissors |
Gallery
[
edit
]
Bonbon appears on the album cover of "Aloha K.K."
Bonbon's birthday is a reference to her Japanese name. The number "3" can be pronounced as "mi" in Japanese, so "3/3" is "mi mi."
Names in other languages
[
edit
]
ミミィ


Mimyi

Possibly from the Japanese word for ears, "耳" (mimi), referring to her long rabbit ears

---

미미


Mimi

Same as Japanese name

---

妙妙




-

---

Бонбон


Unknown

---

Bonbon

-

---

Henrike

-

---

Chocolat

From "chocolate"

---

Sylvette

-

---

Lolly

-
ミミィMimyiPossibly from the Japanese word for ears, "耳" (mimi), referring to her long rabbit ears미미MimiSame as Japanese nameUnknownUnknownUnknown妙妙Unknown-UnknownUnknownUnknownБонбонUnknownBonbon-Henrike-ChocolatFrom "chocolate"UnknownUnknownSylvette-UnknownUnknownLolly-UnknownUnknown
See also
[
edit
]