Megumi
From Nookipedia, the Animal Crossing wiki
The subject of this page has no official English localization, so a translation of the original Japanese name is used instead.
| | | |
| --- | --- | --- |
| | Megumi |   |



Species
Personality
Gender
Dog
Peppy
Female
Star sign
Aries
Catchphrase
"きゅん"
Clothing
Berry gingham
Umbrella
Mod umbrella
Main appearances


Other appearances

Phrase in other languages
Megumi (メグミ, Megumi?) is a peppy dog villager in Doubutsu no Mori e+. She can only move to the player's town if her e-Reader card is scanned.
Characteristics
[
edit
]
Appearance
[
edit
]

Megumi is a light pink dog. Her paws are a darker pink, and her belly is white. Her ears and the top of her head are a deep pink color and resemble a hairline and pigtails. She has hot pink blush on her cheeks and black eyes, each with two eyelashes.
Personality
[
edit
]
Below is a brief description of the peppy personality. For more information, click here.
Megumi has a peppy personality, meaning she will be friendly and excitable. She will get along with most villagers since she is open to all personalities.
Villager information
[
edit
]
In Doubutsu no Mori e+

[

edit

]
In Doubutsu no Mori e+

[

edit

]
In Doubutsu no Mori e+, Megumi's house features the same furniture layout as Winnie's.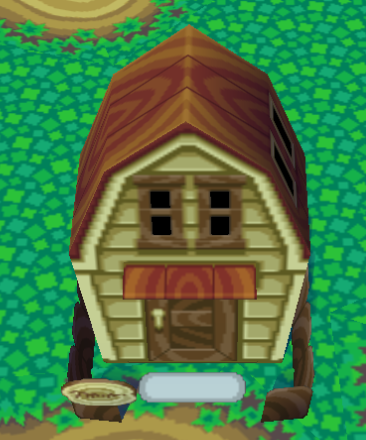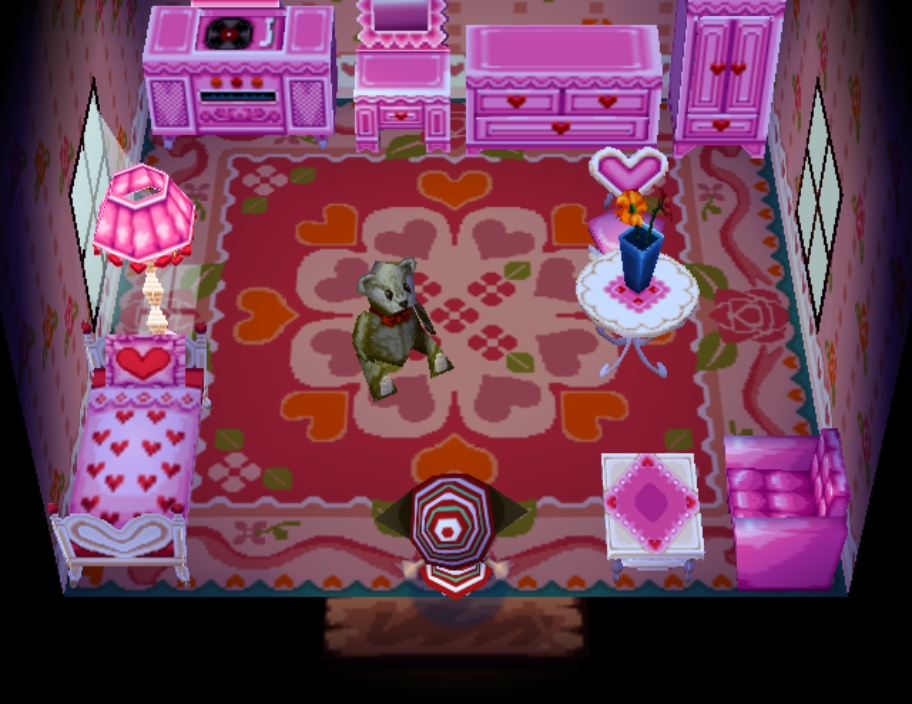 Card profiles
[
edit
]
Doubutsu no Mori e+ e-Reader card

[

edit

]
#058 メグミ (Megumi) -

Series 3

Gender:
Female
Clothes:
いちごギンガムのふく
strawberry gingham clothes
Star sign:
牡羊座
Aries
Favorite phrase:
きゅん
kyun
Profile:
可愛い人は、みんなに一目置かれます。なにかと話しかけづらかったりするんです。でもって、勇気出して話しかけてみたら、案外フランクだったりするんです。
People always notice someone who appears sweet and pretty. It is not always easy to approach them. However, if you have the courage to talk to them, you may be surprised to find they are quite open and candid.
Favorite saying:
虎穴に入らずんば虎子を得ず
If you do not enter the tiger's den, you will not get the tiger's cub
(Nothing ventured, nothing gained)
Gallery
[
edit
]
Megumi is featured on the official website for Doubutsu no Mori e+ to distribute codes for the Mario Theme, alongside Frett, Kid Cat, Peggy, Lolly, Vivian, Roscoe, Poko, Hopkins, Bree, and Broccolo.
Megumi appears in the e-Reader card artwork for "Steep Hill." However, from Animal Crossing: New Leaf onward, the album cover artwork replaces Megumi with Daisy, another dog villager.
Megumi shares her Japanese catchphrase with Bluebear, though Megumi's is spelled in hiragana, while Bluebear's is in katakana.
Names in other languages
[
edit
]
メグミ


Megumi
-
See also
[
edit
]