Meow
From Nookipedia, the Animal Crossing wiki
The subject of this page has no official English localization, so a translation of the original Japanese name is used instead.
This article is about the villager. For the Welcome amiibo currency, see MEOW Coupon.
| | | |
| --- | --- | --- |
| | Meow |   |



Species
Personality
Gender
Cat
Peppy
Female
Star sign
Virgo
Catchphrase
"ミャウ"
Clothing
Blossom shirt
Umbrella
Gingham parasol
Main appearances


Other appearances

Phrase in other languages
Meow (ミャウ, Myau?) is a peppy cat villager in Doubutsu no Mori e+. Her name and design are based on the MeowLingual translation device which translates cat sounds into distinct emotions that can be understood by humans. Her canine counterpart is Bow, whose name and design is based on a similar translation device for dogs, called the BowLingual.
Meow can only move into a town after scanning her e-Reader card, which was exclusively bundled with the Mori o Tsukurou! figurine set F-49.
Characteristics
[
edit
]
Appearance
[
edit
]
Meow is a pink cat with a dark pink head and a green face that resembles a monochrome LCD screen. Her face screen displays whiskers, and the MeowLingual logo can be seen on her forehead.
Personality
[
edit
]
Below is a brief description of the peppy personality. For more information, click here.
Meow is a peppy villager, meaning she will be friendly and excitable, coming out of her home often and rarely being discouraged from doing anything. Being a peppy villager, she will get along with normal, jock, and lazy villagers, but may annoy cranky and snooty with her upbeat personality.
Villager information
[
edit
]
In Doubutsu no Mori e+

[

edit

]
In Doubutsu no Mori e+

[

edit

]
In Doubutsu no Mori e+, Meow's house features the same furniture layout as Olive and Sylvia's.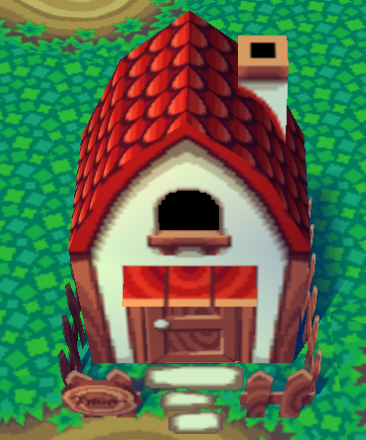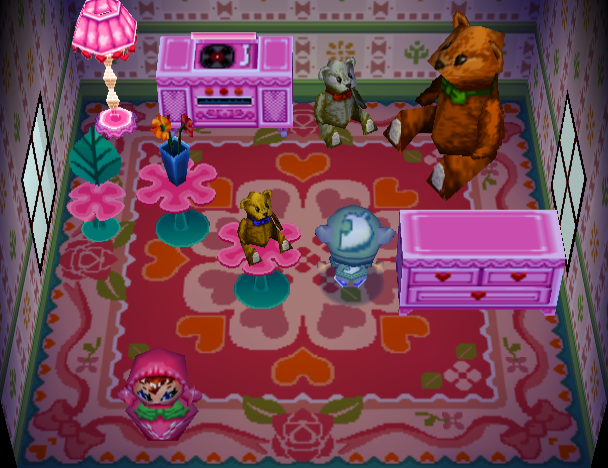 Card profiles
[
edit
]
Doubutsu no Mori e+ e-Reader card

[

edit

]
PR4 ミャウ (Meow) -

Promotional (Takara)

Gender:
Female
Clothes:
ピンクはながらのふく
pink floral pattern clothes
Star sign:
おとめ座
Virgo
Favorite phrase:
ミャウ
myau ("meow")
Profile:
ちょっとした仕草や表情から、相手の考えをビシバシ見抜くするどいミャウちゃん。彼女の前じゃ、ウソをついてもすぐにバレちゃいます。
Meow-chan has a keen sense of perception, and she can tell what others are thinking from the slightest gesture or expression. If you try to lie in front of her, she will know right away.
Favorite saying:
声紋分析
Voiceprint analysis
Gallery
[
edit
]
Names in other languages
[
edit
]
ミャウ


Myau
Meow
See also
[
edit
]