Nindori
Jump to navigation
Jump to search
Nindori
 

 

ニンドリ

 

N/A

 

N/A

 

N/A

 

N/A

 

N/A

 

N/A

 

N/A

 

N/A

Star sign
Virgo
Phrase
ドクソウ

More languages

 ドクソウ
 N/A
 N/A
 N/A
 N/A
 N/A
 N/A
 N/A
 N/A

Clothes
G Logo Shirt
Saying

独創に勝る者なし

Main Games
Other Games

Nindori is a jock ostrich villager from the Animal Crossing series, only appearing in the Japanese exclusive Doubutsu no Mori e+. Nindori was created as part of a collaboration with Japanese gaming magazine Nintendo Dream. His name directly derives from Nintendo Dream, which is known as NinDori for short, though dori can also mean "bird". He later went on to become the magazine's mascot and became officially known as Nindori-kun. He can only move into town after scanning his e-Reader card, which was exclusively distributed by Nintendo Dream magazine.
Characteristics
[
edit
]
Appearance
[
edit
]
Nindori is an orange ostrich with a yellow beak and feet. He has black-tipped wings and tail feathers. His eyes are very large and black, with just a small portion of his sclera showing - because of this he is often mistaken to have hollow eyes, similar to a Gyroid's. He has a few yellow hairs sticking out of the back of his head, and his head resembles the layout of a Nintendo GameCube.
Personality
[
edit
]
Below is a brief description of the jock personality. For more information, click here.
Nindori is a jock villager with an interest in fitness and sports, which he will mention frequently. He will get along with peppy villagers, but will not get along with lazy villagers due to their dislike of exercising.
In Doubutsu no Mori e+

[

edit

]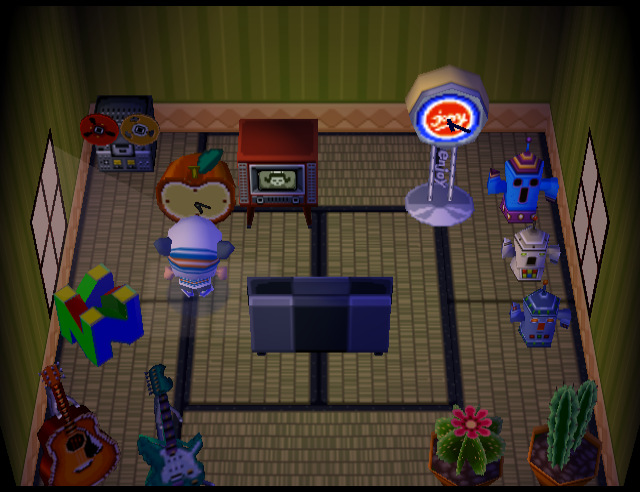 Style:
No style
Items:

 

Reel-to-Reel

 

Retro TV

 

Apple Clock

 

Kitsheky Clock

 

Quazoid

 

Roboid

 

Blue Roboid

 

Modern Sofa

 

N logo

 

Acustic Guitar

 

Electric Guitar

 

Small Cactus

 

Tall Cactus

Wallpaper:
 

Green Wall

Flooring:
 

Planked Tatami

Music:
Go K.K. Rider!
Gallery
[
edit
]
Merchandise
[
edit
]
Names in other languages
[
edit
]
ニンドリ


Nindori

From "Nintendo" and "~鳥(-dori)", the suffix for Japanese bird species.
ニンドリNindoriFrom "Nintendo" and "~鳥(-dori)", the suffix for Japanese bird species.UnknownUnknownUnknownUnknownUnknownUnknownUnknownUnknownUnknownUnknownUnknownUnknownUnknownUnknownUnknownUnknownUnknownUnknownUnknownUnknownUnknownUnknownUnknownUnknownUnknownUnknownUnknownUnknownUnknownUnknownUnknownUnknown

Jock Villagers
Current Jock Villagers

Ace

Analog

Antonio

Axel

Aziz

Bam

Biff

Bill

Billy

Boone

Boots

Buck

Bud

Champ

Coach

Cobb

Cousteau

Curly

Dom




Drift

Flip

Frobert

Fruity

Gen

Genji

Goose

Hambo

Hamlet

Hank

Hector

Holden

Iggly

Iggy

Inkwell

Jay

Jitters

Kevin

Kid Cat

Kit

Kody

Leonardo

Louie

Lyman

Mac

Masa

Moose

Mott

Nindori

Peck

Pierce

Pierre

Pigleg

Poko

Poncho

Quetzal

Ribbot

Roald

Rod

Rory

Rowan

Samson

Scoot

Sheldon

Shinabiru

Shoukichi

Sly

Snake

Sparro

Sprocket

Sterling

Stinky

Tad

Tank

Tarou

Teddy

Tybalt

Woolio

Former Jock Villagers

Ed

Harry

Leopold