Carrot
From Nookipedia, the Animal Crossing wiki
The subject of this page has no official English localization, so a translation of the original Japanese name is used instead.
This article is about the villager named Carrot. For the vegetable, see Produce.
| | | |
| --- | --- | --- |
| | Carrot |   |



Species
Personality
Gender
Cow
Normal
Female
Star sign
Gemini
Catchphrase
"きゃはっ"
Clothing
Tropical shirt
Umbrella
Berry umbrella
Main appearances


Other appearances

Phrase in other languages
Carrot (キャロット, Kyarotto?) is a normal cow villager in Doubutsu no Mori e+. She can only move to the player's town if her e-Reader card is scanned. Her name comes from her appearance, which resembles a carrot.
Characteristics
[
edit
]
Appearance
[
edit
]
Carrot is a cow resembling a carrot, with orange fur and green hair. She has yellow horns. The inside of her ears are a pale pink. She has tips of yellow on her hands and feet. There is blush under her eyes the same color as the pink in her ears.
Personality
[
edit
]
Below is a brief description of the normal personality. For more information, click here.
Carrot has a normal personality, which means she will come across as caring and over-friendly toward the player. When hit with a net or pushed she won't become mad but may become upset. She will get on well with peppy and jock villagers, appearing motherly or sisterly towards them. She may become upset when talking to a cranky or snooty villager, due to their cruel nature which make them seem rude or heartless and will spread rumors about them or other villagers.
Villager information
[
edit
]
In Doubutsu no Mori e+

[

edit

]
In Doubutsu no Mori e+

[

edit

]
In Doubutsu no Mori e+, Carrot's house features the same furniture layout as Bangle, Nindori, and Paula's.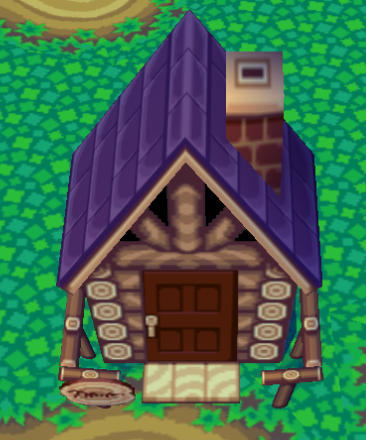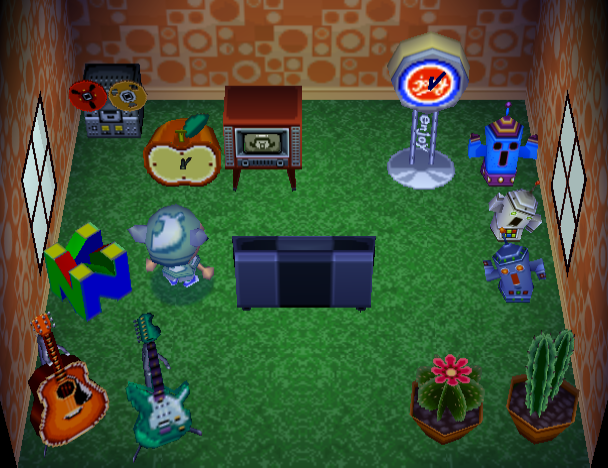 Card profiles
[
edit
]
Doubutsu no Mori e+ e-Reader card

[

edit

]
#008 キャロット (Carrot) -

Series 1

Gender:
Female
Clothes:
ポリネシアンなふく
Polynesian clothes
Star sign:
双子座
Gemini
Favorite phrase:
きゃはっ
kyaha
Profile:
いやー、若いっていいですね。我が世の春って感じです。まあこういう人は、得てして一生春だったりもするのですが。
Ohh, it's nice to be young. It feels like spring in my world. Well, people like this are often in spring all their lives.
Favorite saying:
箸が転んだもおかしい
It's funny that the chopsticks have fallen
(Laughing a lot at trivial things. In particular, refers to girls in their late teens.)[1]
Gallery
[
edit
]
Names in other languages
[
edit
]
キャロット


Kyarotto
Carrot
See also
[
edit
]
References
[
edit
]