Coach
Jump to navigation
Jump to search


Species
Personality
Gender
Bull
Jock
Male
Birthday
April 29th
Quote
"Fool me once, shame on you. Fool me twice, shame on me."
Catchphrase
"stubble"
Clothing
Relay Tank (Blue)
Main appearances
Other appearances
Name in other languages


 テッチャン
 철소
 Ercole
 Arnold

 大常
 Arnold
 Cacho
 Coach

 大常
 Arnold
 Cacho
 Коуч

Phrase in other languages


 ジョリッ
 땅땅
 oooh issa
 schnoff

 胡渣
 mon cou
 chacho
 stoppel

 鬍渣
 bétail
 chacho
 раз-два
Coach is a jock bull villager in the Animal Crossing series. He first appeared in Animal Crossing: New Leaf. His name refers to sports coaches, relating to his jock personality. His catchphrase "stubble" relates to the five o'clock shadow he has which is commonly called a stubble. He is the only bull villager that is not lazy or cranky.
Characteristics
[
edit
]
Appearance
[
edit
]

Coach is a yellow bull, with black hair, blue horns, small black eyes and has spots on his nose giving the impression of facial hair.
Personality
[
edit
]
Below is a brief description of the jock personality. For more information, click here.
Coach is a jock, meaning he loves sports and fitness and he will criticize the player on their fitness. Due to this, he may offend and upset cranky and snooty villagers. He also will not get along with lazy villagers, due to having conflicting lifestyles. On the other hand, he will get along well with peppy villagers, the female equivalent of jock villagers.
Preferences
[
edit
]
Animal Crossing: New Leaf

[

edit

]
Picture
Fool me once, shame on you. Fool me twice, shame on me.
Biography
Siblings
Oldest of 6
Skill
Eating quickly
Goal
Fisherman
Fear
Monster Mask
Favorites
Clothing
Sporty
Modern
Color
Red
Coffee
Type
Blend
Milk
Lots
Sugar
Three spoonfuls
Ideal Gifts for Coach – Red Sporty
https://dodo.ac/np/images/a/a3/CoachPicACNH.pngOldest of 6Eating quicklyFishermanMonster MaskSportyModernRedBlendLotsThree spoonfuls
In New Horizons

[

edit

]
Species
Gender
Personality
Bull
Male
Jock (A)
Birthday
April 29
Catchphrase
stubble
Default Clothing
Relay Tank (Blue)
Favorite Style
Active
Favorite Colors
Blue and Red
Hobby
Fitness
Ideal Clothing for Coach – Blue / Red Active Clothing
In New Leaf

[

edit

]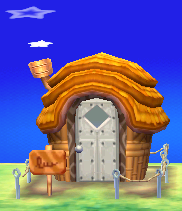 Style:
No style
Items:

 

High-Jump Mat

 

Watering Trough

 

Volleyball Net

 

Hurdle

 

Hurdle

 

Hurdle

 

Hurdle

 

Ball Catcher

 

Tape Deck

 

Boxing Mat

Wallpaper:
 

Sporty Wall

Floor:
 

Sporty Floor

Music:
Marine Song 2001
In New Horizons

[

edit

]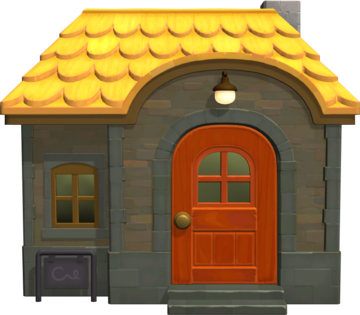 Card profiles
[
edit
]
Happy Home Designer amiibo Card

[

edit

]
Animal Crossing amiibo card

Card back

#126 Coach -

Series 2

| | |
| --- | --- |
| Type: | Bull |
| Star sign: | Taurus |
| Birthday: | April 29th |
| Dice value: | 6 |
| Hand sign: | Rock |
Gallery
[
edit
]
Names in other languages
[
edit
]
テッチャン


Tetchan
From a type of horumonyaki made from beef intestine, said to be good for building stamina.

---

철소


cheolso

-

---

大常


Dà cháng

---

Коуч


Kouch

From English name

---

Coach

Same as English name

---

Arnold

power

---

Cacho

horn

---

Arnold

power

---

Ercole

Italian form of Hercules, a Greek demigod known for heroism
テッチャンTetchanFrom a type of horumonyaki made from beef intestine, said to be good for building stamina.철소cheolso-UnknownUnknown大常UnknownDà chángUnknownUnknownUnknownUnknownКоучKouchFrom English nameCoachSame as English nameArnoldpowerCachohornUnknownUnknownArnoldpowerUnknownUnknownErcoleItalian form of Hercules, a Greek demigod known for heroismUnknownUnknown