Quetzal
Jump to navigation
Jump to search
This article is about the eagle villager. For the villager whose German name is the same as this villager's English name, see Avery.

Quetzal
 

 

ハチェット

 

N/A

 

战斧

 

Quetzal

 

Quetzal

 

Quetzal

 

Enrique

 

N/A

 

N/A

Star sign
Virgo
Phrase
SKREEE

More languages

 ゲロッパ (geroppa)
 couêêêtzal
 OCCHIO
 KRIKRI

Clothes
Rally Shirt
Main Games
Other Games

Quetzal is a jock, eagle villager from the Animal Crossing series. His two appearances were in Animal Crossing and Dōbutsu no Mori e+. His name comes from quetzals, a bird native to the Americas, although quetzals are green, tropical trogons rather than eagles. This ties in with the Native American-style warpaint he appears to have on his cheeks.
Characteristics
[
edit
]
Appearance
[
edit
]

Quetzal is a gray eagle that greatly resembles a Native American, similar to Leigh, a peppy chicken villager, and has red war-paint on his cheeks, while also having green and orange striped tips at the end of his feathers. His orange beak is also tipped yellow at the end and along his nostrils. Quetzal also has black eyes with orange irises that appear stern, representing his determined personality.
Personality
[
edit
]
Below is a brief description of the jock personality. For more information, click here.
Quetzal is a jock villager, meaning he will like to talk about muscles and exercising. Quetzal will not get along with lazy villagers, due to their conflicting lifestyles, and will also question snooty villagers on their weight, offending them.
In Animal Crossing

[

edit

]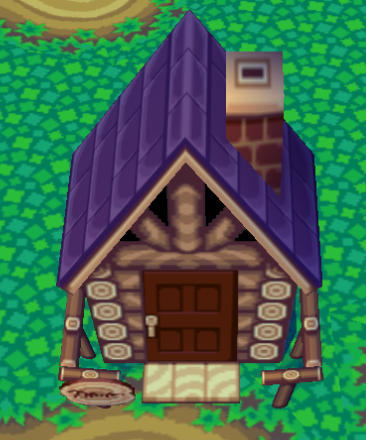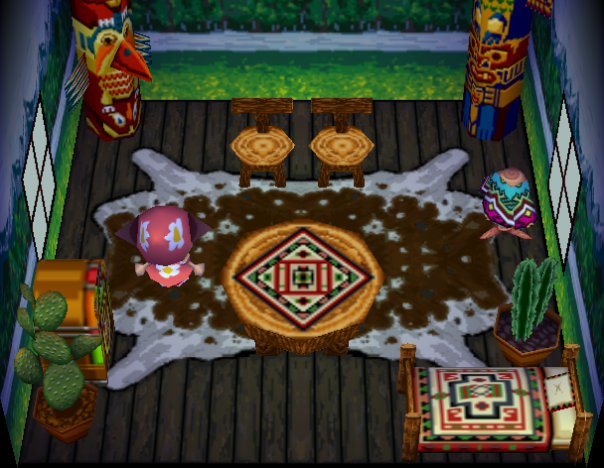 Style:
No style
Items:

 

Bear Pole

 

Eagle Pole

 

Cabin Chair

 

Cabin Chair

 

Cabin Table

 

Cabin Bed

 

Jukebox

 

Tall Cactus

 

Cactus

Wallpaper:
 

Mountain View

Flooring:
 

Cowhide Rug

Music:
K.K. Western
Card profiles
[
edit
]
Animal Crossing e-Reader Card

[

edit

]
Animal Crossing-e card

Card back

#170 Quetzal -

Series 3

Gender:
Male
Species:
Eagle
Clothes:
rally shirt
Sign:
Virgo
Phrase:
SKREEE
Password:
PUZ2hNl#W@VXe6
TyFRw4qOsxVeQE
Profile:

 
He hates to admit it, but Quetzal is really into interior design. He claims he just likes moving his furniture around because it helps him keep in shape, but that's just a cover story.
Gallery
[
edit
]
Names in other languages
[
edit
]
ハチェット


Hachetto

Hatchet

---

战斧

 (iQue)
zhànfǔ

Battleaxe, from Japanese name

---

Enrique

-

---

Quetzal

-

---

Quetzal

-

---

Quetzal

-
ハチェットHachettoHatchet战斧zhànfǔBattleaxe, from Japanese nameUnknownUnknownUnknownUnknownUnknownUnknownUnknownUnknownEnrique-Quetzal-UnknownUnknownQuetzal-UnknownUnknownQuetzal-UnknownUnknown

Jock Villagers
Current Jock Villagers

Ace

Analog

Antonio

Axel

Aziz

Bam

Biff

Bill

Billy

Boone

Boots

Buck

Bud

Champ

Coach

Cobb

Cousteau

Curly

Dom




Drift

Flip

Frobert

Fruity

Gen

Genji

Goose

Hambo

Hamlet

Hank

Hector

Holden

Iggly

Iggy

Inkwell

Jay

Jitters

Kevin

Kid Cat

Kit

Kody

Leonardo

Louie

Lyman

Mac

Masa

Moose

Mott

Nindori

Peck

Pierce

Pierre

Pigleg

Poko

Poncho

Quetzal

Ribbot

Roald

Rod

Rory

Rowan

Samson

Scoot

Sheldon

Shinabiru

Shoukichi

Sly

Snake

Sparro

Sprocket

Sterling

Stinky

Tad

Tank

Tarou

Teddy

Tybalt

Woolio

Former Jock Villagers

Ed

Harry

Leopold