Flip
Jump to navigation
Jump to search
This article is about the monkey villager. For the villager whose English name is the same as this villager's French name, see Rudy.

Flip
 

 

さすけ

 

원승

 

天佑

 

Rudy

 

Benny

 

Monet

 

Pippo

 

Flip

 

Флип

Birthday
November 21st
Phrase
rerack

More languages

 どっこい (dokkoi)
 빠샤
 差不多
 oh hisse
 clap clap
 afuá
 kikiki
 oe-⁠a-⁠a
 у-у-у

Clothes
Happi Tee
Saying
See no donut, hear no donut, speak no donut.
Main Games
Other Games

Flip is a monkey villager in the Animal Crossing series. He first appeared in Animal Crossing: New Leaf, where he replaces Champ who was originally intended to appear. Flip's name is likely a reference to a monkey's behavior: some monkeys are known to flip in the air while climbing in trees, and his picture quote is a reference to "see no evil, hear no evil, say no evil", otherwise known as the "three evils" that is typically represented by three monkeys. His Japanese name refers to Sarutobi Sasuke, a famous fictional ninja whose surname Sarutobi means "monkey jump".
Characteristics
[
edit
]
Appearance
[
edit
]
Flip is an orange monkey with pink cheeks, and buckteeth. The inside of his ears are green.
Personality
[
edit
]
Below is a brief description of the Jock personality. For more information, click here.
Flip has a jock personality, meaning he will have a great interest in sports and fitness. He is seen competitive during events. He will get along well with peppy villagers, but will be confused with the lifestyle of lazy villagers. Flip goes to sleep at 12:00 AM and wakes up at 7:00 AM.
Preferences
[
edit
]
In New Leaf

[

edit

]
Picture
See no donut, hear no donut, speak no donut.
Biography
Siblings
Second of four
Skill
Climbing trees
Goal
Pro golfer
Fear
Ghost
Favorites
Clothing
Sporty
Modern
Color
Yellow
Coffee
Type
Kilimanjaro
Milk
A little bit
Sugar
One spoonful
Ideal Gifts for Flip – Yellow Sporty
https://dodo.ac/np/images/c/c6/FlipPicACNL.pngSecond of fourClimbing treesPro golferGhostSportyModernYellowKilimanjaroA little bitOne spoonful
In New Horizons

[

edit

]
Photo
See no donut, hear no donut, speak no donut.
Favorites
Style
Active
Simple
Color
Blue / Yellow
Ideal Gifts for Flip – Blue / Yellow Active and Simple Items
https://dodo.ac/np/images/c/c6/FlipPicACNL.pngUnknownUnknownUnknownUnknownUnknownUnknownUnknownUnknownUnknownUnknown
Flip's house has a Japanese theme to it. His flooring is the Planked Tatami, and his initial wallpaper is the Shoji Screen. He will have a Hearth, a Tea Tansu, a Kotatsu, and a few other Japanese items. K.K. Rally plays on his CD Player.
In New Horizons

[

edit

]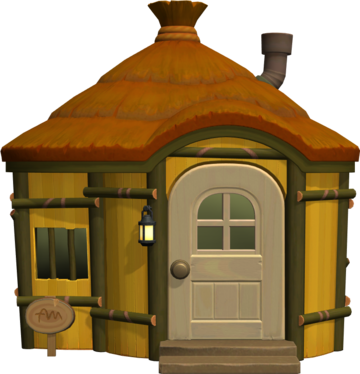 Style:
No style
Items:
Wallpaper:
 

Cherry-Blossom-Trees Wall

Flooring:
 

Gravel Flooring

Music:
K.K. Rally
Other appearances
[
edit
]
In Pocket Camp

[

edit

]
Animal Crossing: Pocket Camp Character Info

Needed to Invite:

Required Friendship Level: 7


| | | | | |
| --- | --- | --- | --- | --- |
| | | | | |
| Tearoom Rug | Rice Balls | Zen Barrel | Floor Seat | Kotatsu |

Friendship Rewards:


Happi Tee
and Sparkle Stone


Sparkle Stone


Taiko Drum
Craft Unlock
Level 7
Level 9
Level 15


Pic of Flip‎‎
and Sparkle Stone


Sparkle Stone


Sparkle Stone

Level 20
Level 25
Level 30

| | | |
| --- | --- | --- |
| Sparkle Stone | Sparkle Stone | Sparkle Stone |
| Level 35 | Level 40 | Level 45 |

Flip


Flip considers every day a holiday and everywhere he goes a festival. If you're not celebrating when he sees you, that's a problem he can easily solve.

 Preferred theme:
 Primary reward:
 Steel
Card profiles
[
edit
]
Animal Crossing amiibo Card

[

edit

]
Animal Crossing amiibo card

Card back

#177 Flip -

Series 2

| | |
| --- | --- |
| Type: | Monkey |
| Star sign: | Scorpio |
| Birthday: | November 21th |
| Dice value: | 1 |
| Hand sign: | Rock |
Gallery
[
edit
]
Names in other languages
[
edit
]
さすけ


Sasuke

-

---

원승




---

天佑




---

Флип


Unknown

---

Flip

-

---

Pippo

-

---

Monet

-

---

Rudy

-

---

Benny

-
さすけSasuke-원승UnknownUnknown天佑UnknownUnknownUnknownUnknownUnknownФлипUnknownFlip-Pippo-Monet-UnknownUnknownRudy-UnknownUnknownBenny-UnknownUnknown

Jock Villagers
Current Jock Villagers

Ace

Analog

Antonio

Axel

Aziz

Bam

Biff

Bill

Billy

Boone

Boots

Buck

Bud

Champ

Coach

Cobb

Cousteau

Curly

Dom




Drift

Flip

Frobert

Fruity

Gen

Genji

Goose

Hambo

Hamlet

Hank

Hector

Holden

Iggly

Iggy

Inkwell

Jay

Jitters

Kevin

Kid Cat

Kit

Kody

Leonardo

Louie

Lyman

Mac

Masa

Moose

Mott

Nindori

Peck

Pierce

Pierre

Pigleg

Poko

Poncho

Quetzal

Ribbot

Roald

Rod

Rory

Rowan

Samson

Scoot

Sheldon

Shinabiru

Shoukichi

Sly

Snake

Sparro

Sprocket

Sterling

Stinky

Tad

Tank

Tarou

Teddy

Tybalt

Woolio

Former Jock Villagers

Ed

Harry

Leopold