Bam
Jump to navigation
Jump to search
This article is about the deer villager. For the villager whose English name is the same as this villager's German name, see Benjamin.

Bam
 

 

タケル

 

록키

 

小健

 

Nacer

 

Cornelio

 

Cornelio

 

Benjamin

 

Bam

 

Бам

| Species | Personality | Gender |
| --- | --- | --- |
| Deer | Jock | Male |

Birthday
November 7th
Phrase
boosh

NA


kablang

EU

More languages

 ナラね
 슉슉
 梅花
 têtedebois
 hop hop
 galilla
 caplúúú
 weihweih
 gaffel
 скок-скок

Clothes
Green Warm-Up Shirt[nb 1]
Athletic Jacket (Green)[nb 2]
Saying
Get while the getting's good.
Main Games
Other Games
Bam is a deer villager in the Animal Crossing series, and is currently the only jock deer. He debuted in Animal Crossing: New Leaf, and was one of the first villagers announced for the release of the game. His name is likely a reference to the famous deer, Bambi.
Characteristics
[
edit
]
Appearance
[
edit
]
Bam is a blue deer with lighter blue muzzle and rings around his eyes, with dark grey freckles and brown antlers, orange irises and brown pupils, and brown hooves. He has yellow insides of his ears.
Personality
[
edit
]
Below is a brief description of the jock personality. For more information, click here.
As a jock villager, Bam is obsessed with physical fitness and sports, and rarely becomes angered. His interests are unknown as most other jock villagers in the game. He acts brotherly to the player, supporting them and competing with them constantly. When he asks the player for a favor, he often calls it a trial of physical fitness or a workout. Unlike most other jock villagers, however, he does not seem to be dimwitted. He does not get along well with lazy villagers because of their contrasting lifestyles.
Preferences
[
edit
]
In New Leaf

[

edit

]
Picture
Get while the getting's good.

Biography
Siblings
Fourth of five
Skill
Back flipping
Goal
Soccer player
Fear
Mummy mask

Favorites
Clothing
Sporty
Traditional
Color
Aqua
Coffee
Type
Blend
Milk
A little
Sugar
1 spoonful

Ideal Gifts for Bam – Aqua Sporty
https://dodo.ac/np/images/1/11/BamPicACNL.pngFourth of fiveBack flippingSoccer playerMummy maskSportyTraditionalAquaBlendA little1 spoonful
Bam's house has a Tennis Table, an Exit Sign, an Office Locker, a Vaulting Horse, and a Ball Catcher. It seems that his house has a sports theme. He initially lacks a stereo, but if he gains one, DJ K.K. will play in his house.
In New Horizons

[

edit

]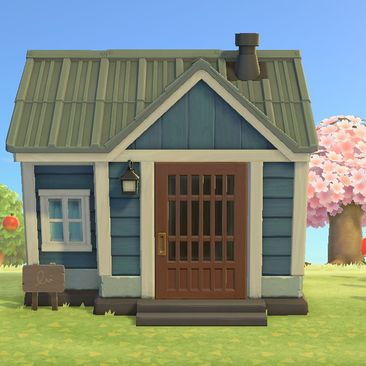 Style:
No style
Items:

 

Upright Locker

 

Folding Chair

 

Cute Music Player

 

Utility Sink

 

Blue Corner

 

Tennis Table

 

Outdoor Table

 

Stack Of Books

 

Whiteboard

 

Wall Fan

Wall:
 

Concrete Wall

Carpet:
 

Blue Rubber Flooring

Music:
K.K. Blues
Style:
No style
Items:

 

Upright Locker

 

Folding Chair

 

Cute Music Player

 

Utility Sink

 

Blue Corner

 

Tennis Table

 

Outdoor Table

 

Stack Of Books

 

Whiteboard

 

Wall Fan

Wall:
 

Concrete Wall

Carpet:
 

Blue Rubber Flooring

Music:
K.K. Blues
Other appearances
[
edit
]
In Happy Home Designer

[

edit

]
Happy Home Designer House Info

Bam

| | |
| --- | --- |
| Type: | Jock Deer |
| Client's Vision: | A field-trip atmosphere. |
| Required Items: | - |
| Favorite Song: | - |
| Favorite Saying: | Get while the getting's good. |
In Pocket Camp

[

edit

]
Appearance since March 24th, 2018
Animal Crossing: Pocket Camp Character Info

Needed to Invite:

Required Friendship Level: 3


| | | | | |
| --- | --- | --- | --- | --- |
| | | | | |
| Folding Chair | School Desk | Hurdle | Aloe | Worktable |

Friendship Rewards:


Green Warm-Up Jacket
and Sparkle Stone


Sparkle Stone


Exercise Ball
Craft Unlock
Level 7
Level 9
Level 10


Pic of Bam‎‎
and Sparkle Stone


Sparkle Stone


Sparkle Stone


Sparkle Stone

Level 20
Level 25
Level 30
Level 35

Bam


With Bam, there are no surprises. His outspoken nature can be jarring at first, but he isn't afraid to say what's on his mind.

 Preferred theme:
 Primary reward:
 Steel
Card profiles
[
edit
]
Animal Crossing amiibo Card

[

edit

]
Animal Crossing amiibo card

Card back

#237 Bam -

Series 3

| | |
| --- | --- |
| Type: | Deer |
| Star sign: | Scorpio |
| Birthday: | November 7th |
| Dice value: | 5 |
| Hand sign: | Scissors |
Gallery
[
edit
]
Artwork
[
edit
]
Sprites & Models
[
edit
]
Screenshots
[
edit
]
Names in other languages
[
edit
]
タケル


Takeru
From 健 Takeru, a commonly used name in Japan

---

록키


Rocky

Contains 록 (鹿), a kanji meaning "deer" in Korean.

---

小健


Xiǎo Jiàn

From Japanese name

---

Бам


Bam

From English name

---

Bam

Same as English name

---

Benjamin

-

---

Cornelio

Cornelius, a given name meaning "horn"

---

Nacer

From the word Cerf meaning Deer

---

Cornelio

Cornelius
タケルTakeruFrom 健 Takeru, a commonly used name in Japan록키RockyContains 록 (鹿), a kanji meaning "deer" in Korean.UnknownUnknownUnknown小健UnknownXiǎo JiànFrom Japanese nameUnknownUnknownUnknownБамBamFrom English nameBamSame as English nameBenjamin-CornelioCornelius, a given name meaning "horn"UnknownUnknownNacerFrom the word Cerf meaning DeerUnknownUnknownCornelioCorneliusUnknownUnknown
Jock Villagers
Current Jock Villagers

Ace

Analog

Antonio

Axel

Aziz

Bam

Biff

Bill

Billy

Boone

Boots

Buck

Bud

Champ

Coach

Cobb

Cousteau

Curly

Dom




Drift

Flip

Frobert

Fruity

Gen

Genji

Goose

Hambo

Hamlet

Hank

Hector

Holden

Iggly

Iggy

Inkwell

Jay

Jitters

Kevin

Kid Cat

Kit

Kody

Leonardo

Louie

Lyman

Mac

Masa

Moose

Mott

Nindori

Peck

Pierce

Pierre

Pigleg

Poko

Poncho

Quetzal

Ribbot

Roald

Rod

Rory

Rowan

Samson

Scoot

Sheldon

Shinabiru

Shoukichi

Sly

Snake

Sparro

Sprocket

Sterling

Stinky

Tad

Tank

Tarou

Teddy

Tybalt

Woolio

Former Jock Villagers

Ed

Harry

Leopold