Friga
Jump to navigation
Jump to search
"You can't learn a life lesson from a fortune cookie."
— Friga, Animal Crossing: New Leaf
Friga
 

 

サブリナ

 

사브리나

 

谢宾娜

 

Friga

 

Frida

 

Frida

 

Frieda

 

Friga

 

Фрига

Birthday
October 16th
Phrase
brrmph

More languages

 ツルルン (tsururun)
 으쓱
 滑溜溜
 bourfff
 brrrumf
 heladito
 urfff
 grrmpf
 brrrhmpf
 брр-хм

Clothes
Cozy Sweater

*


Picnic Shirt

*


Picnic Tee

*

Saying
You can't learn a life lesson from a fortune cookie.
This isn't a fortune cookie, it's an important life lesson!


一夜の氷の上を歩くな

Main Games
Other Games

Friga is a snooty, penguin villager in the Animal Crossing series. She has appeared in every game so far. Friga may be named from "frigid," meaning cold, which relates to many typical penguins being Antarctic creatures. "Frigid" also means "stiff" or "formal", words which befit the overly formal lifestyles of snooty villagers.
Characteristics
[
edit
]
Appearance
[
edit
]

Friga is light, porcelain pink-skinned and a dark blue penguin with turquoise blue eye liner, mascara, and pink blush. She has black hair on her forehead that is combed down into a snazzy, modular way and her eyes gleam into a fabulous disposition. Her flippers (arms) are the same color as her back and tipped with a light pink crescent moon shape. She has yellow-orange feet and a large beak. Her appearance in Doubutsu no Mori has many differences; her face is dark pink, her eyes are smaller, her hair is purple, and she has orange-reddish blush.
Personality
[
edit
]
Below is a brief description of the snooty personality. For more information, click here.
Friga, as a snooty villager, may show disapproval or contempt over other villagers. She will sometimes tells the player to knock before entering her home or give her a present when coming in. If she talks to other characters, she may sometimes "fancy them mad" because of her impudent observations. Like Aurora, she knows she is a penguin, but unlike her, she gets upset because she says, "Nothing's more pitiful than a bird that can't fly. Oh, there are times when I wish I weren't one." Gwen may also sometimes say this, but Cube and Roald do not seem to care that they are penguins at all. Friga loves collecting white furniture and will ask the player to get some for her. She has many hobbies and likes to tell the player about interesting things she does, delighting in the idea that she may be acting surprising. She will say things such as "Oh, you didn't know I did [x]?" While Friga may start off being condescending and shallow, she will quickly become more mellow and friendly, sharing in her interests with the player.
Preferences
[
edit
]
In Wild World

[

edit

]
Ideal Clothing for Friga – Cool
https://dodo.ac/np/images/b/bb/FrigaPicACNL.pngUnknownUnknownUnknownUnknownCoolFunkyUnknownUnknownUnknownUnknown
In City Folk

[

edit

]
Favorites
Clothing
Cool
Funky
Furniture Genre
Trendy/Dignified
Furniture Series
Regal
Furniture Color
Pink
Ideal Furniture for Friga – Pink Trendy/Dignified
| Name | Price | Available From |
| --- | --- | --- |
| Super Toilet | 1,980 | Crazy Redd |
https://dodo.ac/np/images/b/bb/FrigaPicACNL.pngUnknownUnknownUnknownUnknownCoolFunkyPinkUnknownUnknownUnknown
In New Leaf

[

edit

]
Picture
You can't learn a life lesson from a fortune cookie.
Biography
Siblings
Eldest of two
Skill
Board Games
Goal
Drummer
Fear
Mummy Mask
Favorites
Clothing
Ornate
Sporty
Color
Pink
Coffee
Type
Blend
Milk
A little bit
Sugar
One spoonful
Ideal Gifts for Friga – Pink Ornate
https://dodo.ac/np/images/b/bb/FrigaPicACNL.pngEldest of twoBoard GamesDrummerMummy MaskOrnateSportyPinkBlendA little bitOne spoonful
In New Horizons

[

edit

]
Photo
You can't learn a life lesson from a fortune cookie.
Favorites
Style
Elegant
Gorgeous
Color
Pink / Black
Ideal Gifts for Friga – Pink / Black Elegant and Gorgeous Items
https://dodo.ac/np/images/b/bb/FrigaPicACNL.pngUnknownUnknownUnknownUnknownUnknownUnknownUnknownUnknownUnknownUnknown
Like most snooty villagers, she has an elegant house made mostly of Regal furniture and some clothes and umbrellas displaying on it; she has an Arched Window as wallpaper and a Classic Carpet. On her stereo she plays K.K. Tango in all the versions.
In New Horizons

[

edit

]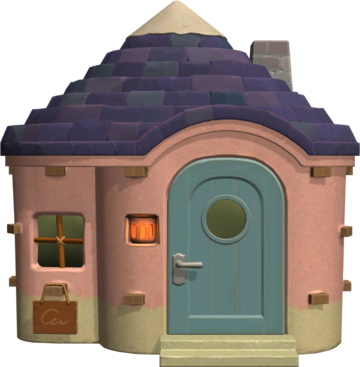 Style:
No style
Items:
Wallpaper:
 

White Subway-Tile Wall

Flooring:
 

Stone Tile

Music:
Farewell
Card profiles
[
edit
]
Animal Crossing e-Reader Card

[

edit

]
Animal Crossing-e card

Card back

#196 Friga -

Series 3

Gender:
Female
Species:
Penguin
Clothes:
Cozy sweater
Sign:
Libra
Phrase:
brrmph
Password:
XkoxxKYr2sw7Yk
#dnBw3k#IKyr&9
Profile:

 
Friga's a penguin, so it stands to reason that she'd enjoy cold weather. Of course, she's equally comfortable in all seasons... Although that fact doesn't stop her from complaining about the other seasons.
Happy Home Designer amiibo Card

[

edit

]
Animal Crossing amiibo card

Card back

#238 Friga -

Series 3

| | |
| --- | --- |
| Type: | Penguin |
| Star sign: | Libra |
| Birthday: | October 16th |
| Dice value: | 6 |
| Hand sign: | Paper |
Gallery
[
edit
]
Names in other languages
[
edit
]
サブリナ


Sabrina

-

---

사브리나


Sabrina

-

---

谢宾娜

 (iQue)


-

---

Фрига


Unknown

-

---

Friga

-

---

Frieda

-

---

Frida

-

---

Friga

-

---

Frida

-
サブリナSabrina-사브리나Sabrina-谢宾娜-UnknownUnknownUnknownUnknownUnknownUnknownUnknownФригаUnknown-Friga-Frieda-Frida-UnknownUnknownFriga-UnknownUnknownFrida-UnknownUnknown