Mint
Jump to navigation
Jump to search


Species
Personality
Gender
Squirrel
Snooty
Female
Birthday
May 2nd
Quote
"Always lead by example."
Catchphrase
"ahhhhhh"
Clothing
Gumdrop Dress (Pop)[nb 1]
Main appearances
Other appearances
Name in other languages


 ミント
 민트
 Mentulla
 Marika

 小敏
 Amande
 Menta
 Mint

 小敏
 Amande
 Menta
 Минт

Phrase in other languages


 うっふん
 우훗
 squercia
 knabber

 喔哼
 ahhhhhh
 bichito
 ahhhhhh

 喔哼
 ahhhhhh
 bellotuá
 ах-ах
Mint is a snooty, squirrel villager from the Animal Crossing series, appearing in every installment to date. Mint gets her name from the color of her fur, which is mint green. Her picture quote and initial phrase also refer to mint and its common refreshing sensation.
According to her e-Reader card bio, Mint supposedly used to be brown as a hazelnut and had her fur turn mint green after weeks of eating mint candies.
Characteristics
[
edit
]
Appearance
[
edit
]

Mint is a mint-green squirrel with black hair on her head. She has well-defined eyelashes under each eye and has pale pink blush on her cheeks. She has black, white and darker green on her tail, which resembles a sweet. Because of "sweet/candy" appearance, she may be mistaken for a peppy villager.
Personality
[
edit
]
Below is a brief description of the snooty personality. For more information, click here.
As a snooty villager, Mint will first appear rude and arrogant towards the player, often talking about herself and her own experiences, but will be nice and pleasurable if the conversation is mature and non-insulting. She may also talk about the style and appearance of other villagers, usually other female villagers such as normal, peppy, sisterly, and other snooty villagers. She will soon warm up to the player, confining in them about her own personal feelings but still keeping subtly rude. She will find it hard to get along with other villagers, specifically jock and lazy villagers who have conflicting lifestyles compared to her own. She may get on with cranky villagers, who also enjoy gossiping about the appearance and lifestyles of others. Like peppy villagers, she reads a magazine called Ms. Nintendique, an unseen magazine featuring in Animal Crossing: Wild World.
Preferences
[
edit
]
In Wild World

[

edit

]
Ideal Clothing for Mint – Cool
UnknownUnknownUnknownUnknownCoolStrangeUnknownUnknownUnknownUnknown
In City Folk

[

edit

]
Favorites
Clothing
Cool
Strange
Furniture Genre
Trendy/Dignified
Furniture Series
Blue
Furniture Color
Blue
Ideal Furniture for Mint – Blue Trendy/Dignified
| Name | Price | Available From |
| --- | --- | --- |
| Blue Bed | 2,100 | Crazy Redd |
| Blue Bureau | 2,160 | Tom Nook |
| Blue Wardrobe | 1,920 | Tom Nook |
| Blue Chair | 1,200 | Tom Nook |
| Blue Bench | 1,900 | Tom Nook |
| Blue Table | 1,800 | Crazy Redd |
| Blue Bookcase | 1,900 | Tom Nook |
| Blue Cabinet | 2,400 | Tom Nook |
| Blue Clock | 1,600 | Tom Nook |
| Blue Dresser | 2,100 | Spotlight |
https://dodo.ac/np/images/8/83/MintPicACNH.pngUnknownUnknownUnknownUnknownCoolStrangeBlueUnknownUnknownUnknown
In New Leaf

[

edit

]
Picture
Always lead by example.
Biography
Siblings
Second of four
Skill
Cramming for tests
Goal
Architect
Fear
Werewolf Hood
Favorites
Clothing
Official
Flashy
Color
Blue
Coffee
Type
Blend
Milk
None
Sugar
None
Ideal Gifts for Mint – Blue Official
https://dodo.ac/np/images/8/83/MintPicACNH.pngSecond of fourCramming for testsArchitectWerewolf HoodOfficialFlashyBlueBlendNoneNone
In New Horizons

[

edit

]
Ideal Gifts for Mint – Pink / Purple Gorgeous and Cute Items
https://dodo.ac/np/images/8/83/MintPicACNH.pngUnknownUnknownUnknownUnknownUnknownUnknownUnknownUnknownUnknownUnknown
In Animal Crossing, Mint has a Papa Bear and Mama Bear, with K.K. Country playing on her stereo. She has most of the items from the Blue Series in all games of the Animal Crossing series. She also has K.K. Soul playing on a Retro Stereo in her house in Wild World, City Folk and New Leaf, rather than K.K. Country.
In New Horizons

[

edit

]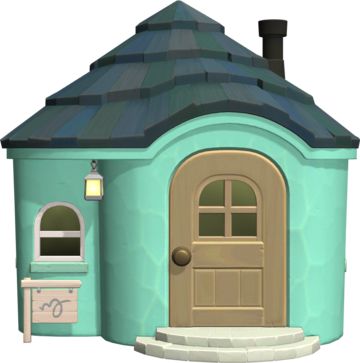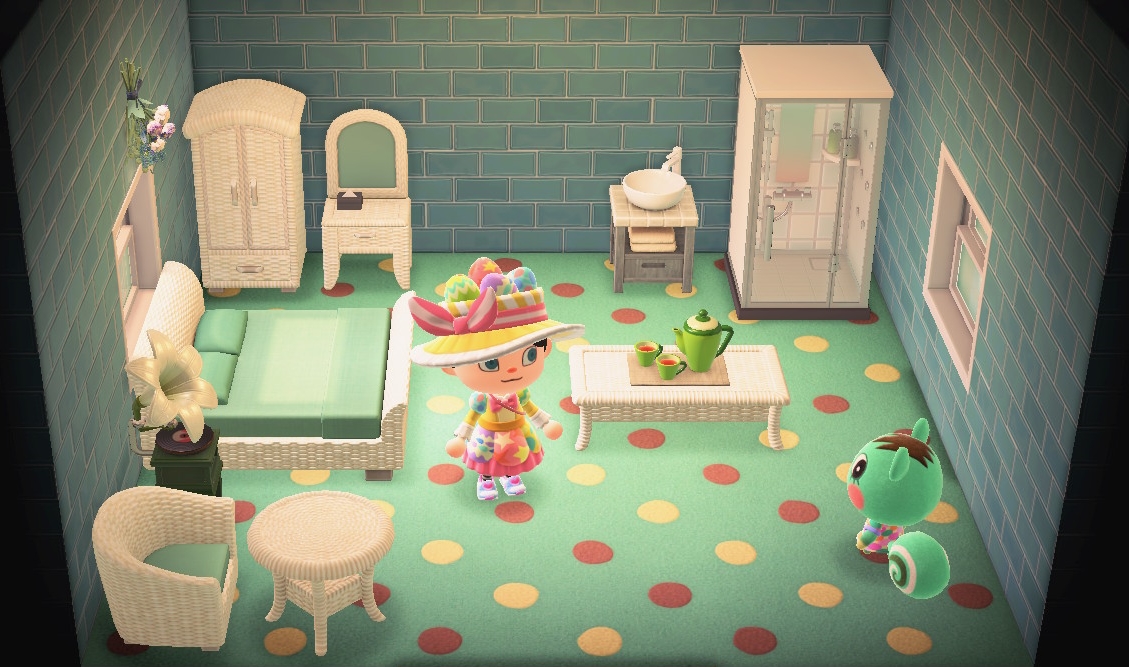 Other appearances
[
edit
]
In Happy Home Designer

[

edit

]
Happy Home Designer House Info

Mint

Type:
Snooty Squirrel
Client's Vision:
An ice-cream shop.
Required Items:
Ice-Cream Case
Soft-Serve Lamp
Favorite Song:
K.K. Bossa
Favorite Saying:
Always lead by example.
Card profiles
[
edit
]
Animal Crossing-e card

Card back

#214 Mint -

Series 4

Gender:
Female
Species:
Squirrel
Clothes:
Gumpdrop Shirt
Sign:
Taurus
Phrase:
ahhhhhh
Password:
jm8dQsD2ifipvy
C9zHXbYF2Z7&Fc
Profile:

 
Mint is no ordinary chipmunk. When this little fuzzball entered the world, she was brown as a hazelnut. But after weeks of eating delicious mints, she slowly turned the same pale blue-green color of her favorite candy treat!
Animal Crossing amiibo card

Card back

#063 Mint -

Series 1

| | |
| --- | --- |
| Type: | Squirrel |
| Star sign: | Taurus |
| Birthday: | May 2nd |
| Dice value: | 2 |
| Hand sign: | Rock |
Gallery
[
edit
]
Names in other languages
[
edit
]
ミント


Minto

Mint

---

민트




Mint

---

小敏


Xiǎomǐn

---

Минт


Mint

-

---

Mint

-

---

Marika

-

---

Menta

Mint

---

Amande

French word for "almond"

---

Mentulla

Mint
ミントMintoMint민트MintUnknownUnknownUnknown小敏UnknownXiǎomǐnUnknownUnknownUnknownМинтMint-Mint-Marika-MentaMintUnknownUnknownAmandeFrench word for "almond"UnknownUnknownMentullaMintUnknownUnknown
↑ Called Gumdrop Shirt prior to New Leaf and Gumdrop Tee prior to New Horizons