Tiffany
Jump to navigation
Jump to search
"What's up, bun bun?"
— Tiffany, Animal Crossing: Wild World
This article is about the rabbit villager. For the eagle villager whose Japanese name is the same as this villager's English name, see Celia.

Tiffany
 

 

バズレー

 

바슬레

 

大姐头

 

Tiphaine

 

Stefania

 

Tiffany

 

Michelle

 

Tiffany

 

Тиффани

Birthday
January 9th
Phrase
bun bun

More languages

 ってさ
 라던데
 我说呀
 我說呀
 pinpin
 bunbun
 pompón
 toin-lalá
 öhrchen
 knijnelijn
 зайчонок

Clothes
Spiderweb Tee[nb 1]
Prior to New Horizons
Chic Tuxedo Dress (Black)
New Horizons
Saying
What is cheap is most costly.
What's up, bun bun?


鬼面の仏

Main Games
Other Games
Tiffany is a rabbit villager with a snooty personality. She is a new character who first appeared in Doubutsu no Mori e+, a Japanese only game, then reappeared in Animal Crossing: Wild World and every game since. Her initial phrase, bun bun, is a reference to the word "bunny." Her name is the same as the Japanese version of Celia, another villager.
Characteristics
[
edit
]
Appearance
[
edit
]

Tiffany's overall appearance is similar to the film genre "film noir," where the female actress wears red lipstick, monotoned colored make-up, and a serious, poker-faced expression, all of which apply to Tiffany's appearance. Her appearance may suggest that she may be a part of a gothic, social stereotype group, with reference to her household furniture and personality. These traits give one the impression that she is a sisterly villager, instead of a snooty villager. Gabi looks similar when viewed from behind, due to the same white color and brown hair on top of her head.
Personality
[
edit
]
Below is a brief description of the snooty personality. For more information, click here. Tiffany is a snooty villager. She initially will act pushy and hostile towards other villagers and the player. She will act mildly polite towards the player, but she will sometimes come out with arrogant, rude comments without intention. She may tell the player that she wanted to become an actress but was not courageous enough. After befriending her, she will act noticeably kinder toward the player, even far enough to be mistaken for a peppy villager. She is gossip-hungry, as is typical in the snooty personality. She won't get along with lazy, peppy or jock villagers due to conflicting personalities.
Preferences
[
edit
]
In Wild World

[

edit

]
Ideal Clothing for Tiffany – Striking
https://dodo.ac/np/images/2/24/TiffanyPicACNL.pngUnknownUnknownUnknownUnknownStrikingCuteUnknownUnknownUnknownUnknown
In City Folk

[

edit

]
Favorites
Clothing
Striking
Cute
Furniture Genre
Trendy/Dignified
Furniture Series
Regal
Furniture Color
Red
Ideal Furniture for Tiffany – Red Trendy/Dignified
https://dodo.ac/np/images/2/24/TiffanyPicACNL.pngUnknownUnknownUnknownUnknownStrikingCuteRedUnknownUnknownUnknown
In New Leaf

[

edit

]
Picture
What's cheap is most costly.
Biography
Siblings
Third of 4
Skill
Oversleeping
Goal
CEO
Fear
Skeleton
Favorites
Clothing
Rock 'n' Roll
Official
Color
Red
Coffee
Type
Kilimanjaro
Milk
A little bit
Sugar
One spoonful
Ideal Gifts for Tiffany – Red Rock 'n' Roll
https://dodo.ac/np/images/2/24/TiffanyPicACNL.pngThird of 4OversleepingCEOSkeletonRock 'n' RollOfficialRedKilimanjaroA little bitOne spoonful
In New Horizons

[

edit

]
Ideal Gifts for Tiffany – Black / Red Gorgeous and Cool Items
https://dodo.ac/np/images/2/24/TiffanyPicACNL.pngUnknownUnknownUnknownUnknownUnknownUnknownUnknownUnknownUnknownUnknown
In Doubutsu no Mori e+

[

edit

] In Wild World and City Folk

[

edit

] Style:
No style
Items:

 

Modern Bed

 

Widescreen TV

 

Classic Table

 

Red Armchair

 

Red Armchair

 

Red Sofa

 

Dartboard

 

Billiard Table

 

Huge Shades

 

Retro Stereo

Wallpaper:
 

Concrete Wall

Flooring:
 

Red Tile

Music:
K.K. Rock
In New Leaf

[

edit

]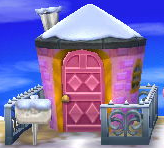 Style:
No style
Items:

 

Red Sofa

 

Red Armchair

 

Red Armchair

 

Billiard Table

 

Billiard Table

 

Hi-Fi Stereo

 

Dartboard

 

Sleek Bed

Wallpaper:
 

Cityscape Wall

Flooring:
 

Red Tile

Music:
K.K. Rock
In New Horizons

[

edit

]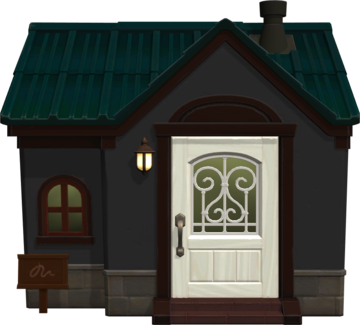 Style:
No style
Items:
Wallpaper:
 

Black-Crown Wall

Flooring:
 

Red-And-Black Vinyl Flooring

Music:
K.K. Ragtime
Other appearances
[
edit
]
In Happy Home Designer

[

edit

]
Happy Home Designer House Info

Tiffany

| | |
| --- | --- |
| Type: | Snooty Rabbit |
| Client's Vision: | A gorgeous celebrity home. |
| Required Items: | - |
| Favorite Song: | K.K. Moody |
| Favorite Saying: | What's cheap is most costly. |
Card profiles
[
edit
]
Happy Home Designer amiibo card

[

edit

]
Animal Crossing amiibo card

Card back

#030 Tiffany -

Series 1

| | |
| --- | --- |
| Type: | Rabbit |
| Star sign: | Capricorn |
| Birthday: | January 9 |
| Dice value: | 5 |
| Hand sign: | Rock |
Gallery
[
edit
]
Names in other languages
[
edit
]
バズレー


Bazurē
From abazure, meaning a mean or unpleasant woman

---

바슬레


Baseulle

-

---

大姐头




---

Тиффани


Unknown

-

---

Tiffany

-

---

Michelle

-

---

Tiffany

-

---

Tiphaine

-

---

Stefania

-
バズレーBazurēFrom abazure, meaning a mean or unpleasant woman바슬레Baseulle-UnknownUnknown-大姐头UnknownUnknownUnknownUnknownUnknownТиффаниUnknown-Tiffany-Michelle-Tiffany-UnknownUnknownTiphaine-UnknownUnknownStefania-UnknownUnknown
↑ Called Spiderweb Shirt prior to New Leaf