Cole
Jump to navigation
Jump to search


Species
Personality
Gender
Rabbit
Lazy
Male
Birthday
August 10th
Quote
"Little pitchers have big ears."
Catchphrase
"duuude"[nb 1]
"coooooool"[nb 2]
Clothing
Orange Dress[nb 3]
Main appearances
Other appearances
Name in other languages


 アマミン
 아마민
 Lello
 Karl

 阿甘
 Épicure
 Nicolás
 Cole

 阿甘
 Épicure
 Nicolás
 Коул

Phrase in other languages


 そうさね
 나도나도
 niglio
 mümml

 就是如此
 chaaauuud
 muyayo
 gaaast

 就是如此
 chaaauuud
 muyayo
 зайчелло
Cole is a lazy rabbit villager who first appeared in Animal Crossing: New Leaf. His name is likely a play on "coal", relating to his black color. His Japanese name comes from the Amami rabbit.
Characteristics
[
edit
]
Appearance
[
edit
]

Cole is a black rabbit, with two buckteeth. He has an orange color inside his ears. His eyes seem to be wide open. The tips of his paws and feet are gray.
Personality
[
edit
]
Below is a brief description of the lazy personality. For more information, click here.
As a lazy villager, Cole will not get along too well with snooty or jock villagers because they will not understand his lifestyle, which is a love of food and a relaxing, chilled outlook on life. He will also ask snooty villagers about their dinner plans, giving them ideas for their dinner and then dropping hints that he will be coming to eat. He gets along with normal, peppy, and other lazy villagers, who are open-minded about other villagers' personalities.
Preferences
[
edit
]
In New Leaf

[

edit

]
Picture
Little pitchers have big ears.
Biography
Siblings
Only Child
Skill
Drawing circles
Goal
Painter
Fear
Ghost Mask
Favorites
Clothing
Modern
Rock 'n' Roll
Color
Black
Coffee
Type
Blend
Milk
None
Sugar
None
Ideal Gifts for Cole – Black Modern
https://dodo.ac/np/images/4/4c/ColePicACNH.pngOnly ChildDrawing circlesPainterGhost MaskModernRock 'n' RollBlackBlendNoneNone
In New Horizons

[

edit

]
Ideal Gifts for Cole – Orange / Colorful Simple and Cute Items
Name
Image
Price
Available From

No results
https://dodo.ac/np/images/4/4c/ColePicACNH.pngUnknownUnknownUnknownUnknownUnknownUnknownUnknownUnknownUnknownUnknown
Cole appears to have an exotic theme within his house, as he has many of the Cabana Series items, which also houses some flowers and other greenery. He also has a Cassette Player on the Cabana Table which plays Spring Blossoms.
In New Horizons

[

edit

]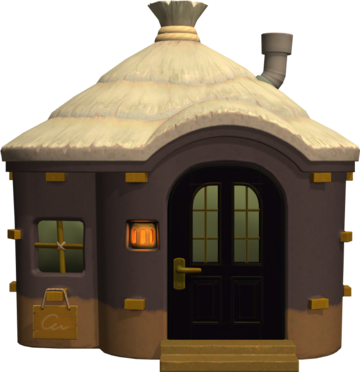 Other appearances
[
edit
]
In Happy Home Designer

[

edit

]
Happy Home Designer House Info

Cole

| | |
| --- | --- |
| Type: | Rabbit |
| Client's Vision: | A Tropical Resort |
| Required Items: | - |
| Favorite Song: | Spring Blossoms |
| Favorite Saying: | Little pitchers have big ears. |
In Pocket Camp

[

edit

]
Animal Crossing: Pocket Camp Character Info

Needed to Invite:

  This villager can be unlocked through Blathers's Treasure Trek.

Friendship Rewards:


Citrus Tee
and Sparkle Stone


Sparkle Stone


Rafflesia
Craft Unlock
Level 7
Level 9
Level 15


Pic of Cole‎‎
and Sparkle Stone


Sparkle Stone


Sparkle Stone

Level 20
Level 25
Level 30

| | | |
| --- | --- | --- |
| Sparkle Stone | Sparkle Stone | Sparkle Stone |
| Level 35 | Level 40 | Level 45 |

Cole


Cole doesn't seem to have any bigger ambitions than to live in a beach house and eat watermelon and ice cream. And now that I think about it, neither do I.

 Preferred theme:
 Primary reward:
 Wood
Card profiles
[
edit
]
Animal Crossing amiibo card

[

edit

]
Animal Crossing amiibo card

Card back

#096 Cole -

Series 1

| | |
| --- | --- |
| Type: | Rabbit |
| Star sign: | Leo |
| Birthday: | August 10th |
| Dice value: | 5 |
| Hand sign: | Rock |
Gallery
[
edit
]
Names in other languages
[
edit
]
アマミン


Amamin

-

---

아마민


Amamin

-

---

阿甘




---

Коул


Unknown

-

---

Cole

-

---

Karl

-

---

Nicolás

-

---

Épicure

From the philosopher Epicurus

---

Lello

-
アマミンAmamin-아마민Amamin-UnknownUnknown-阿甘UnknownUnknownUnknownUnknownUnknownКоулUnknown-Cole-Karl-Nicolás-UnknownUnknownÉpicureFrom the philosopher EpicurusUnknownUnknownLello-UnknownUnknown