Rollo
Jump to navigation
Jump to search
| | | |
| --- | --- | --- |
| | Rollo |   |



Species
Personality
Gender
Hippo
Lazy
Male
Star sign
Leo
Catchphrase
"beaulch"
Clothing
Whirly Shirt
Main appearances
Other appearances
Name in other languages


 ヒポクラテス
 N/A
 Rollo
 Winfried

 Unknown
 Hippo
 Hipo
 N/A

 N/A
 Hippo
 Hipo
 N/A

Phrase in other languages


 なのな
 N/A
 trippo
 Unknown

 Unknown
 Unknown
 Unknown
 N/A

 N/A
 Unknown
 Unknown
 N/A
Rollo is a lazy hippo villager in the Animal Crossing series. His Japanese name comes from an ancient Greek physician, Hippocrates, while also being a reference to his species.
Characteristics
[
edit
]

Appearance
[
edit
]
Rollo is a grey hippopotamus with orange eyelids and tipped hooves. He has flaring nostrils (as all of the hippopotami do) and has deep pink on the inside of his mouth and ears.
Personality
[
edit
]
Below is a brief description of the lazy personality. For more information, click here.
Rollo has a lazy personality, acting carefree and often talking about eating and relaxing. Outside of these subjects, however, Rollo is laid-back and easygoing to the player, making him easy to befriend, and will often participate in common hobbies for the purpose of relaxation instead of competition. On the other hand, because of how apathetic he is, Rollo will constantly request a lot out of the player, although many of these tasks are not time-consuming and easy to complete. Because of his nature, Rollo does not get along with jock villagers, due to opposing lifestyles, or with snooty villagers, due to his apathy towards outward appearance.
Villager information
[
edit
]
In Animal Crossing

[

edit

]
In Animal Crossing

[

edit

]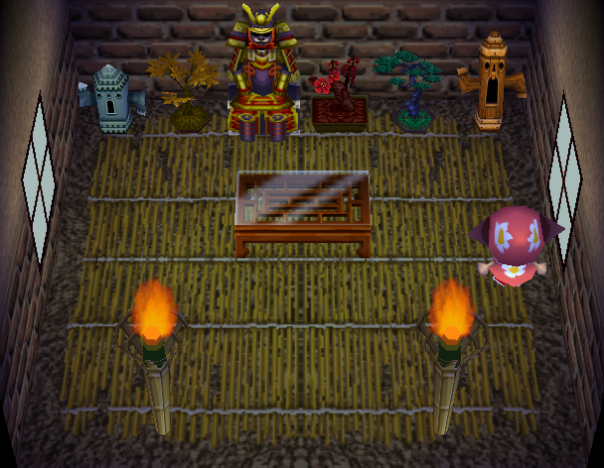 Items:

 

Metatoid

 

Maple Bonsai

 

Samurai Suit

 

Plum Bonsai

 

Ponderosa Bonsai

 

Tall Percoloid

 

Glass-Top Table

 

Tiki Torch

 

Tiki Torch

Wallpaper:
 

Old Brick Wall

Floor:
 

Shanty Mat

Music:
Card profiles
[
edit
]
Animal Crossing e-Reader card

[

edit

]
Animal Crossing e-Reader card

Card back

#219 Rollo -

Series 4

Gender:
Male
Clothes:
Whirly Shirt
Sign:
Leo
Phrase:
beaulch
Password:
96fIa2H6dKkHIW
MtTI4xmuSbwBfX
Profile:

 
Rollo the hippo isn't known for his manners. Sweet as he is, this big oaf chews with his mouth open and loses half his food in the process! It's best to play with him after mealtime.
Gallery
[
edit
]
Names in other languages
[
edit
]
ヒポクラテス


Hipokuratesu

Hippocrates

---

Winfried

-

---

Hipo

-

---

Hippo

-

---

Rollo

-
ヒポクラテスHipokuratesuHippocratesUnknownUnknownUnknownUnknownUnknownUnknownUnknownUnknownWinfried-Hipo-UnknownUnknownHippo-UnknownUnknownRollo-UnknownUnknown
See also
[
edit
]