Dozer
Jump to navigation
Jump to search
| | | |
| --- | --- | --- |
| | Dozer |   |



Species
Personality
Gender
Bear
Lazy
Male
Star sign
Pisces
Catchphrase
"zzzzzz"
Clothing
Bear Shirt
Main appearances
Other appearances
Name in other languages


 スリープ
 N/A
 Ronfo
 Nicki

 Unknown
 Doudou
 Toño
 N/A

 N/A
 Doudou
 Toño
 N/A

Phrase in other languages


 でアリ
 N/A
 Unknown
 schnarch

 Unknown
 zzzzzz
 zzzzzz
 N/A

 N/A
 zzzzzz
 zzzzzz
 N/A
Dozer is a lazy bear villager in the Animal Crossing series who appears in Doubutsu no Mori, Animal Crossing, and Doubutsu no Mori e+. His name relates to his lazy personality, in reference to one "dozing off." His initial phrase, "zzzzzz," also relates to his personality.
Characteristics
[
edit
]

Appearance
[
edit
]
Dozer is a purple bear who can be compared to that of a gummy bear. He has a curly black unibrow, and a brown muzzle with a shiny black nose. His eyes are almost always closed as if he's sleeping, hence the name "Dozer."
Personality
[
edit
]
Below is a brief description of the lazy personality. For more information, click here.
Dozer has a lazy personality, meaning he will mostly talk about food. He will enjoy eating and sleeping, and won't get along with snooty or jock villagers due to the fact that Dozer does not really care about his weight or his physical appearance. He will get along with normal villagers.
Villager information
[
edit
]
In Animal Crossing

[

edit

]
Species
Gender
Personality
Bear
Male
Lazy
Star sign
Pisces
Catchphrase
zzzzzz
Default Clothing
Bear Shirt
Default Umbrella
Yellow Umbrella
Favorite Clothing Style (e+)
Strange
Least Favorite Clothing Style (e+)
Striking
In Animal Crossing

[

edit

]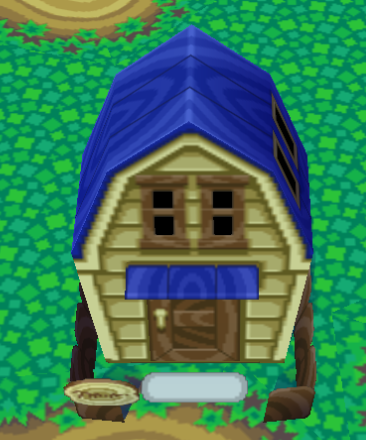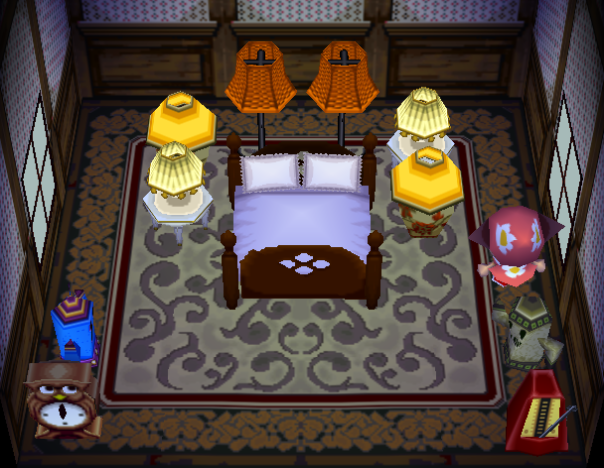 Card profiles
[
edit
]
Animal Crossing e-Reader card

[

edit

]
Animal Crossing e-Reader card

Card back

#075 Dozer -

Series 2

Gender:
Male
Clothes:
Bear Shirt
Sign:
Pisces
Phrase:
zzzzzz
Password:
Vx@OO5wYuTkHiG
3NJNykuAI3tnCk
Profile:

 
Dozer's fond of saying that one shouldn't hurry through life. His theory is that good things come to those who wait. Then again, every time opportunity knocks, Dozer's in a deep sleep. Bummer.
Gallery
[
edit
]
The official Prima Games guide for Animal Crossing: New Leaf erroneously lists Dozer as appearing in the game. It states his birthday as being August 16, which is actually the birthday of Nate, another lazy bear villager.
Dozer is the only bear to not make an appearance in Animal Crossing: New Leaf - Welcome amiibo.
In a character popularity poll held on the Japanese Animal Crossing website, Dozer ranks as the 233rd most popular character at 64 votes, tied between Belle and Cyrano, and ranking below Paolo.
Names in other languages
[
edit
]
スリープ


Sleep
From sleep, describing his lazy personality

---

Nicki

-

---

Toño

Shortening of otoño, meaning autumn; autumn is when bears begin hibernation

---

Doudou

A way to name a plush

---

Ronfo

From ronfare, "to snore."
See also
[
edit
]