Felyne
From Nookipedia, the Animal Crossing wiki
"Nyahaha... Cooked to perfection!"
— Wisp imitating Felyne, Animal Crossing: New Leaf - Welcome amiibo


Species
Personality
Gender
Cat
Lazy
Male
Birthday
January 6th
Favorite saying
"♪ Calmly gathering. Ah, the life of a hunter. ♪"
Catchphrase
"nya"
Clothing
Felyne Outfit
Main appearances
Other appearances
Name in other languages

Phrase in other languages

Felyne is a lazy cat villager in the Animal Crossing series introduced in Animal Crossing: Happy Home Designer. He was introduced as part of a crossover between the Animal Crossing series and the Monster Hunter series. He is one of two villagers introduced in Happy Home Designer, with the other being Filly.
He later appears in the Animal Crossing: New Leaf - Welcome amiibo, and he can move to the player's town if one of the six amiibo from the Monster Hunter Stories line is scanned.
Characteristics
[
edit
]
Appearance
[
edit
]
Felyne is a cat with tan fur and numerous darker-shaded markings and fur on the tips of his paws and his ears. There are markings shaded in the same hue on his cheeks to appear like whiskers. He has wide open eyes and a triangular mark on his face. Felyne wears a shirt exclusively for him, thus its name, Felyne Outfit.
Personality
[
edit
]
Below is a brief description of the lazy personality. For more information, click here.
Felyne is a villager under the lazy personality, meaning he enjoys relaxation and eating. He appears as a "younger brother figure" to the player, thanks to his overly laid-back and childish view on life. He will get along well with other villagers, but may offend or confuse jock villagers, who have a conflicting lifestyle of exercise and fitness, compared to the lazy lifestyle of relaxing and sloppily eating food.
Villager information
[
edit
]
In Welcome amiibo

[

edit

]
Birthday
Personality
Catchphrase
January 6
Lazy
nya
Default clothing
Felyne Outfit
Default umbrella
Ghost Umbrella
Favorites
Favorite style
Sporty
Least favorite style
Cute
Favorite color

 

None

Biography
Siblings
Only child
Skill
Befriending cats
Goal
Monster hunter
Halloween fear
Monster Mask
Coffee preferences
Type of beans
Blend
Amount of milk
Lots
Amount of sugar
Three spoonfuls
In Welcome amiibo

[

edit

]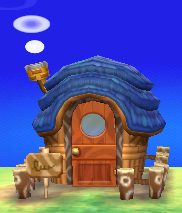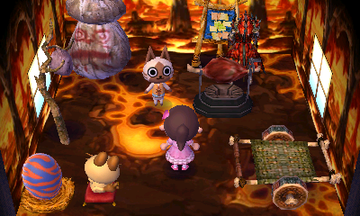 Items:

 

Felyne Guardian

 

Hunter's Cart

 

Palico Board

 

Barbecue Spit

 

Hunter

 

Hunter's Hive

 

Otomon Egg

 

Nabiru Ornament

Wall:
 

Magma-Cavern Wall

Floor:
 

Lava Floor

Music:
 K.K. Adventure [nb 1]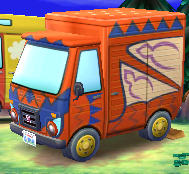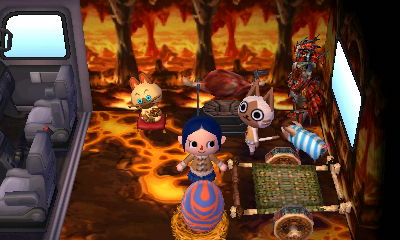 Description:
Felyne's camper has been outfitted in a style befitting a rugged outdoorsman and hunter—so it's almost perfectly inappropriate for Felyne.
Items:

 

Barbecue Spit

 

Hunter

 

Hunter's Cart

 

Nabiru Ornament

 

Otomon Egg

 

Poogie

Wallpaper:
 

Magma-Cavern Wall

Floor:
 

Lava Floor

Music:
 K.K. Adventure
Other appearances
[
edit
]
In Happy Home Designer

[

edit

]
Happy Home Designer client information

Felyne

Thought bubble:
Client's vision:
A place for Felyne.
Required items:
Hunter's Cart
Hunter
Item Box
Favorite song:
 K.K. March
Favorite saying:
♪ Calmly gathering. Ah, the life of a hunter ♪
Unlocked items
Furniture:

 Item Box  
 Barbecue Spit  
 Wyvern Eggs  
 Hunter's Hive  
 Red Wing  
 Palico Board  
 Felyne Guardian  
 Poogie  
 Hunter  
 K.K. March  
 Felyne's Pic  

Interior:

| | |
| --- | --- |
|  Magma-Cavern Wall   |  Lava Floor   |

Clothing:

| | |
| --- | --- |
|  Felyne's Clothes   |  Ghost Umbrella   |

Starting house:
Happy Home Designer client information

Felyne

Thought bubble:
Client's vision:
A place for Felyne.
Required items:
Hunter's Cart
Hunter
Item Box
Favorite song:
 K.K. March
Favorite saying:
♪ Calmly gathering. Ah, the life of a hunter ♪
Unlocked items
Furniture:

 Item Box  
 Barbecue Spit  
 Wyvern Eggs  
 Hunter's Hive  
 Red Wing  
 Palico Board  
 Felyne Guardian  
 Poogie  
 Hunter  
 K.K. March  
 Felyne's Pic  

Interior:

| | |
| --- | --- |
|  Magma-Cavern Wall   |  Lava Floor   |

Clothing:

| | |
| --- | --- |
|  Felyne's Clothes   |  Ghost Umbrella   |

Starting house:
Gallery
[
edit
]
Names in other languages
[
edit
]
アイルー


Airū
-

---

아이루


Airu
-

---

Felyne
-

---

Felyne

-

---

Felyne

-

---

Felyne

-
See also
[
edit
]
↑

Does not contain a stereo initially
Crossover villagers