Benedict
Jump to navigation
Jump to search
Benedict
 

 

ぺしみち

 

페니실린

 

沛希

 

Dimitri

 

Biagio

 

Benito

 

Benedikt

 

Benedict

 

Бенедикт

Birthday
October 10th
Phrase
uh-hoo

More languages

 ウヒョー (uhyō)
 우힛
 好棒
 oh oh
 uh-hoo
 cocorico
 putputtt
 eitje
 

о-ко-ко

Clothes
Two-Ball Tee

*

Saying
Don't put all your eggs in one basket.
Bok bok bok? Just kidding. A huh huh huh!


杯中の蛇影

Main Games
Other Games

Benedict is a chicken villager with a lazy personality from the Animal Crossing series. His name comes from the meal, "eggs benedict", which consists of a poached egg placed with bacon on an English muffin and covered in Hollandaise sauce. His name could also be a reference to Benedict Arnold, a fighter in the American Revolutionary war who betrayed General Washington.
Characteristics
[
edit
]
Appearance
[
edit
]

Benedict is a scarlet (mixture of red and berry) chicken, with a white face and a yellow beak, feet, and comb. He has swollen cheeks. Benedict's eyes do not close whenever he smiles.
Personality
[
edit
]
Below is a brief description of the lazy personality. For more information, click here.
As a lazy villager, Benedict will be easy to get along with due to his laid back lifestyle. Like all lazy villagers, he shares an interest in food and relaxing. He will enjoy partaking in the usual hobbies, usually for relaxing reasons or for food (fishing). He will get along well with other villager types such as the normal villagers who act as a mother or elder sister figure and peppy villagers who appear to be around the same age. He may offend or confuse jock villagers, who have a conflicting lifestyle of exercise and fitness, who do not understand the reason behind the lazy lifestyle choice. Cranky villagers, however, admire their laid-back lifestyle.
Preferences
[
edit
]
In Wild World

[

edit

]
Ideal Clothing for Benedict – Strange
https://dodo.ac/np/images/c/c6/BenedictPicACNL.pngUnknownUnknownUnknownUnknownStrangeCoolUnknownUnknownUnknownUnknown
In City Folk

[

edit

]
Favorites
Clothing
Strange
Cool
Furniture Genre
Trendy/Playful
Furniture Series
Green
Furniture Color
Yellow
Ideal Furniture for Benedict – Yellow Trendy/Playful
https://dodo.ac/np/images/c/c6/BenedictPicACNL.pngUnknownUnknownUnknownUnknownStrangeCoolYellowUnknownUnknownUnknown
In New Leaf

[

edit

]
Picture
Don't put all your eggs in one basket.
Biography
Siblings
Youngest quadruplet
Skill
Remembering stuff
Goal
Poet
Fear
Skulls
Favorites
Clothing
Historical
Flashy
Color
Yellow
Coffee
Type
Mocha
Milk
Little Bit
Sugar
1
Ideal Gifts for Benedict – Yellow Historical
https://dodo.ac/np/images/c/c6/BenedictPicACNL.pngYoungest quadrupletRemembering stuffPoetSkullsHistoricalFlashyYellowMochaLittle Bit1
In New Horizons

[

edit

]
Ideal Gifts for Benedict – Blue / Purple Simple Items
https://dodo.ac/np/images/c/c6/BenedictPicACNL.pngUnknownUnknownUnknownUnknownUnknownUnknownUnknownUnknownUnknownUnknown
In Doubutsu no Mori e+

[

edit

]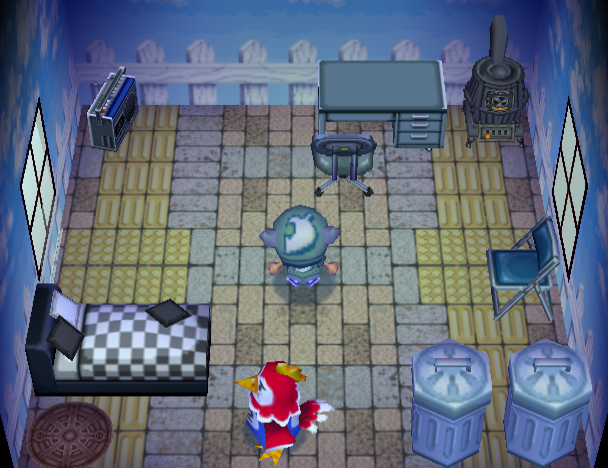 Style:
No style
Items:

 

Manhole Cover

 

Tape Deck

 

Office Desk

 

Folding Chair

 

Modern Bed

 

Potbelly Stove

 

Trash Can

 

Trash Can

 

Office Chair

Wallpaper:
 

Backyard Fence

Floor:
 

Sidewalk

Music:
I Love You
In Wild World and City Folk

[

edit

] Style:
No style
Items:

 

Red Drum

 

Jackhammer

 

Iron Frame

 

Striped Cone

 

Wet-Road Sign

 

Hospital Bed

 

Wave Breaker

 

Drilloid

Wallpaper:
 

Backyard Fence

Floor:
 

Closed Road

Music:
I Love You
In New Leaf

[

edit

]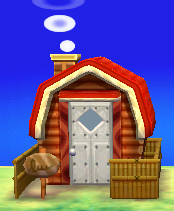 Style:
No style
Items:

 

Lady Palm

 

Cabana Table

 

Cassette Player

 

Barbecue

 

Freezer

 

Sprinkler

 

Beach Chair

 

Beach Table

 

Shaved-Ice Maker

 

Backyard Pool

 

Kayak

 

Mountain Bike

Wallpaper:
 

Backyard Fence

Floor:
 

Backyard Lawn

Music:
I Love You
In New Horizons

[

edit

]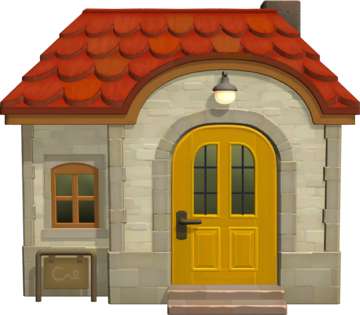 Other appearances
[
edit
]
In Happy Home Designer

[

edit

]
Happy Home Designer House Info

Benedict

| | |
| --- | --- |
| Type: | Lazy Chicken |
| Client's Vision: | A journey through space. |
| Required Items: | - |
| Favorite Song: | I Love You |
| Favorite Saying: | Don't put all your eggs in one basket. |
Card profiles
[
edit
]
Animal Crossing amiibo Card

[

edit

]
Animal Crossing amiibo card

Card back

#171 Benedict -

Series 2

| | |
| --- | --- |
| Type: | Chicken |
| Star sign: | Libra |
| Birthday: | October 10th |
| Dice value: | 3 |
| Hand sign: | Paper |
Gallery
[
edit
]
Names in other languages
[
edit
]
ぺしみち


Peshimichi

-

---

페니실린


Penisillin

Penicillin

---

沛希


Pèi Xī

From Japanese name

---

Бенедикт


Benedikt

From English name

---

Benedict

Same as English name

---

Benedikt

Benedict

---

Benito

Benedict

---

Dimitri

-

---

Biagio

Blaise
ぺしみちPeshimichi-페니실린PenisillinPenicillinUnknownUnknownUnknown沛希UnknownPèi XīFrom Japanese nameUnknownUnknownUnknownБенедиктBenediktFrom English nameBenedictSame as English nameBenediktBenedictBenitoBenedictUnknownUnknownDimitri-UnknownUnknownBiagioBlaiseUnknownUnknown