Ava
Jump to navigation
Jump to search
This article is about the chicken villager. For the villager whose German name is the same as this villager's French name, see Anicotti.

Ava
 

 

ドミグラ

 

에바

 

陶米咕

 

Eva

 

Ava

 

Ava

 

Gisela

 

Ava

 

Ава

Birthday
April 28th
Phrase
beaker

More languages

 

のよぉ

 그랬대요
 是唷
 cô-comment
 sbecsbec
 piquito
 kikiú
 biiika
 snavel
 

клювик

Clothes
Checkerboard Tee
Saying
Early to bed, early to rise.


早寝早起き、病知らず

Main Games
Other Games

Ava is a normal chicken from the Animal Crossing series. Her name comes from the word ova, the Latin word for eggs, which chickens lay. It is also possible that her name comes from the word "avian", meaning bird. Her catchphrase, "beaker", possibly originates from the word, beak. Ava was absent in Animal Crossing: Wild World and Animal Crossing: City Folk.
Characteristics
[
edit
]
Appearance
[
edit
]

Ava is a brown chicken with a plum-colored comb. Her face is a light tan color that transitions to brown when more posterior to (behind) her face. She also has large, black eyes that are crescent-shaped with beige outlines and eyelashes, giving Ava a country-esque look to her.
Personality
[
edit
]
Below is a brief description of the normal personality. For more information, click here.
Ava is a normal villager, taking an interest in most hobbies, especially fishing and fossil hunting, and will act sweet and mother-like to the player and most other villagers. She goes to bed at 9:00 PM and will wake up at 5:00 AM, as she believes that too much sleep is unhealthy, and will express her concerns about this if the player has not spoken to her in a long time. As a result of her kindness, Ava gets along with many other villagers, as she acts parent-like to lazy villagers, and peppy villagers are alike as they are both "Girly".
Preferences
[
edit
]
In New Leaf

[

edit

]
Picture
Early to bed, early to rise.
Biography
Siblings
Eldest of six
Skill
Peeling apples
Goal
Pastry chef
Fear
Monsters
Favorites
Clothing
Official
Cute
Color
Brown
Coffee
Type
Blue Mountain
Milk
The regular amount
Sugar
Two spoonfuls
Ideal Gifts for Ava – Brown Official
https://dodo.ac/np/images/f/f7/AvaPicACNL.pngEldest of sixPeeling applesPastry chefMonstersOfficialCuteBrownBlue MountainThe regular amountTwo spoonfuls
In New Horizons

[

edit

]
Ideal Gifts for Ava – Red / Gray Elegant and Cute Items
https://dodo.ac/np/images/f/f7/AvaPicACNL.pngUnknownUnknownUnknownUnknownUnknownUnknownUnknownUnknownUnknownUnknown
In Animal Crossing

[

edit

]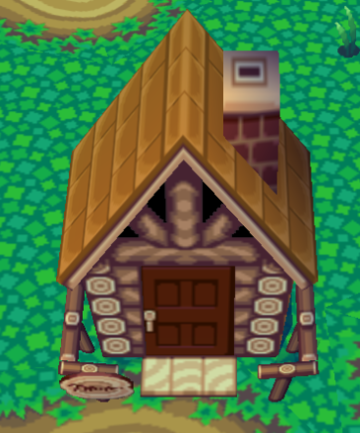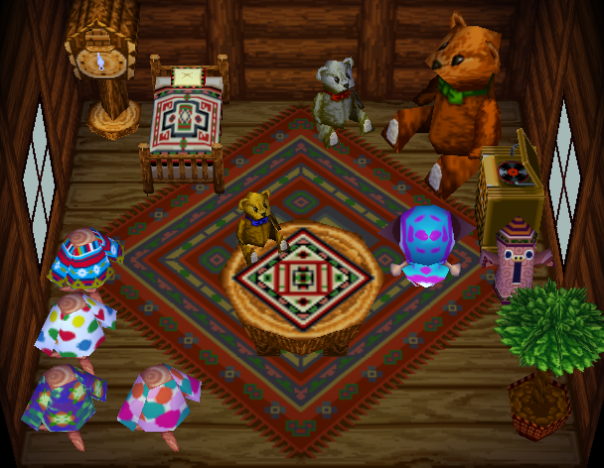 Style:
Cabin
Items:

 

Cabin Clock

 

Cabin Bed

 

Cabin Table

 

Weeping Fig

 

Turntable

 

Tootoid

 

Loud Bloom Shirt

 

Gumdrop Shirt

 

Gaudy Sweater

 

Lite Polka Shirt

 

Baby Bear

 

Mama Bear

 

Papa Bear

Wallpaper:
 

Cabin Wall

Floor:
 

Cabin Floor

Music:
K.K. Country
In New Leaf

[

edit

] Style:
No style
Items:

 

Minimalist Table

 

Minimalist Minitable

 

Record Player

 

Microwave

 

Kitchen Island

 

Salad Bar

 

Salad Bar

 

Planter

 

Planter

 

Picnic Table

 

Soda Case

Wallpaper:
 

Ranch Wall

Floor:
 

Modern Wood Floor

Music:
K.K. Country
In New Horizons

[

edit

]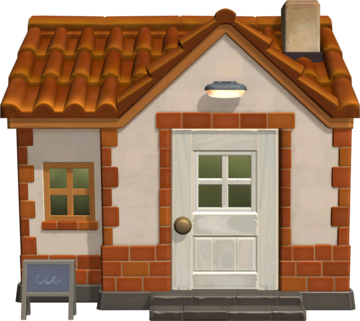 Other appearances
[
edit
]
In Happy Home Designer

[

edit

]
Happy Home Designer House Info

Ava

| | |
| --- | --- |
| Type: | Normal Chicken |
| Client's Vision: | A professional kitchen. |
| Required Items: | - |
| Favorite Song: | K.K. Country |
| Favorite Saying: | Early to bed, early to rise. |
In Pocket Camp

[

edit

]
"There's nothing like the fresh forest air to clear your head and help you forget all your worries."
— A Message from Ava, Animal Crossing: Pocket Camp
Animal Crossing: Pocket Camp Character Info

Needed to Invite:

Required Friendship Level: 3


| | | | | |
| --- | --- | --- | --- | --- |
| | | | | |
| Paella | Cabin Chair | Wood-Plank Table | Smoker | Log Fence |

Friendship Rewards:


Checkerboard Tee
and Sparkle Stone


Sparkle Stone


Large Egg
Craft Unlock
Level 7
Level 9
Level 15


Pic of Ava‎‎
and Sparkle Stone


Sparkle Stone


Sparkle Stone

Level 20
Level 25
Level 30

| | | |
| --- | --- | --- |
| Sparkle Stone | Sparkle Stone | Sparkle Stone |
| Level 35 | Level 40 | Level 45 |

Ava


Ava enjoys living a clean, healthy lifestyle. She's never once found it boring. For her, the epitome of excitement is eating a carrot. To each their own...

 Preferred theme:
 Primary reward:
 Wood
Card profiles
[
edit
]
Animal Crossing-e card

Card back

#092 Ava -

Series 2

Gender:
Female
Species:
Chicken
Clothes:
checkerboard tee
Sign:
Taurus
Phrase:
beaker
Password:
@UO2GnRSBNIkTl
3PbSH225yVkIXO
Profile:

 
Ava is about as average and clean as a chicken can be. She's up at the crack of dawn with all of the roosters, but rather than crowing at the sun she's busy tidying up her room. She gets along well with the other animals-except the wolves
Animal Crossing amiibo Card

[

edit

]
Animal Crossing amiibo card

Card back

#250 Ava -

Series 3

| | |
| --- | --- |
| Type: | Chicken |
| Star sign: | Taurus |
| Birthday: | April 28th |
| Dice value: | 4 |
| Hand sign: | Paper |
Gallery
[
edit
]
Names in other languages
[
edit
]
ドミグラ


Domigura
From domigurasu, Demi-glace, a French brown sauce that chickens can be cooked in

---

에바




Eva

---

陶米咕


Táo Mǐgū

From Japanese name

---

Ава


Ava

From English name

---

Ava

Same as English name

---

Gisela

-

---

Ava

Same as English name

---

Eva

-

---

Ava

Same as English name
ドミグラDomiguraFrom domigurasu, Demi-glace, a French brown sauce that chickens can be cooked in에바EvaUnknownUnknownUnknown陶米咕UnknownTáo MǐgūFrom Japanese nameUnknownUnknownUnknownАваAvaFrom English nameAvaSame as English nameGisela-AvaSame as English nameUnknownUnknownEva-UnknownUnknownAvaSame as English nameUnknownUnknown