Mac
Jump to navigation
Jump to search
This article is about the dog villager. For the villager whose German name is the same as this villager's Spanish name, see Kid Cat.

Mac
 

 

チャンプ

 

챔프

 

金牌

 

Brutus

 

Teo

 

Pit

 

Wuffi

 

Mac

 

Мак

| Species | Personality | Gender |
| --- | --- | --- |
| Dog | Jock | Male |

Birthday
November 11th
Phrase
woo woof

More languages

 モグ

(mogu)

 우물우물

(umurumul)

 摘 (zhāi)
 babines
 arfidenti
 frusky
 bellbell
 woewoef
 ау-у-гав

(au-u-gav)

Clothes
Red Aloha Tee[nb 1]
Prior to New Horizons
Raglan Shirt (Red)
New Horizons
Saying
Sometimes life is rough.
Main Games
Other Games

Mac is a jock dog villager in the Animal Crossing series, who's debuted in Animal Crossing: City Folk.
Characteristics
[
edit
]
Appearance
[
edit
]

Mac is a brown dog with white paws and a cream-colored muzzle, possibly resembling a Bernese Mountain Dog or a bulldog. Even though his facial features resemble a cranky resident, he is, in fact, a jock.
Personality
[
edit
]
Below is a brief description of the jock personality. For more information, click here. Mac has a jock personality, which means he will have a keen interest in sport and fitness, making him appear competitive and in some cases rude when talking to other villagers, usually criticizing their fitness. He will appear slow-witted and absent-minded when talking about deep, meaningful things. He will get along well with peppy villagers, but get confused by the choice of lifestyle followed by lazy villagers, who appear opposite to his personality. He may offend and upset snooty and cranky villagers.
Preferences
[
edit
]
In City Folk

[

edit

]
Favorites
Clothing
Fancy
Subtle
Furniture Genre
Trendy/Dignified
Furniture Series
Cabana
Furniture Color
Red
Ideal Furniture for Mac – Red Trendy/Dignified
https://dodo.ac/np/images/0/03/MacPicACNL.pngUnknownUnknownUnknownUnknownFancySubtleRedUnknownUnknownUnknown
In New Leaf

[

edit

]
Picture
Sometimes life is rough.
Biography
Siblings
Eldest quadruplet
Skill
Doing chin-ups
Goal
Boxer
Fear
Skeleton
Favorites
Clothing
Sporty
Ornate
Color
Red
Coffee
Type
Blend
Milk
None of all
Sugar
None of all
Ideal Gifts for Mac – Red Sporty
https://dodo.ac/np/images/0/03/MacPicACNL.pngEldest quadrupletDoing chin-upsBoxerSkeletonSportyOrnateRedBlendNone of allNone of all
In New Horizons

[

edit

]
Ideal Gifts for Mac – Red / Black Active and Cool Items
https://dodo.ac/np/images/0/03/MacPicACNL.pngUnknownUnknownUnknownUnknownUnknownUnknownUnknownUnknownUnknownUnknown
He has the K.K. Slider song "My Place" playing in his house. His house has an island theme, including a fish and two decorative plants surrounding a Doghouse and a Backyard Pool, reflecting on his species.
In New Horizons

[

edit

]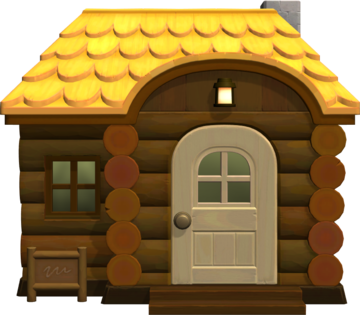 Other appearances
[
edit
]
In Happy Home Designer

[

edit

]
Happy Home Designer House Info

Mac

Type:
Jock Dog
Client's Vision:
A summer campsite
Required Items:
Campfire Cookware
Sleeping Bag
Watermelon
Favorite Song:
-
Favorite Saying:
Sometimes life is rough.
Card profiles
[
edit
]
Animal Crossing amiibo card

Card back

#245 Mac -

Series 3

| | |
| --- | --- |
| Type: | Dog |
| Star sign: | Scorpio |
| Birthday: | November 11th |
| Dice value: | 4 |
| Hand sign: | Scissors |
Gallery
[
edit
]
Names in other languages
[
edit
]
チャンプ


Chanpu

Champ

---

챔프


Chaempeu

Champ

---

金牌


Jīnpái

---

Мак


Mak

-

---

Mac

-

---

Wuffi

Little Woofer/Barker

---

Pit

Derived from the pit bull, a dog breed

---

Brutus

Stereotypical French name for aggressive dogs

---

Teo

-
チャンプChanpuChamp챔프ChaempeuChampUnknownUnknownUnknown金牌UnknownJīnpáiUnknownUnknownUnknownМакMak-Mac-WuffiLittle Woofer/BarkerPitDerived from the pit bull, a dog breedUnknownUnknownBrutusStereotypical French name for aggressive dogsUnknownUnknownTeo-UnknownUnknown
↑ Called Red Aloha Shirt prior to New Leaf