Rudy
Jump to navigation
Jump to search
This article is about the cat villager. For the villager whose French name is the same as this villager's English name, see Flip.



Species
Personality
Gender
Cat
Jock
Male
Birthday
December 20th
Quote
"Always land on your feet!"
Catchphrase
"mush"
Clothing
Red-Grid Tee[nb 1]
Simple Parka (Yellow)[nb 2]
Main appearances
Other appearances
Name in other languages


 チャス
 찰스
 Gomitolo
 Heinz

 茶茶
 Rougepif
 Rufino
 Rudy

 茶茶
 Rougepif
 Rufino
 Руди

Phrase in other languages


 とかナ
 그러거나
 ron ron
 katzaaa

 之类的
 alatienne
 cachusco
 robijn

 之類的
 mouah
 cachusco
 шмяк
Rudy is a jock, cat villager in the Animal Crossing series. He first appeared in Animal Crossing: New Leaf. His English name may be a reference to Rudolph, a famous reindeer, who has a red nose like Rudy. His birthday, which is close to Christmas, wherein the iconic Christmas figure Santa Claus uses reindeer as a method of transportation, supports this theory. He shares his birthday with Isabelle and Digby. His picture quote is a reference to the popular phrase "cats always land on their feet."
Characteristics
[
edit
]
Appearance
[
edit
]

Rudy is a cat whose dominant fur color ranges between brown to a dark red. He has white fur covering his face and the tips of his tail, paws and toes. He has a bright red inner mouth. His inner ears are yellow, fading into a paler shade of the color as it goes in. Like his ears, his sclerae are yellow and his pupils are black. He has a large red nose.
Personality
[
edit
]
Below is a brief description of the jock personality. For more information, click here.
As a jock villager, Rudy often talks about physical fitness and sports, and he enjoys working out. He will get along with other jock villagers and peppy villagers, due to their shared interests and personalities. He may unintentionally offend snooty, cranky and lazy villagers, due to their conflicting lifestyles. When he is seen at Re-Tail, he will be unable to make up his mind on what to buy. He will enjoy the usual hobbies, and will often ask the player for a contest if his current hobby is bug catching or fishing. Rudy will fall asleep at 12:00 a.m. and wakes up at 7:00 a.m.
Preferences
[
edit
]
In New Leaf

[

edit

]
Picture
Always land on your feet!
Biography
Siblings
Third of six
Skill
Cramming for tests
Goal
Artist
Fear
Ghost Mask
Favorites
Clothing
Sporty
Rock 'n' Roll
Color
Beige
Coffee
Type
Mocha
Milk
A little bit
Sugar
One spoonful
Ideal Gifts for Rudy – Beige Sporty
https://dodo.ac/np/images/2/2c/RudyPicACNH.pngThird of sixCramming for testsArtistGhost MaskSportyRock 'n' RollBeigeMochaA little bitOne spoonful
In New Horizons

[

edit

]
Species
Gender
Personality
Cat
Male
Jock (A)
Birthday
December 20
Catchphrase
mush
Default Clothing
Simple Parka (Yellow)
Favorite Styles
Active and Simple
Favorite Colors
Yellow and Beige
Hobby
Play
Ideal Clothing for Rudy – Yellow / Beige Active and Simple Clothing
In New Leaf

[

edit

]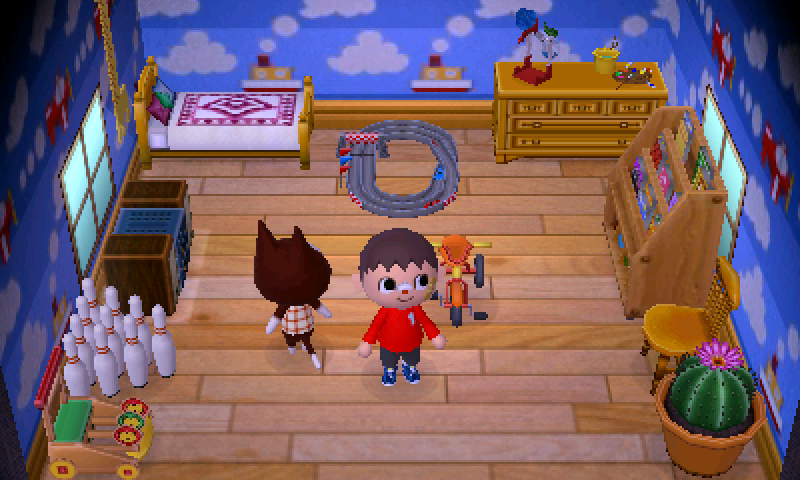 Style:
No style
Items:

 

Water Bird

 

Painting Set

 

Tricycle

 

Large Magazine Rack

 

Clackercart

 

Bowling Pins

 

Mini Circuit

 

Giraffe Ruler

 

Ranch Bed

 

Ranch Chair

 

Ranch Dresser

 

Hi-Fi Stereo

Wallpaper:
 

Playroom Wall

Floor:
 

Neutral Flooring

Music:
The K. Funk
In New Horizons

[

edit

]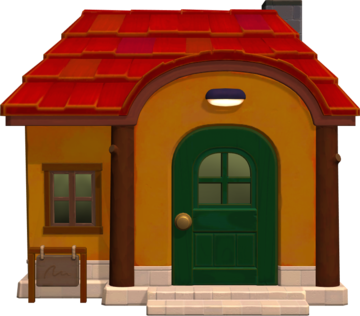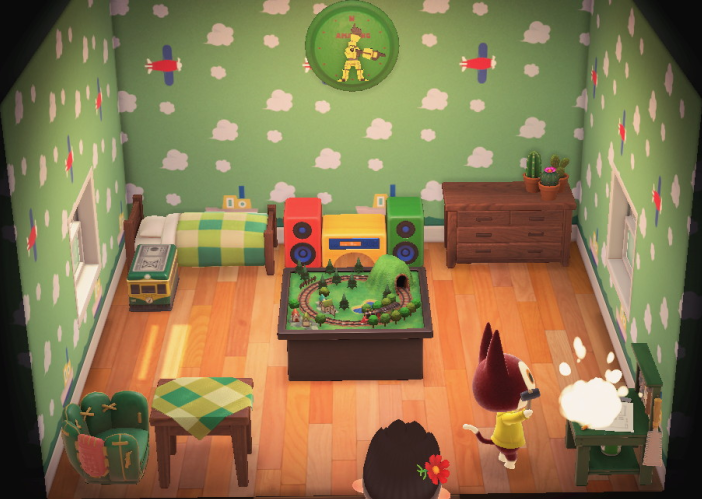 Other appearances
[
edit
]
In Happy Home Designer

[

edit

]
Happy Home Designer House Info

Rudy

Type:
Cat
Client's Vision:
A chess room.
Required Items:
King,
knight, bishop
Favorite Song:
K.K. D&B
Favorite Saying:
Always land on your feet!
Gallery
[
edit
]
Card profiles
[
edit
]
Animal Crossing amiibo card

Card back

#344 Rudy -

Series 4

| | |
| --- | --- |
| Type: | Cat |
| Star sign: | Sagittarius |
| Birthday: | December 20th |
| Dice value: | 6 |
| Hand sign: | Paper |
Names in other languages
[
edit
]
チャス


Chasu

Chas (or Charles)

---

찰스


Chalseu

Charles

---

茶茶


Cháchá

---

Руди


Rudi

-

---

Rudy

-

---

Heinz

German name derived from "Henry"

---

Rufino

Spanish name derived from "Rufus"

---

Rougepif

Red nose

---

Gomitolo

Ball of wool
チャスChasuChas (or Charles)찰스ChalseuCharlesUnknownUnknown茶茶UnknownChácháUnknownUnknownUnknownUnknownРудиRudi-Rudy-HeinzGerman name derived from "Henry"RufinoSpanish name derived from "Rufus"UnknownUnknownRougepifRed noseUnknownUnknownGomitoloBall of woolUnknownUnknown