Backyard Lawn (New Horizons)
From Nookipedia, the Animal Crossing wiki
The Backyard Lawn is a floor item in Animal Crossing: New Horizons.
The Backyard Lawn can be obtained from crafting, which requires

30× Clump of Weeds. The recipe for this item can be obtained from peppy villagers.
This item appears in the homes of the following villagers:

Astrid,

Benedict,

Biskit,

Derwin,

Dizzy,

Dom,

Elmer,

Jitters,

Ketchup,

Mallary,

Scoot,

Winnie,

Zucker.
Appearance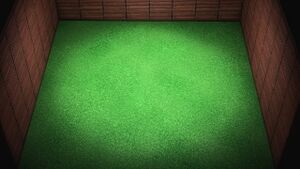 The Backyard Lawn is an brightly-colored grass floor, featuring a texture that almost resembles AstroTurf.
When stepping on the floor, the Backyard Lawn produces a grass-textured sound.
References