Ketchup
Jump to navigation
Jump to search
Ketchup
 

 

ケチャップ

 

케첩

 

番茄酱

 

Ketchup

 

Ketchup

 

Kétchup

 

Pullunda

 

Ketchup

 

Кетчуп

Birthday
July 27th
Phrase
Bitty

More languages

 

プチ

 찌익
 噗吱
 plouf
 quaraquack
 cuic-cuic
 pullilol
 tomaatje
 покрякушка

Clothes
Flicker Shirt

*


Rose-Sky Tee

*


Dollhouse Dress (Light Blue)

*

Saying
When in doubt, eat a tomato!


酸いも甘いも

Main Games
Other Games
Ketchup is a peppy duck villager in the Animal Crossing series, who makes her debut in Doubutsu no Mori e+. She is absent in the Animal Crossing series until Animal Crossing: New Leaf's Welcome amiibo update, in which she can be moved into the player's town via her amiibo card. Her name comes from tomato ketchup (tomato sauce), a condiment used oftentimes on sandwiches. This also refers to her appearance, which resembles a tomato. Her English initial phrase is also the name of a snooty hippo villager.
Characteristics
[
edit
]
Appearance
[
edit
]

Ketchup is a red duck that appears similar to a tomato, hence her name. She possesses an orange beak, orange cheeks, black legs and green hair that has the appearance of leaves on her forehead. Her stomach and the tips of her wings are yellow and lime green colored.
Personality
[
edit
]
Below is a brief description of the peppy personality. For more information, click here.
As a peppy villager, Ketchup will appear cheerful and friendly. To some people, she can appear rude. She has a short attention span and may have the tendency to overreact about small things. She will be easy to befriend, taking comfort in those she talks to most. She may, however, feel insulted when talking to snooty or cranky villagers, who may gossip about her or disagree with her style. She gives out comfort to jocks, who are the equivalent to the peppy villagers, along with other peppy villagers. She also gets along well with lazy, sisterly and smug villagers.
Preferences
[
edit
]
In New Leaf

[

edit

]
Picture
When in doubt, eat a tomato!
Biography
Siblings
Eldest triplet
Skill
Chopping vegetables
Goal
Singer
Fear
Werewolf Hood
Favorites
Clothing
Cute
Flashy
Color
Yellow
Coffee
Type
Kilimanjaro
Milk
A little bit
Sugar
One spoonful
Ideal Gifts for Ketchup – Yellow Cute
https://dodo.ac/np/images/3/36/KetchupPicACNL.pngEldest tripletChopping vegetablesSingerWerewolf HoodCuteFlashyYellowKilimanjaroA little bitOne spoonful
In New Horizons

[

edit

]
Ideal Gifts for Ketchup – Light Blue / White Cute Items
https://dodo.ac/np/images/3/36/KetchupPicACNL.pngUnknownUnknownUnknownUnknownUnknownUnknownUnknownUnknownUnknownUnknown
In Doubutsu no Mori e+

[

edit

] Style:
No style
Items:

 

Ranch Cupboard

 

Ranch Bookcase

 

Green Lamp

 

Green Bed

 

CD Player

 

Rally Shirt

 

Blossom Shirt

 

Mama Bear

 

Baby Bear

Wallpaper:
 

Ivy Wall

Floor:
 

Kitchen Tile

Music:
DJ K.K.
In Welcome amiibo

[

edit

] Style:
No style
Items:

 

Brick Oven

 

Whole Pizza

 

Worktable

 

Firewood

 

Firewood

 

Firewood

 

Firewood

 

Cutting-Board Set

 

Picnic Table

Wallpaper:
 

Ivy Wall

Floor:
 

Backyard Lawn

Music:
Neapolitan
RV in Welcome amiibo

[

edit

] Style:
No style
Items:

 

Metal-and-Wood Chair

 

Metal-and-Wood Table

 

Glass Teapot

 

Worktable

 

Whole Pizza

 

Cutting-Board Set

 

Firewood

 

Brick Oven

Wallpaper:
 

Ivy Wall

Floor:
 

Backyard Lawn

Music:
Neapolitan
In New Horizons

[

edit

]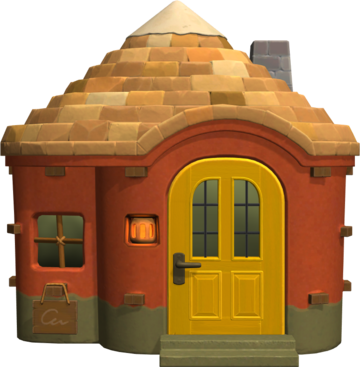 Other appearances
[
edit
]
In Pocket Camp

[

edit

]
Animal Crossing: Pocket Camp Character Info

Needed to Invite:

Required Friendship Level: 5


| | | | | |
| --- | --- | --- | --- | --- |
| | | | | |
| Cutting-Board Set | Brown Lattice Fence | Metal-And-Wood Chair | Picnic Table | Whole Pizza |

Friendship Rewards:


Rose-Sky Tee
and Sparkle Stone


Sparkle Stone


Brick Oven
Craft Unlock
Level 7
Level 9
Level 15


Pic of Ketchup‎‎
and Sparkle Stone


Sparkle Stone


Sparkle Stone

Level 20
Level 25
Level 30

| | | |
| --- | --- | --- |
| Sparkle Stone | Sparkle Stone | Sparkle Stone |
| Level 35 | Level 40 | Level 45 |

Ketchup


Ketchup considers herself to be the poster child for maturity. One mention of a food fight, however, and she's completely off the leash.

 Preferred theme:
 Primary reward:
 Steel
Card profiles
[
edit
]
Animal Crossing: New Leaf - Welcome amiibo card

Card back

#14 Ketchup

Furniture


Ivy Wall


Backyard Lawn


Brick Oven


Cutting-Board Set


Firewood


Glass Teapot


Metal-and-Wood Chair


Metal-and-Wood Table


Whole Pizza

Gallery
[
edit
]
Names in other languages
[
edit
]
ケチャップ


Kechappu

Ketchup

---

케첩


Kecheop

Ketchup

---

番茄酱




---

Кетчуп


Ketchup

-

---

Ketchup

-

---

Pullunda

---

Kétchup

Ketchup

---

Ketchup

Same as English name.

---

Ketchup

-
ケチャップKechappuKetchup케첩KecheopKetchupUnknownUnknown-番茄酱UnknownUnknownUnknownUnknownUnknownКетчупKetchup-Ketchup-PullundaKétchupKetchupUnknownUnknownKetchupSame as English name.UnknownUnknownKetchup-UnknownUnknown