Re-Tail
From Nookipedia, the Animal Crossing wiki

Re-Tail


Exterior

Interior
Music (New Leaf)
https://nookipedia.com/wiki/File:NL_Re-Tail.flac
Function
Town shop
Services
Selling items, customizing furniture.
Staff
Cyrus
Reese
Opening Hours
9:00 AM - 11:00 PM
Main appearances
Other appearances

Name in other languages

 

Unknown

 

Unknown

 

Unknown

 

Unknown

 

Unknown

 

Unknown

 

Unknown

 

Unknown

 

Unknown

 

Unknown

 

Unknown

 

Unknown
Re-Tail (R·パーカーズ, R·Pākāzu, R. Parkers) is a store in Animal Crossing: New Leaf and is one of the initial stores appearing in the game. Unlike most the stores which are located on Main Street, Re-Tail is located within the town. It is a flea-market run by Reese and Cyrus. Players and Villagers can place their items for sale within the flea-market spaces, Reese will buy or dispose of items from the player, and Cyrus can craft customized furniture. The flea-market makes Re-Tail one of the few places where the rare Sloppy Series can be obtained.
The shop's wallpaper, the Pink Shanty Wall, cannot be obtained in New Leaf but is available to use in Animal Crossing: Happy Home Designer. The shop's carpet, the Oil Stained Floor can be obtained from Cyrus' RV for 3 MEOW Coupons and is also available to use in Happy Home Designer.
Features
[
edit
]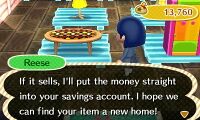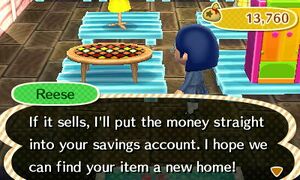 Reese handles all of the purchases and sales in the store. The player is able to sell any unwanted items to Reese for a higher amount than any other store in the game. If the player attempts to sell a junk item such as an old tire, however, Reese will charge them a disposal fee.
On each day of the week except for Sunday, the player can also ask Reese for the current price of white turnips, which changes at noon.
Reese also manages the various sale tables located in the store, which allow players and villagers to purchase or put up items for sale. Occasionally, villagers will enter the store and can be convinced by any player to purchase an item on display. Other players from other villages are also able to purchase items on display from Reese.
If there is flooring or wallpaper on display, the player can see what the flooring/wallpaper will look like by talking to Reese, and this will cause the wallpaper or flooring to be shown on the shop wall or floor, respectively. However, wallpaper and flooring put up by villagers cannot be viewed in this way. When a villager buys wallpaper or flooring that is on display, they won't put it in their house.
Every day, Reese pays twice as much for an item stated on a sign outside the shop.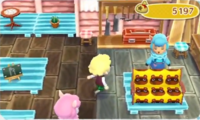 For the first 7 days of the game, Cyrus will be sleeping at his desk, and the player will be unable to speak with him. Once the player has sold 100,000 Bells worth of items to Reese, has at least 100 pieces of furniture and 50 pieces of clothing in the catalog, and has been in town for over 7 days, Cyrus will wake up, and his services will be available. Through Cyrus, the player can make customized furniture using designs. The player can also use other items, such as ores to make custom items. Whenever a furniture item is customized, the item will appear in the player's pockets as a red leaf. If the item is customized with a custom pattern or design, it will appear in the pockets as a yellow leaf and it cannot be attached to a letter, wrapped with wrapping paper, or dropped on the ground.
Gallery
[
edit
]
Screenshots
[
edit
]
Timmy selling an item to Reese.
Names in other languages
[
edit
]
Fundgrube

Treasure trove

---

Reciclaje Bártulos

Bártulos' recycling ("Bártulos" is the surname for both alpacas in the Spanish version. Can be translated as "Chattels")

---

Revente & Retouches

Resell and tuning

---

Ricicla e Ricrea

Reuse and Recreate
In the Japanese version of the game, the name R. Parkers is supposed to be a pun on the word "alpaca," the species of Reese and Cyrus.[1] However, since the Japanese language has one alveolar consonant in place for both "L" and "R", the name is "R. Parkers" and not "L. Parkers."
If one goes to a Japanese town via the Dream Suite, there will be R. Parkers signage instead of Re-Tail. This applies to other non-English towns where Re-Tail is known differently.
References
[
edit
]