Ore
From Nookipedia, the Animal Crossing wiki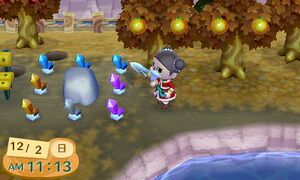 Ores (also called gems or minerals) are items introduced in Animal Crossing: New Leaf. They are colorful crystals that spawn from rocks when struck with a shovel or axe.
Appearances
[
edit
]
In New Leaf

[

edit

]
In Animal Crossing: New Leaf, one ore rock spawns in town each day. When hit with a shovel it will shatter, revealing either an amethyst, emerald, gold nugget, ruby, sapphire, or silver nugget.
If a money rock is hit with a silver shovel, there is a 20% chance that ore will come out of the rock instead of Bells.
Ores can be sold or used at Re-Tail to customize pieces of furniture. In addition, Cyrus can create a random piece of furniture from the Golden Series using three gold ores and 10,000 Bells.
In Pocket Camp

[

edit

]
Minerals are also found in Animal Crossing: Pocket Camp, appearing in Shovelstrike Quarry. Types of minerals that can be obtained include gold, silver, ruby, and sapphire. They can be sold for Bells or used for crafting.
In New Horizons

[

edit

]
In Animal Crossing: New Horizons, while gold ore (now known as gold nuggets) remains and are rarely found from rocks or balloons, other ores are removed from the game and are replaced by stone, clay, and iron nuggets. Gold nuggets can now be used to craft golden tools if the player achieves requirements to earn DIY recipes, as well as items from the Golden Series.
Item list
[
edit
]
In New Leaf

[

edit

]
| Ore | Sell price | Chance of appearing |
| --- | --- | --- |
| Amethyst |  2,000 Bells | 18.2% |
| Emerald |  2,000 Bells | 18.2% |
| Gold nugget |  4,000 Bells | 13.6% |
| Ruby |  2,000 Bells | 18.2% |
| Sapphire |  2,000 Bells | 18.2% |
| Silver nugget |  3,000 Bells | 13.6% |
In New Horizons

[

edit

]
Materials in Animal Crossing: New Horizons
Item

Image

Icon

Available from

Sell price

Recipes

Total needed[nb 1]
Clay
 Rocks

 100 Bells
57
256
Gold nugget
 Rocks

 10,000 Bells
58
154
Iron nugget
 Rocks

 375 Bells
135
702
Stone
 Rocks
 Fishing (Tiny fish)

 75 Bells
73
851
↑

Number of material needed to craft one of everything that requires this material
Includes data sourced from the Data Spreadsheet for Animal Crossing New Horizons, compiled and edited by 6480, noizhub, Ricky, chaiinchomp, saberslime, robotic_scarab, mollumisc, sunmarsh, kyrokey, obstinateRixatrix, jackiwi, Zalex, SuperHamster, kait, hyuum, Azarro, Czarcasm, cinnamon_swirlix, astronomyfortwo, Welcius, glowtopia, BriKun, Alyrei, dodocodes.com, StevieCoops, sneeze, Shiny190, TwistedPeach, LavaToaster, capstone, vmario, rocklamp, Alexis, Aeon, and PanchamBro.
Customizing furniture
[
edit
]
In New Leaf

[

edit

]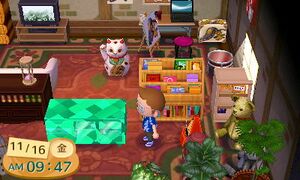 By giving a furniture piece along with an ore to Cyrus, he can create custom, sparkling furniture that is dependent on the color of the ore being used. Once given a piece of furniture and an ore of the appropriate color, the two items will be combined leaving only a single item in the player's inventory. Both the furniture item and the ore must already be in the player's inventory when initiating the dialogue with Cyrus. Offer him one of the pieces of furniture listed below while possessing the corresponding color of ore. This will automatically trigger a dialogue where Cyrus will offer to use the ore to customize the item. Cyrus will also offer the option to use the normal color customization options if the player prefers. Below are the furniture series and colors of ore that will trigger the dialogue when asking to customize furniture at Re-Tail.