Nookling Junction
Jump to navigation
Jump to search

Nookling Junction


Exterior

Staff
Timmy and Tommy
Opening Hours
8:00am - 10:00pm

Number of items available
7
Expenditure for upgrade
10,000 Bell down payment paid to Tom Nook
12,000 Bells spent at Nookling Junction
Days passed before upgrade
10
Main appearances
Other appearances

The Nookling Junction (まめつぶ商店, Mametsubu Shōten?, Mametsubu Shop) is a store in Animal Crossing: New Leaf, owned by Timmy and Tommy. It is located on Main Street, next to the Garden Center. The Junction is the first expansion of Timmy and Tommy's stores, available from the start, and similar to previous games, can be upgraded to bigger and better stores. The first upgrade is T&T Mart, followed by Super T&T, T.I.Y., and finally, the T&T Emporium.
Selection
[
edit
]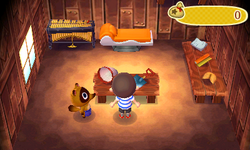 The Nookling Junction's appearance is similar to that of Nook's Cranny found in previous Animal Crossing games. It carries a handful of items to buy:
Upgrading
[
edit
]
For the Nookling Junction to upgrade into T&T Mart, the following prerequisites must first be met:
10,000 Bell home deposit paid to Tom Nook
12,000 Bells spent at the Nookling Junction or 15 items bought at the store.
10 days have passed since town creation
Construction for the upgrade will take one day.