Tammy
Jump to navigation
Jump to search
This article is about Tammy, a sisterly cub villager. For peppy monkey villager with a similar name, see Tammi.

Tammy
 

 

アネッサ

 

아네사

 

然姐

 

Vanessa

 

Tamara

 

Aída

 

Tatjana

 

Tammy

 

Тамми

Birthday
June 23rd
Phrase
ya heard

More languages

 だってサ
 차라리
 竟然说
 竟然說
 grifouille
 ohè
 tararí
 bossi
 weet je
 понимаешь

Clothes
Red Jacket
New Leaf
Hawk Jacket
New Horizons
Saying
If a job is worth doing, do it right!
Main Games
Other Games

Tammy is a sisterly cub villager in the Animal Crossing series, first appearing in Animal Crossing: New Leaf.
Characteristics
[
edit
]
Appearance
[
edit
]
Tammy is a dominantly bright yellow bear cub. She has an orange-colored blush on her cheeks, while she has a brunette tuft of hair. She has pink eyeshadow covering her eyelids, and also has pink inner ears. Tammy's eyes are a shade of dark purple, and a set of three eyelashes are on both of her laid-back, half-full eyes. She has a wide cat-like smile under her black nose and white marks on her legs and mouth.
Personality
[
edit
]
Below is a brief description of the sisterly personality. For more information, click here.
Tammy is a sisterly villager, meaning she is rather blunt, sporty, sister-like and rather tomboyish. She enjoys giving the player advice, mainly on how to win fights, which brings out her very caring, supportive side. Tammy may get along with jock and lazy villagers, though she might find it difficult to converse with snooty villagers, who are quite vain and sometimes rude. She is rather easy to befriend, and is a lot more caring and open about her feelings when befriended.
Preferences
[
edit
]
In New Leaf

[

edit

]
Picture
If a job is worth doing, do it right!
Biography
Siblings
Eldest of 5
Skill
Staying positive
Goal
Movie director
Fear
Skeleton Hood
Favorites
Clothing
Modern
Basic
Color
Purple
Coffee
Type
Blend
Milk
A little bit
Sugar
One spoonful
Ideal Gifts for Tammy – Purple Modern
| Name | Price | Available From |
| --- | --- | --- |
| Harvest Bed | 3,333 | Timmy & Tommy's |
| Harvest Bureau | 3,333 | Timmy & Tommy's |
| Harvest Chair | 3,333 | Timmy & Tommy's |
| Harvest Clock | 3,333 | Timmy & Tommy's |
| Harvest Dresser | 3,333 | Timmy & Tommy's |
| Harvest Lamp | 3,333 | Timmy & Tommy's |
| Harvest Mirror | 3,333 | Timmy & Tommy's |
| Harvest Sofa | 3,333 | Timmy & Tommy's |
| Harvest Table | 3,333 | Timmy & Tommy's |
| Harvest TV | 3,333 | Timmy & Tommy's |
https://dodo.ac/np/images/5/50/TammyPicACNL.pngEldest of 5Staying positiveMovie directorSkeleton HoodModernBasicPurpleBlendA little bitOne spoonful
In New Horizons

[

edit

]
Ideal Gifts for Tammy – Red / Purple Cool and Active Items
Name
Image
Price
Available From

No results
https://dodo.ac/np/images/5/50/TammyPicACNL.pngUnknownUnknownUnknownUnknownUnknownUnknownUnknownUnknownUnknownUnknown
In New Leaf

[

edit

]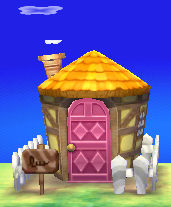 Style:
No style
Items:

 

Alpine Bed

 

Alpine Dresser

 

Large Alpine Table

 

Bromeliaceae

 

Folk Guitar

 

Pickle Jar

 

Radiator

 

Retro Stereo

 

Revolving Spice Rack

 

Simple Armchair

 

Simple Love Seat

 

Minimalist Clock

Wallpaper:
 

Kitschy Wall

Floor:
 

Modern Wood Flooring

Music:
K.K. Disco
In New Horizons

[

edit

]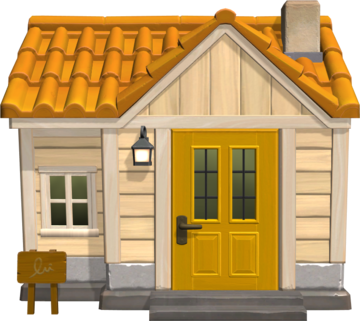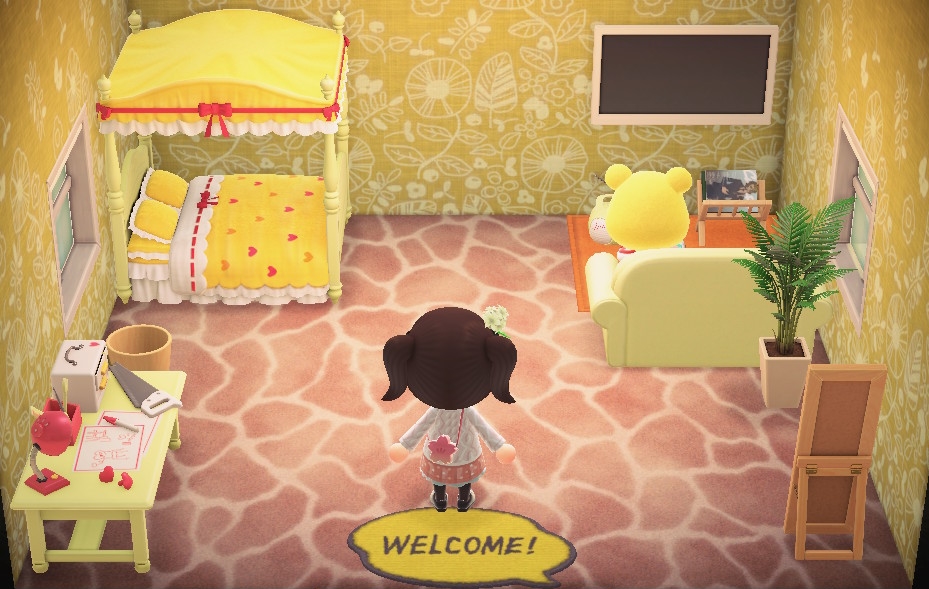 Other appearances
[
edit
]
In Happy Home Designer

[

edit

]
Happy Home Designer House Info

Tammy

| | |
| --- | --- |
| Type: | Cub |
| Client's Vision: | A Halloween-themed place |
| Required Items: | Candelabra, Spooky bed, Spooky table |
| Favorite Song: | Rockin' K.K. |
| Favorite Saying: | If a job is worth doing, do it right! |
In Pocket Camp

[

edit

]
Animal Crossing: Pocket Camp Character Info

Needed to Invite:

  This villager can be unlocked through Blathers's Treasure Trek.

Friendship Rewards:


Red Jacket
and Sparkle Stone


Sparkle Stone


Candy Jar
Craft Unlock
Level 7
Level 9
Level 15


Pic of Tammy‎‎
and Sparkle Stone


Sparkle Stone


Sparkle Stone

Level 20
Level 25
Level 30

| | | |
| --- | --- | --- |
| Sparkle Stone | Sparkle Stone | Sparkle Stone |
| Level 35 | Level 40 | Level 45 |

Tammy


Tammy says she's never been sick a day in her life or asked for a favor in any way. It's hard to believe, though. No one can back up her claims!

 Preferred theme:
 Primary reward:
 Steel
Card profiles
[
edit
]
Happy Home Designer amiibo card

[

edit

]
Animal Crossing amiibo card

Card back

#347 Tammy -

Series 4

| | |
| --- | --- |
| Type: | Cub |
| Star sign: | Cancer |
| Birthday: | June 23rd |
| Dice value: | 2 |
| Hand sign: | Scissors |
Gallery
[
edit
]
Names in other languages
[
edit
]
アネッサ


Anessa

Anessa

---

아네사


Anesa

From Japanese name

---

然姐


rán jiě

---

Тамми


Tammi

Tammy

---

Tammy

-

---

Tatjana

-

---

Aída

-

---

Vanessa

-

---

Tamara

-
アネッサAnessaAnessa아네사AnesaFrom Japanese nameUnknownUnknown然姐Unknownrán jiěUnknownUnknownUnknownUnknownТаммиTammiTammyTammy-Tatjana-Aída-UnknownUnknownVanessa-UnknownUnknownTamara-UnknownUnknown