Phoebe
Jump to navigation
Jump to search
Phoebe
 

 

ヒノコ

 

휘니

 

火鸟

 

Faustine

 

Fenicia

 

Avelina

 

Philippa

 

Phoebe

 

Фиби

Birthday
April 22nd
Phrase
sparky

More languages

 アツイわ
 아뜨뜨
 好热
 好熱
 chanmé
 behmù
 equilicuá
 pieks
 vonkje
 искорка

Clothes
Flame Tee
Prior to New Horizons
Front-Tie Tee (Black)
New Horizons
Saying
You can't keep a good bird down.
Main Games
Other Games

Phoebe is a sisterly ostrich villager in the Animal Crossing series. She first appeared in Animal Crossing: New Leaf. Both Phoebe's English and Japanese names are plays on the mythical phoenix, known as hinotori in Japanese. Hinoko can also mean "sparks".
Characteristics
[
edit
]
Appearance
[
edit
]
Phoebe is an orange-red and brilliant yellow ostrich with spotted wings, a salmon beak and striped legs. She has a yellow-orange blush on her cheeks and navy eyelashes. She has visible spots and patterns on her wings and tail. These patterns resemble a peacock's tailfeathers. Her appearance is based on a phoenix. Her description in Pocket Camp also refers to the longevity of this mythical bird.
Personality
[
edit
]
Below is a brief description of the sisterly personality. For more information, click here.
Having the sisterly personality, Phoebe will be the elder sister figure of the player in the game. She may sometimes be mistaken as a peppy villager, the counterpart of jock villagers, since she frequently expresses her love of sports while in a conversation with the player. Phoebe enjoys a laid-back and peaceful life, often expressing her discontent about the cranky and snooty villagers who enjoy spreading rumors about other villagers. She may be considered a more free-spirited and adventurous version of normal villagers, and is the female counterpart of smug villagers.
Preferences
[
edit
]
In New Leaf

[

edit

]
Picture
You can't keep a good bird down.
Biography
Siblings
Fifth of six
Skill
Eating frequently
Goal
Swimmer
Fear
Skeleton Hood
Favorites
Clothing
Ornate
Iconic
Color
Yellow
Coffee
Type
Kilimanjaro
Milk
A little bit
Sugar
One spoonful
Ideal Gifts for Phoebe – Yellow Ornate
https://dodo.ac/np/images/f/fd/PhoebePicACNL.pngFifth of sixEating frequentlySwimmerSkeleton HoodOrnateIconicYellowKilimanjaroA little bitOne spoonful
In New Horizons

[

edit

]
Ideal Gifts for Phoebe – Black / Red Gorgeous and Cool Items
https://dodo.ac/np/images/f/fd/PhoebePicACNL.pngUnknownUnknownUnknownUnknownUnknownUnknownUnknownUnknownUnknownUnknown
Phoebe enjoys furniture using the same color scale as her, such as black, purple, indigo and red. She has a Gorgeous Bed, a Mini Squelchoid, two Simple Love Seats, a Glass-Top Table, a Poinsettia, an Electric Guitar and a Fireplace. Her house uses the Checkered Tile and Backgammon Wall. The Turntable in her house plays K.K. Flamenco.
In New Horizons

[

edit

]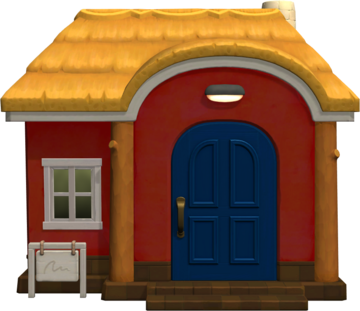 Other appearances
[
edit
]
In Pocket Camp

[

edit

]
Animal Crossing: Pocket Camp Character Info

Needed to Invite:

| | | | | |
| --- | --- | --- | --- | --- |
| | | | | |
| Tiki Torch | Beacon Fire | Campfire Cookware | Natural Fence | Natural Bench |

Friendship Rewards:


Flame Tee
and Sparkle Stone


Sparkle Stone


Gas Pump
Craft Unlock
Level 7
Level 9
Level 15


Pic of Phoebe‎‎
and Sparkle Stone


Sparkle Stone


Sparkle Stone

Level 20
Level 25
Level 30

| | | |
| --- | --- | --- |
| Sparkle Stone | Sparkle Stone | Sparkle Stone |
| Level 35 | Level 40 | Level 45 |

Phoebe


Phoebe definitely knows the secret to a long life... and it turns out to just be taking things slow and remembering your vitamins.

 Preferred theme:
 Primary reward:
 Steel
Card profiles
[
edit
]
Animal Crossing amiibo card

Card back

#135 Phoebe -

Series 2

| | |
| --- | --- |
| Type: | Ostrich |
| Star sign: | Taurus |
| Birthday: | April 22nd |
| Dice value: | 1 |
| Hand sign: | Paper |
Gallery
[
edit
]
Artwork
[
edit
]
Sprites & Models
[
edit
]
Screenshots
[
edit
]
Names in other languages
[
edit
]
ヒノコ


Hinoko

"火の粉 (hinoko)" means fire sparks.

---

휘니




Wheeny

---

Phoebe

-

---

Philippa

-

---

Avelina

"Avelina" can be roughly translated to "Birdie"

---

Faustine

French given name

---

Fenicia

Probably from "Fenice" which means "Phoenix" in Italian
ヒノコHinoko"火の粉 (hinoko)" means fire sparks.휘니WheenyUnknownUnknownUnknownUnknownUnknownUnknownUnknownUnknownPhoebe-Philippa-Avelina"Avelina" can be roughly translated to "Birdie"UnknownUnknownFaustineFrench given nameUnknownUnknownFeniciaProbably from "Fenice" which means "Phoenix" in ItalianUnknownUnknown