Frita
Jump to navigation
Jump to search


Species
Personality
Gender
Sheep
Sisterly (Uchi)
Female
Birthday
July 16th
Quote
"Don't sweat the small potatoes."
Catchphrase
"oh ewe"
Clothing
Reggae Tee[nb 1]
Hot-Dog Costume[nb 2]
Main appearances
Other appearances
Name in other languages


 ウェンディ
 웬디
 Landa
 Martina

 温蒂
 Clarabêl
 Ovinia
 Frita

 溫蒂
 Clarabêl
 Ovinia
 Фрита

Phrase in other languages


 だポテ
 포테토
 beee la la
 knuddel

 薯薯
 mouêêê
 berebé
 ooi zeg

 薯薯
 mouêêê
 berebé
 мутончик
Frita is a sisterly, sheep villager in the Animal Crossing series. She first appeared in Animal Crossing: New Leaf. Her name comes from fritas, meaning "fries" in Portuguese. Her Japanese name is the same as the English name of Wendy, another sheep villager. Her initial catchphrase, "oh ewe", is a pun on "oh you", a phrase meant as a reply to a clever or cheeky statement, and "ewe", a female sheep.
Characteristics
[
edit
]
Appearance
[
edit
]

Frita has yellow-colored wool which resemble French fries, and the back of her head resembles a hamburger. Her face also resembles a potato. She has ruddy cheeks and freckles, as well as round, light blue eyes. Her face, arms, and legs are all brown and her horns are yellow with red stripes.
Personality
[
edit
]
Below is a brief description of the sisterly personality. For more information, click here.
Frita is a sisterly villager, which means she will act like a bodyguard to the player. She will be easy to befriend for this reason. She will care deeply about how she looks and will often give the player tips on how to relax. However, due to her bodyguard-likeness, occasionally she will give the player fighting tips or assure the player they will beat someone up for being mean to the player. She is similar to a snooty villager and basically will act like a big sister to the player. For instance, if the player talks to Frita after they have been stung by a bee, she will give them medicine. She will get along with jock, peppy and lazy villagers for their shared interests and outlooks on life, but might not get along with cranky and snooty villagers due to their habit of spreading gossip. Frita will fall asleep at 3:00 a.m. and wakes up at 11:00 a.m.
Preferences
[
edit
]
In New Leaf

[

edit

]
Picture
Don't sweat the small potatoes.
Biography
Siblings
Eldest of eight
Skill
Chopping vegetables
Goal
Chef
Fear
Werewolf Hood
Favorites
Clothing
Flashy
Official
Color
Yellow
Coffee
Type
Mocha
Milk
None
Sugar
None
Ideal Gifts for Frita – Yellow Flashy
https://dodo.ac/np/images/2/29/FritaPicACNH.pngEldest of eightChopping vegetablesChefWerewolf HoodFlashyOfficialYellowMochaNoneNone
In New Horizons

[

edit

]
Species
Gender
Personality
Sheep
Female
Sisterly (A)
Birthday
July 16
Catchphrase
oh ewe
Default Clothing
Hot-Dog Costume
Favorite Styles
Active and Cute
Favorite Colors
Yellow and Red
Hobby
Music
Ideal Clothing for Frita – Yellow / Red Active and Cute Clothing
In New Leaf

[

edit

]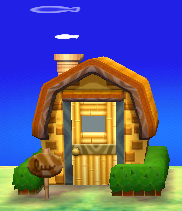 Style:
No style
Items:

 

Picnic Table

 

Picnic Table

 

Dessert Case

 

Salad Bar

 

Kiddie Stereo

 

Soft-Serve Lamp

 

Soda Fountain

 

Soda Case

 

Popcorn Machine

 

Neon Sign

 

Air Conditioner

Wallpaper:
 

Kitchen Wall

Floor:
 

Ceramic Tile

Music:
K.K. Rockabilly
In New Horizons

[

edit

]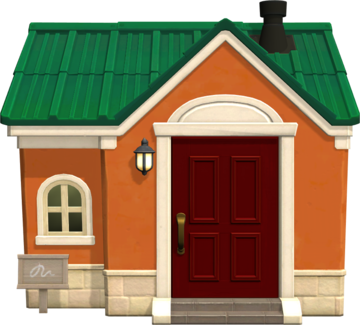 Other appearances
[
edit
]
In Happy Home Designer

[

edit

]
Happy Home Designer House Info

Frita

Type:
Sheep
Client's Vision:
A fast-food restaurant.
Required Items:
Burger meal
Bussing station
Favorite Song:
Señor K.K.
Favorite Saying:
Don't sweat the small potatoes.
Card profiles
[
edit
]
Animal Crossing amiibo card

Card back

#339 Frita -

Series 4

| | |
| --- | --- |
| Type: | Sheep |
| Star sign: | Cancer |
| Birthday: | July 16th |
| Dice value: | 2 |
| Hand sign: | Scissors |
Gallery
[
edit
]
Names in other languages
[
edit
]
ウェンディ


Wendi
Transliteration of Wendy, a reference to Wendy's.

---

웬디


Wendi

Wendy

---




温蒂

 

/

 

溫蒂


Wēndì
Transliteration of Wendy, a reference to Wendy's.

---

Фрита


Frita

Transliteration of her English name.

---

Frita

Same as her English name.

---

Martina

-

---

Ovinia

Derived from "ovino", which means "ovine".

---

Clarabêl

-

---

Landa

-
ウェンディWendiTransliteration of Wendy, a reference to Wendy's.웬디WendiWendyUnknownUnknownUnknown温蒂溫蒂WēndìTransliteration of Wendy, a reference to Wendy's.UnknownUnknownUnknownФритаFritaTransliteration of her English name.FritaSame as her English name.Martina-OviniaDerived from "ovino", which means "ovine".UnknownUnknownClarabêl-UnknownUnknownLanda-UnknownUnknown