Woolio
Jump to navigation
Jump to search
| | | |
| --- | --- | --- |
| | Woolio |   |



Species
Personality
Gender
Sheep
Jock
Male
Star sign
Aries
Catchphrase
"biz-aaa"
Clothing
Dark Polka Shirt
Main appearances
Other appearances
Name in other languages


 ホシオ
 N/A
 Moero
 Wulle

 Unknown
 Moumoute
 Esquilo
 N/A

 N/A
 Moumoute
 Esquilo
 N/A

Phrase in other languages


 ヨロシク
 N/A
 sbaallo
 Unknown

 Unknown
 bêêêê quoi
 Unknown
 N/A

 N/A
 bêêêê quoi
 Unknown
 N/A
Woolio is a jock, sheep villager. His name is a portmanteau of "wool" and "coolio," which reflects on his general appearance. This portmanteau could also be of "wool" and "Julio," a Spanish counterpart of the name "Julian." Woolio's Japanese name is derived from "hoshi," Japanese for "star," which may refer to the green star on his face. A "star" is also a nickname for a celebrity, which he resembles.
Characteristics
[
edit
]

Appearance
[
edit
]
Woolio is a purple sheep who wears dark sunglasses, which give his appearance a popular kid-ish look. When shocked, The glasses will slip down, revealing Woolio's stunned eyes. He has green stars on his cheeks. His horns are patterned red and yellow.
Personality
[
edit
]
Below is a brief description of the jock personality. For more information, click here.
Woolio has a jock personality, which means he will have a keen interest in sport and fitness, making him appear competitive and in some cases rude when talking to other villagers and the player, usually criticizing their fitness or lifestyle. He may appear slow-witted or absent minded when in deep, meaningful conversations which may leave him upset or confused when talking to other villagers, which happens more frequently with cranky or lazy villagers, both of which have opposing lifestyles of calm and relaxation. He will get along well with peppy villagers, who are seen as the female equivalent of the jock in some cases, as they share an active interest in cheerleading and appear hyper active in conversation. He will get along well with normal villagers, but may, on the rare occasion, anger them.
In Animal Crossing

[

edit

]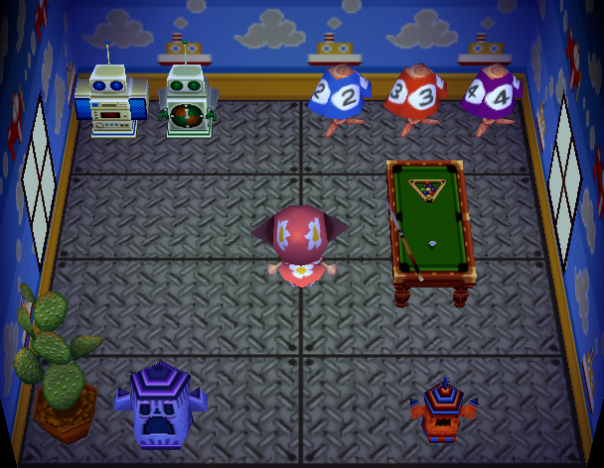 Items:

 

Robo-Stereo

 

Robo-Clock

 

Two-Ball Shirt

 

Three-Ball Shirt

 

Four-Ball Shirt

 

Billiard Table

 

Mini Cactus

 

Mega Freakoid

 

Mini Fizzoid

Wallpaper:
 

Playroom Wall

Floor:
 

Steel Flooring

Music:
K.K. Ska
Card profiles
[
edit
]
Animal Crossing e-Reader card

[

edit

]
Animal Crossing-e card

Card back

#258 Woolio -

Series 4

Gender:
Male
Species:
Sheep
Clothes:
Dark Polka Shirt
Sign:
Aries
Phrase:
biz-aaa
Password:
i7&z@hiAOcdlQX
3Ih9tbS@6zn5zk
Profile:

 
Woolio can rap with the best of them. But this hopping sheep won't stop until his name is in lights—and in music stores. So put your hands in the air for Woolio! I say Woolio! I say a Woo-woo-woo-woo-woolio!
Gallery
[
edit
]
Names in other languages
[
edit
]
ホシオ


Hoshio

Star

---

Wulle

-

---

Esquilo

-

---

Moumoute

Slang term for "head piece"

---

Moero

-
ホシオHoshioStarUnknownUnknownUnknownUnknownUnknownUnknownUnknownUnknownWulle-Esquilo-UnknownUnknownMoumouteSlang term for "head piece"UnknownUnknownMoero-UnknownUnknown
See also
[
edit
]