Rory
Jump to navigation
Jump to search
Rory
 

 

アーサー

 

아더

 

亚瑟

 

Hercule

 

Ruggero

 

Rogelio

 

Leon

 

Rory

 

Рори

| Species | Personality | Gender |
| --- | --- | --- |
| Lion | Jock | Male |

Birthday
August 7st
Phrase
capital

More languages

 ナハッ
 크릉
 哪哈
 criniou
 excellent
 roar
 ticotaco
 graaah
 koninklijk
 капитально

Clothes
Periwinkle Tee
New Leaf
Sea Hanted Shirt (Blue)
New Horizons
Saying
Set 'em up and knock 'em down.
Main Games
Other Games

Rory is a jock lion villager in the Animal Crossing series. He debuted in Animal Crossing: New Leaf, and is featured on the game's cover. Rory's design is based on the traditional iconography of Shishi, the Chinese architectural ornament also known as Imperial guardian lions. His name comes from the roar a lion makes.
Characteristics
[
edit
]
Appearance
[
edit
]
Rory is an orange lion with a red-orange mane. His mustache and eyebrows are also red-orange, and are similar rounded shapes. He has white paws, a red-orange tail, and light blue inner ears.
Personality
[
edit
]
Below is a brief description of the Jock personality. For more information, click here.
As a jock villager, Rory will have an interest in physical fitness and sports making him appear competitive when talking to other villagers and the player. He will, despite his competitiveness, appear friendly towards the player but he may offend other villagers, usually snooty or cranky villagers, when he criticizes their fitness and physical appearance, usually making them walk off angry or upset. He will find it difficult to talk to lazy villagers, who have an opposite choice of lifestyle - appearing relaxed and calm, with no interest in physical fitness and an interest in food. He will occasionally be found doing workouts with other villagers, and likes to talk about fitness to other villagers or the player.
Preferences
[
edit
]
In New Leaf

[

edit

]
Picture
Set 'em up and knock 'em down.
Biography
Siblings
Middle triplet
Skill
Tiptoeing
Goal
Firefighter
Fear
Ghost
Favorites
Clothing
Iconic
Ornate
Color
Red
Coffee
Type
Mocha
Milk
Lots
Sugar
Three spoonfuls
Ideal Gifts for Rory – Red Iconic
https://dodo.ac/np/images/7/7c/RoryPicACNL.pngMiddle tripletTiptoeingFirefighterGhostIconicOrnateRedMochaLotsThree spoonfuls
In New Horizons

[

edit

]
Ideal Gifts for Rory – Blue / Red Simple and Active Items
https://dodo.ac/np/images/7/7c/RoryPicACNL.pngUnknownUnknownUnknownUnknownUnknownUnknownUnknownUnknownUnknownUnknown
In New Leaf

[

edit

]
Rory's house contains many items from the Exotic Series. In addition to this, there are also sunflowers and a telescope. K.K. Faire plays on a turntable.
In New Horizons

[

edit

]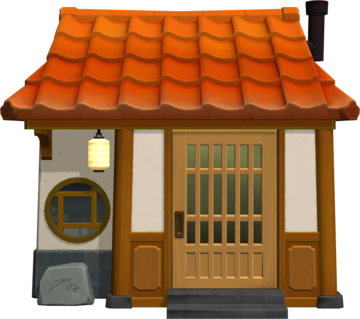 Other appearances
[
edit
]
In Happy Home Designer

[

edit

]
Happy Home Designer House Info

Rory

Type:
Jock Lion
Client's Vision:
An ocean-themed space
Required Items:
Wave breaker
Beach chair
Beach table
Favorite Song:
K.K. Faire
Favorite Saying:
Set 'em up and knock 'em down.
Card profiles
[
edit
]
Animal Crossing amiibo card

Card back

#352 Rory -

Series 4

| | |
| --- | --- |
| Type: | Lion |
| Star sign: | Leo |
| Birthday: | August 7th |
| Dice value: | 2 |
| Hand sign: | Scissors |
Gallery
[
edit
]
Names in other languages
[
edit
]
アーサー


Āsā

Arthur

---

아더


Adeo

-

---

Рори


Unknown

From English name

---

Leon

-

---

Rogelio

-

---

Hercule

-

---

Ruggero

A common Italian male given name. A play on ruggire, "to roar".
アーサーĀsāArthur아더Adeo-UnknownUnknownUnknownUnknownUnknownUnknownUnknownРориUnknownFrom English nameLeon-Rogelio-UnknownUnknownHercule-UnknownUnknownRuggeroA common Italian male given name. A play on ruggire, "to roar".UnknownUnknown