Fuchsia
Jump to navigation
Jump to search


Species
Personality
Gender
Deer
Sisterly (Uchi)
Female
Birthday
September 19th
Quote
"It takes one to know one."
Catchphrase
"girlfriend"[nb 1]
"precious"[nb 2]
Clothing
Dark Polka Tee[nb 3]
Zigzag-Print Dress (Purple)[nb 4]
Main appearances
Other appearances
Name in other languages


 ジェシカ
 제시카
 Fuxia
 Selina

 洁西卡
 Rosanne
 Rosalina
 Fuchsia

 潔西卡
 Rosanne
 Rosalina
 Фуксия

Phrase in other languages


 なんしか
 핑크크
 cervilà
 zick

 西卡
 rosace
 braaaam
 meid

 西卡
 frambou
 braaaam
 зазноба
Fuchsia is a sisterly deer villager in the Animal Crossing series. She first appeared in Animal Crossing: New Leaf. Her name derives from the color of her fur, a shade of pink referred to as fuchsia.
Characteristics
[
edit
]
Appearance
[
edit
]

Fuchsia has a bright pink coat, blonde bangs, and deep blue inner ears. Her half-full eyes and nose are colored blue, while her hooves are of a darker shade of pink compared to her coat. She wears golden earrings, pink lipstick and light purple eye shadow.
Personality
[
edit
]
Below is a brief description of the sisterly personality. For more information, click here.
Fuchsia is a sisterly villager, meaning she is very caring, tomboyish and proactive. At times, she is quite blunt, not afraid of sharing her own opinion and speaking her mind. She is very concerned about the player, treating them like her little sibling, as she often gives the player advice about numerous things. Fuchsia is very versatile and has many hobbies, causing her to get along with most villagers, such as sporty jocks and laid-back lazy villagers. Snooty and cranky villagers, however, have a hard time conversing with her due to their hobby of gossiping and spreading rumors about others which she dislikes.
Preferences
[
edit
]
In New Leaf

[

edit

]
Picture
It takes one to know one.
Biography
Siblings
Youngest of two
Skill
Home repair
Goal
Makeup artist
Fear
Ghost Mask
Favorites
Clothing
Rock 'n' Roll
Basic
Color
Pink
Coffee
Type
Blue Mountain
Milk
None
Sugar
None
Ideal Gifts for Fuchsia – Pink Rock 'n' Roll
| Name | Price | Available From |
| --- | --- | --- |
| Birthday Shades | - | Birthday |
https://dodo.ac/np/images/b/bb/FuchsiaPicACNH.pngYoungest of twoHome repairMakeup artistGhost MaskRock 'n' RollBasicPinkBlue MountainNoneNone
In New Horizons

[

edit

]
Ideal Gifts for Fuchsia – Pink Cool Items
https://dodo.ac/np/images/b/bb/FuchsiaPicACNH.pngUnknownUnknownUnknownUnknownUnknownUnknownUnknownUnknownUnknownUnknown
Fuchsia's house contains a few items from the Modern Series, including a Modern Bed, Modern Table and Modern Cabinet. She also has a few items usually used for music, such as an instrument and an amp. Fuchsia's house contains many items including a Spotlight, Marshmallow Chair, Makeup Case, Candy Jar and Simple Love Seat. K.K. Rock plays on her stereo, while a plant is placed in front of her Simple Love Seat.
In New Horizons

[

edit

]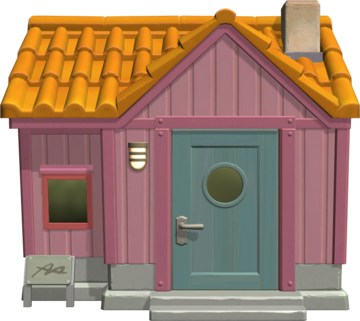 Other appearances
[
edit
]
In Happy Home Designer

[

edit

]
Happy Home Designer House Info

Fuschia

Type:
Deer
Client's Vision:
A hangout for li'l rebels.
Required Items:
Jukebox
Billiard table
Favorite Song:
K.K. Rockabilly
Favorite Saying:
It takes one to know one.
In Pocket Camp

[

edit

]
Animal Crossing: Pocket Camp Character Info

Needed to Invite:

Required Friendship Level: 5


| | | | | |
| --- | --- | --- | --- | --- |
| | | | | |
| Flower Pop Carpet | Fan Palm | Kitschy Clock | Lovely Love Seat (Black and Pink) | Dartboard |

Friendship Rewards:


Dark Polka Tee
and Sparkle Stone


Sparkle Stone


Pinball Machine
Craft Unlock
Level 7
Level 9
Level 15


Pic of Fuchsia‎‎
and Sparkle Stone


Sparkle Stone


Sparkle Stone

Level 20
Level 25
Level 30

| | | |
| --- | --- | --- |
| Sparkle Stone | Sparkle Stone | Sparkle Stone |
| Level 35 | Level 40 | Level 45 |

Fuchsia


Once Fuchsia has decided to do something, she gets it done! It's deciding what to do that's the problem...

 Preferred theme:
 Primary reward:
 Steel
Card profiles
[
edit
]
Animal Crossing amiibo card

Card back

#123 Fuchsia -

Series 2

| | |
| --- | --- |
| Type: | Deer |
| Star sign: | Virgo |
| Birthday: | September 19th |
| Dice value: | 3 |
| Hand sign: | Paper |
Gallery
[
edit
]
Names in other languages
[
edit
]
ジェシカ


Jeshika
Jessica. May be a pun on shika, deer.

---

제시카


Jesika

Jessica

---




洁西卡

 

/

 

潔西卡


Jié xī kǎ

Jessica

---

Фуксия


Fuksiya

-

---

Fuchsia

-

---

Selina

-

---

Rosalina

from rosa, pink in spanish

---

Rosanne

-

---

Fuxia

-
ジェシカJeshikaJessica. May be a pun on shika, deer.제시카JesikaJessicaUnknownUnknownUnknown洁西卡潔西卡Jié xī kǎJessicaUnknownUnknownUnknownФуксияFuksiya-Fuchsia-Selina-Rosalinafrom rosa, pink in spanishUnknownUnknownRosanne-UnknownUnknownFuxia-UnknownUnknown