Megan
From Nookipedia, the Animal Crossing wiki
Megan is a normal bear villager in the Animal Crossing series. She first appeared in Animal Crossing: New Horizons and was added to Animal Crossing: Pocket Camp to coincide with the former's release. As of the release of New Horizons, she is the only normal bear in the series.
Megan has an overall theme that is related to sweets and sweet food. Her Japanese name is Candy (キャンディ). Her photo and poster in New Horizons and her amiibo card artwork feature her holding a pink lollipop. Her catchphrase, sundae, is also related to sweets. Her New Horizons house features a honeycomb wall and a beekeeper's hive, a reference to how bears enjoy eating honey and seek out beehives. It also features a cacao tree, a plant that is used to make chocolate. Finally, her Pocket Camp description directly references her fondness for sweets.
In New Horizons, Megan has the nature hobby and may be found reading a book pertaining to an item she is studying, which can be either flowers, bugs, fish, or fossils.
Characteristics
[
edit
]
Appearance
[
edit
]

Megan is a bright purple bear with a pale purple snout, paws and feet. On the bottoms of her feet, the pads are blue. She has a fringe composed of two large tufts of hair. Her eyes are a large, oval shape, with teal irises and black pupils, and a single eyelash protruding from each eye. The inside of her ears are yellow, and she has three blue freckles on each side of her face. Her nose and mouth are black, and her mouth is usually seen as a smile that is curved up on the left side of her face.
Personality
[
edit
]
Below is a brief description of the normal personality. For more information, click here.
Megan has a normal personality, so she will act shy, but caring toward the player. She will get along well with villagers of any personality type. She will have hygiene concerns, represented when the player visits her house, and she will state her embarrassment at the supposedly unclean appearance of her home. She will mention her interest in reading and the various books she reads. She also will enjoy writing and receiving letters.
Villager information
[
edit
]
In New Horizons

[

edit

]
Birthday
Personality
Catchphrase
March 13
Normal (A)
sundae
Default clothing
Dollhouse dress (Yellow)
Other default clothing
Default umbrella
Raindrop umbrella
Initial NookPhone
   Yellow
Final NookPhone
   Retro - Fabric 15
Favorites
Favorite styles
Cute and Simple
Favorite colors

 

Yellow

and

 

Aqua

Hobby
Nature
Handheld items
Bag
Classy
Book
Gardening/Bug/Fish/Fossil
Food
Sandwich
Drink
Smoothie or coffee cup
Popsicle
Chocolate
Ideal clothing for Megan – Yellow / Aqua Cute and Simple clothing
Villagers prefer clothing that matches any one of their favorite colors or styles.
For brevity, the following list only shows clothing that matches both favorite colors and one favorite style.
In Happy Home Paradise

[

edit

]
Megan
Thought bubble
I'd be thrilled with a dreamy style full of

pastel colors

!
Client's vision
A Place for Dreamy Thrills
Required items
Dreamy Shelves
Cute Floor Lamp
Cute Sofa

Favorite song
 K.K. Disco
Unlocked items

Furniture:

Interior:
Clothing:
In New Horizons

[

edit

]
In Animal Crossing: New Horizons, if Megan is one of the villagers who moved in during the main storyline after the villager house development quest, her house will have a combination of non-craftable furniture, plus items crafted by players during the island development storyline, primarily from the Wooden Series. She cannot have her initial house interior unless she moves out of the player's island or the Happy Home Paradise DLC is purchased, in which either the player or Isabelle can reset the interior.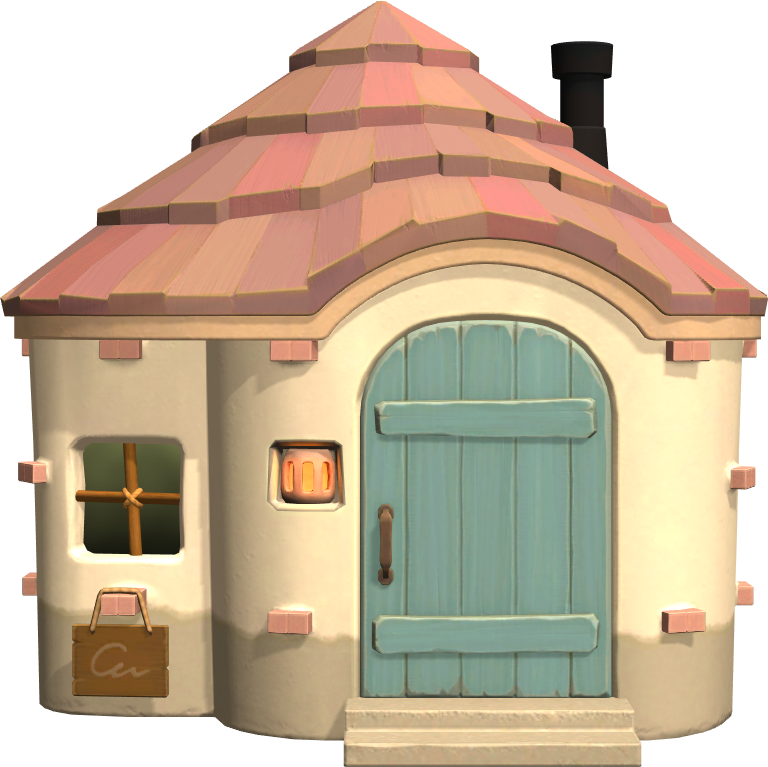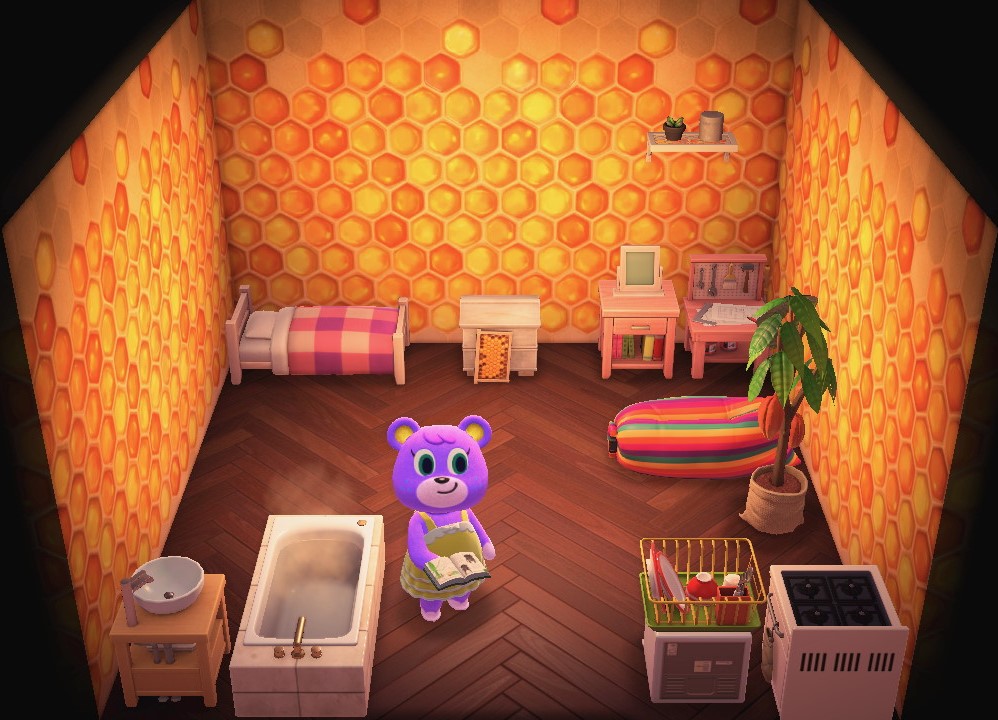 Exterior:
Shape:
Roof:
 

Pink wooden roof

Siding:
 

White clay exterior

Door:
 

Light-green rustic door

Interior:
Items:
Wall:
 Honeycomb Wall
Floor:
 Dark Herringbone Flooring
Music:
 Forest Life [nb 10]
Other appearances
[
edit
]
In Pocket Camp

[

edit

]
Megan was added to Animal Crossing: Pocket Camp on March 20, 2020, coinciding with the release of Animal Crossing: New Horizons.
Birthday
Personality
Catchphrase
March 13
Normal
sundae
Default clothing
Lemon gingham tee
Biography
Description
Megan REALLY loves sweets. In fact, she loves them so much that she has rules in place to keep herself from overindulging. She's only allowed to treat herself after she finishes her daily chores.
Preferred theme
Primary reward
Paper
Version added
3.1.2b
Date unlocked

March 20, 2020

How to invite
 Blathers's Treasure Trek (map obtained on Raymond and Pals' Island)
Friendship rewards
Level 7
Lemon gingham tee
Sparkle stones
Level 9
Sparkle stones
Level 15
Crafting request:
Donut box
Level 20
Megan's photo
Sparkle stones
Level 25[nb 11]
Sparkle stones
Card profiles
[
edit
]
amiibo card
[
edit
]
#426 Megan -

Series 5
| | |
| --- | --- |
| Star sign: | Pisces |
| Birthday: | March 13 |
Gallery
[
edit
]
Names in other languages
[
edit
]
キャンディ


Kyandi
Transliteration of candy.

---

캔디


Kaendi
Same as her Japanese name.

---

糖果


Tángguǒ
Candy

---

糖果


Unknown

---

Меган


Megan
Translation of her English name.

---

Megan

Same as her English name.

---

Dagmar
Female given name of Germanic origin.

---

Carmela
From caramel, related to her Japanese name.

---

Candy

Same as her Japanese name.

---

Dolcinia

From dolce (sweet).
See also
[
edit
]