Norma
Jump to navigation
Jump to search


Species
Personality
Gender
Cow
Normal
Female
Birthday
September 20th
Quote
"If you want what you have, then you'll have what you want."
Catchphrase
"hoof hoo"
Clothing
Red Aloha Shirt[nb 1]
Blue Tartan Tee[nb 2]
Plaid-Print Dress (Fancy Plaid)[nb 3]
Main appearances
Other appearances
Name in other languages


 いさこ
 미자
 Norma
 Nelly

 晨曦
 Norma
 Norma
 Norma

 晨曦
 Norma
 Norma
 Норма

Phrase in other languages


 うふ
 에헤
 mu muuu
 muuuhi

 微笑
 meuh nan
 mu-mu
 boehoe

 微笑
 meuh nan
 mu-mu
 до-ре-му
Norma is a normal, cow villager in the Animal Crossing series. She debuted in Doubutsu no Mori e+, where she was an islander, and after being absent from the Animal Crossing series for over a decade, made a reappearance in Animal Crossing: New Leaf - Welcome amiibo, as the sole normal cow in the game. Her name is a play on "Normal," her personality type.
Characteristics
[
edit
]
Appearance
[
edit
]

Norma is a pink cow with striped yellow and orange horns. She has a tan muzzle, and her hooves are a sky blue color, with dark pink fading from her hooves into her main skin color.
Personality
[
edit
]
Below is a brief description of the normal personality. For more information, click here.
As a villager with the normal personality, Norma will act friendly and motherly towards the player. She will get along well with villagers of any personality type. She will have hygiene concerns, represented when the player visits her house, and she will state her embarrassment at the supposedly unclean appearance of her home. She will mention her interest in reading and the various books she reads. She also will enjoy writing and receiving letters.
Preferences
[
edit
]
In New Leaf

[

edit

]
Picture
If you like what you have, then you'll have what you like!
Biography
Siblings
Second of 3 sisters
Skill
Karaoke
Goal
Teacher
Fear
Bug Mask
Favorites
Clothing
Cute
Rock 'n' Roll
Color
White
Coffee
Type
Mocha
Milk
Lots
Sugar
Three spoonfuls
Ideal Gifts for Norma – White Cute
Second of 3 sistersKaraokeTeacherBug MaskCuteRock 'n' RollWhiteMochaLotsThree spoonfuls
In New Horizons

[

edit

]
Photo
If you want what you have, then you'll have what you want.
Favorites
Style
Cute
Simple
Color
White / Light Blue
Ideal Gifts for Norma – White / Light Blue Cute and Simple Items
https://dodo.ac/np/images/5/53/NormaPicACNH.pngUnknownUnknownUnknownUnknownUnknownUnknownUnknownUnknownUnknownUnknown
In Doubutsu no Mori e+, her house only contains a picture of Tom Nook when first seen. However, she will request from the player the same items that O'Hare would request.
In Animal Crossing: New Leaf - Welcome amiibo, her house/RV resembles a kitchen. If there's a stereo present, it will play Mountain Song.
In New Horizons

[

edit

]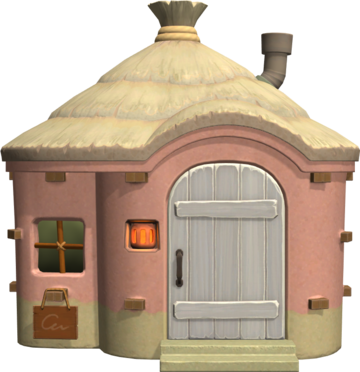 Card profiles
[
edit
]
Welcome amiibo card

[

edit

]
Animal Crossing: New Leaf - Welcome amiibo card

Card back

#41 Norma

Furniture


White Brick Wall


Basement Flooring


Milk Carton


Cheese


Mug


Worktable


Wood Display Stand


Milk Can


Milk Canister

Gallery
[
edit
]
Names in other languages
[
edit
]
いさこ


Isako

-

---

미자


Mija

---

晨曦




---

Норма


Unknown

-

---

Norma

-

---

Nelly

-

---

Norma

-

---

Norma

-

---

Norma

-
いさこIsako-미자MijaUnknownUnknown-晨曦UnknownUnknownUnknownUnknownUnknownНормаUnknown-Norma-Nelly-Norma-UnknownUnknownNorma-UnknownUnknownNorma-UnknownUnknown