Flash
From Nookipedia, the Animal Crossing wiki
| | | |
| --- | --- | --- |
| | Flash |   |



Species
Personality
Gender
Bird
Cranky
Male
Star sign
Gemini
Catchphrase
"babe"
Clothing
Blue aloha shirt
Umbrella
Bumbershoot
Main appearances


Other appearances

Phrase in other languages

 

チルチル

 

N/A

 

flash

 

schätzchen
Flash is a cranky bird islander in the Animal Crossing series who appears in Doubutsu no Mori+, Animal Crossing, and Doubutsu no Mori e+. His Japanese catchphrase, chiruchiru, is an onomatopoeia for a bird's chirp.
Characteristics
[
edit
]
Appearance
[
edit
]
Flash is a dapper-looking blue bird with blocky, closed eyes. He has a pink-red beak and feet while wearing a straw hat. Under his beak is an orange and yellow mark which covers his entire chin, and up to his beak. He also has a swirl of dark blue hair and the tip of his tail and wings are the same color as his chin.
Personality
[
edit
]
Below is a brief description of the cranky personality. For more information, click here.
Due to being an islander, Flash's cranky personality is different than the normal cranky personality behavior. While cranky villagers are rude, easily angered, and belittling, Flash acts more like the smug personality introduced in Animal Crossing: New Leaf, being gentlemanly and polite, but also arrogant and conceited. This behavior is also shared with O'Hare and Rowan, the other cranky islanders.
Villager information
[
edit
]
In Animal Crossing

[

edit

]
As an islander in Animal Crossing, Flash has a favorite fruit and one he is allergic to. He is allergic to peaches and loves cherries, meaning giving him the former reduces the likelihood of him dropping Bells, and giving him the latter increases the likelihood of him dropping Bells.
In Animal Crossing

[

edit

]
As an islander, Flash's house in Animal Crossing will begin with only one furniture item, along with the exotic wall and bamboo flooring. He will request specific items for the player to give to him, which he will place in his house. After he places two items in his house, he will upgrade his wallpaper, and after he places five items, he will upgrade his flooring. Harry requests for the same items as Flash, although his house has different wallpaper and flooring.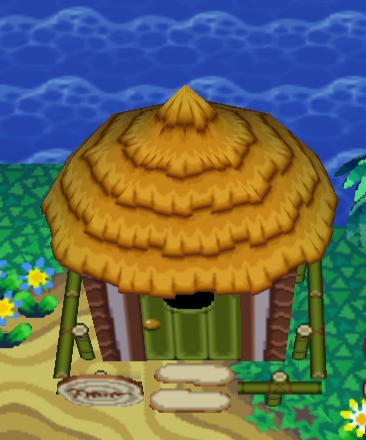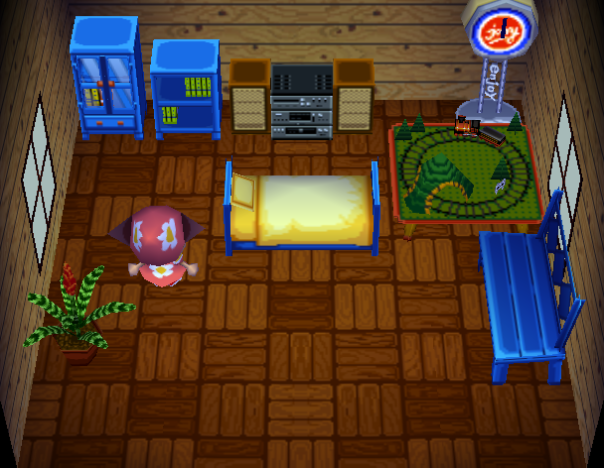 Card profiles
[
edit
]
Animal Crossing e-Reader card

[

edit

]
#042 Flash -

Series 1

Gender:
Male
Sign:
Gemini
Clothes:
blue aloha shirt
Petphrase:
babe
Profile:
Flash dreams of an eternal summer. When he welcomes you to his island paradise, you'll be taken in by all his smooth talk. Relaxing, swimming, surfing... Actually, it does sound like the perfect life!
Password:
zzUo#JtnxIWsnY
w5mksTn5wRJaAf
Gallery
[
edit
]
Names in other languages
[
edit
]
みちる


Michiru
Can translate to many different things, such as to grow up, to rise, and to be full (i.e. full moon)

---

Flo
-

---

Mauro
Common name in the northern Mediterranean

---

Maurice

Possibly a reference to Mauritius (l'île Maurice in French), or to Maurice Chevalier and his trademark boater hat

---

Baleno

From baleno, "flash"
See also
[
edit
]