Marlo
From Nookipedia, the Animal Crossing wiki


Species
Personality
Gender
Hamster
Cranky
Male
Birthday
June 26th
Favorite saying
"You gotta walk the walk if you're gonna talk the talk."
Catchphrase
"gabeesh"
Clothing
Café uniform[nb 1]
Doublet (Black)[nb 2]
Umbrella
Bat umbrella
Main appearances


Other appearances

Phrase in other languages

 

所以喽

 

capiche

 

pariente

 

dusseh

 

所以囉

 

capiche

 

pariente

 

короче
Marlo is a cranky hamster villager in the Animal Crossing series. He was added to Animal Crossing: New Horizons as part of the 2.0 Free Update on November 4, 2021, and he was added to Animal Crossing: Pocket Camp between the announcement and release of the New Horizons update. As hinted in his Pocket Camp description, his appearance is based on an archetypal crime boss, and his name likely comes from actor Marlon Brando, who portrayed Don Vito Corleone in the 1972 film adaptation of the 1969 American novel The Godfather. His catchphrase is derived from the word "capisce," an English-Italian slang to ask if a message has been understood, which is also Mafia-associated.
In New Horizons, Marlo has the education hobby and can be seen wearing rimmed glasses, reading a novel while outside, and using a magnifying glass when near certain objects.
Characteristics
[
edit
]
Appearance
[
edit
]
Marlo is a hamster with dark gray coloration on the top half of his head and ears, and a white body and muzzle. He wears tiny, black circular shades which are noticeably smaller than the Tiny Shades that the player can buy. He has droopy eyes, with black pupils which disappear when he is angry. He also has black almond-shaped eyebrows and dark gray paws, with a warm shade of gray in the interior of his ears. He has four black marks resembling whiskers above his mouth. His mouth opens at a slant when angry or upset.
Personality
[
edit
]
Below is a brief description of the cranky personality. For more information, click here.
Marlo is a cranky villager, meaning he is older and more mature compared to other villagers. He will usually get along with snooty and other cranky villagers. He may have trouble getting along with smug and peppy villagers.
Villager information
[
edit
]
In New Horizons

[

edit

]
Birthday
Personality
Catchphrase
June 26
Cranky (B)
gabeesh
Default clothing
Doublet (Black)
Other default clothing
Default umbrella
Bat umbrella
NookPhone
   Black
Favorites
Favorite styles
Cool and Gorgeous
Favorite colors

 

Black

and

 

Brown

Hobby
Education
Handheld items
Bag
Veggie-print
Book
Novel
Food
Chocolate donut
Drink
Tea can or yellow mug
Popsicle
Orange
Ideal clothing for Marlo – Black / Brown Cool and Gorgeous clothing
Villagers prefer clothing that matches any one of their favorite colors or styles.
For brevity, the following list only shows clothing that matches both favorite colors and one favorite style.
In Happy Home Paradise

[

edit

]
Marlo
Thought bubble
I wanna pretend I'm one of those big, fancy

movie stars

.
Client's vision
A Movie-Star Mansion
Required items
Den Chair
Den Desk
Rotary Phone

Favorite song
 K.K. Love Song
Unlocked items

Furniture:

Interior:
Clothing:
Other items:
In New Horizons

[

edit

]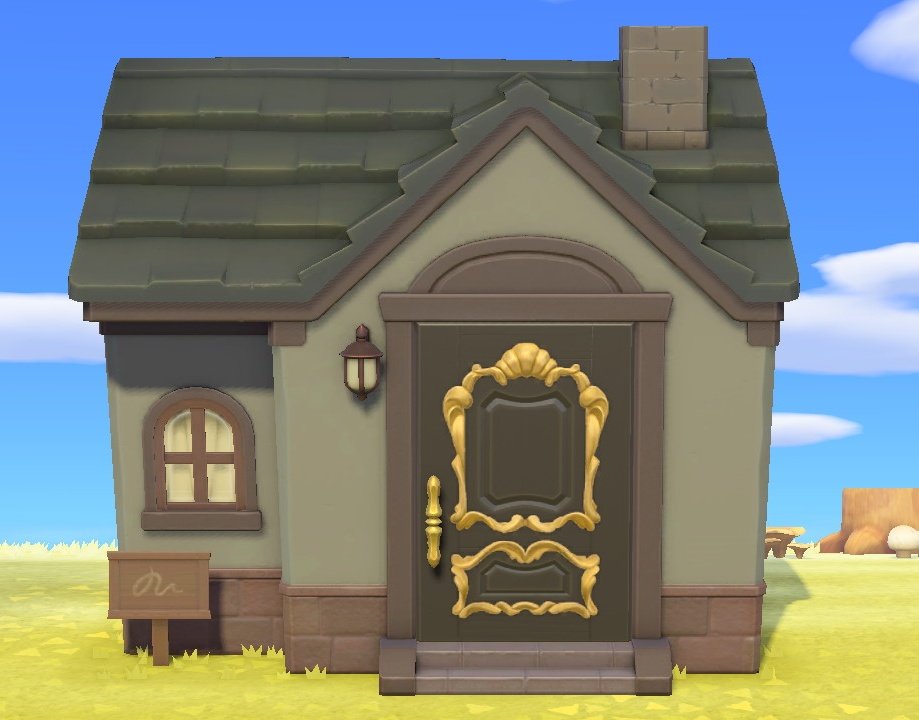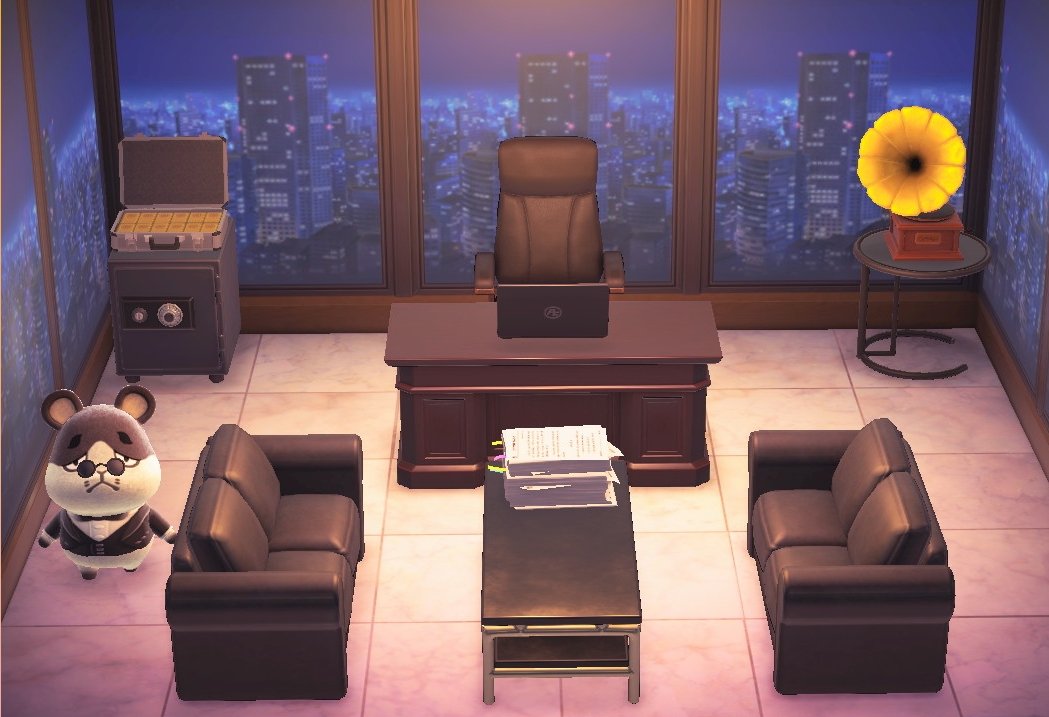 Exterior:
Shape:
Roof:
 

Black slate roof

Siding:
 

Gray stucco exterior

Door:
 

Black fancy door

Interior:
Items:
Wall:
 Cityscape Wall
Floor:
 Stone Tile
Music:
 K.K. Break
Other appearances
[
edit
]
In Pocket Camp

[

edit

]
Marlo was added to Animal Crossing: Pocket Camp on October 28, 2021,[1] before the release of Animal Crossing: New Horizons' 2.0 Free Update.
Birthday
Personality
Catchphrase
June 26
Cranky
gabeesh
Default clothing
Café uniform
Biography
Description
Rumor has it that Marlo runs some sort of underground organization. No one knows for sure because everyone is too afraid to ask.
Preferred theme
Primary reward
Wood
Version added
4.4.2
Date unlocked

October 28, 2021

How to invite
 Blathers's Treasure Trek (map obtained on Ione and Pals' Island)
Friendship rewards
Level 7
Café uniform
Sparkle stones
Level 9
Sparkle stones
Level 15
Crafting request:
Editor's desk
Level 20
Marlo's pic
Sparkle stones
Level 25[nb 11]
Sparkle stones
Card profiles
[
edit
]
amiibo card
[
edit
]
#437 Marlo -

Series 5
| | |
| --- | --- |
| Star sign: | Cancer |
| Birthday: | June 26 |
Gallery
[
edit
]
Names in other languages
[
edit
]
ドンチャン


Donchan
From ドン don (Don), a crime boss, and the pet name suffix チャン chan.

---

보스터


Boseuteo
From 보스 boseu (Boss), and 햄스터 haemseuteo (Hamster).

---

胖督


Pàng dū
Fat governor

---

胖督


Unknown

---

Марло


Marlo
Same as English name.

---

Marlo

Same as English name.

---

Marlo
Same as English name.

---

Marlo
Same as English name.

---

Marlou

Similar to English name. "Marlou" is an obsolete word for a "cunning, strong man."

---

Goffredo

Italian name of Norman origin, equivalent to Geoffrey in English.
See also
[
edit
]
References
[
edit
]
↑ "Some new animal pals are coming to Animal Crossing: New Horizons—but they'll be arriving in Pocket Camp a little early! Allow me to introduce..." @Pocket_Camp on Twitter (October 28, 2021). Archived from the original on August 18, 2022. Retrieved October 28, 2021.