Rooney
Jump to navigation
Jump to search
This article is about the kangaroo villager. For the villager whose Italian name is the same as this villager's French name, see Derwin.

"Bob and weave! Bob and weave!"
— Rooney, Animal Crossing: New Leaf
Rooney
 

 

マイク

 

마이크

 

麦克

 

Mike

 

Balzak

 

Cerillo

 

Robert

 

Rooney

 

Руни

Birthday
December 1st
Phrase
punches

More languages

 やるぜ
 아자
 做就对了
 做就對了
 savate
 balz balz
 chimpón
 bonk
 boks
 хук

Clothes
Black Track Jacket
New Leaf
Sleeveless Parka (Black)
New Horizons
Saying
Bob and weave! Bob and weave!
Main Games
Other Games

Rooney is a cranky kangaroo villager in the Animal Crossing series. He first appeared in Animal Crossing: New Leaf. Along with Walt, he is one of the first male kangaroos to appear in the series, and was the very first to be revealed.
His Japanese name is a reference to Mike Tyson, a world-famous former boxing champion. Relating to this, his English name is a reference to Mike Tyson's trainer, Kevin Rooney, while also being a pun on "kangaroo". His initial catchphrase, "punches", maybe a reference to the boxing kangaroo, the national symbol of Australia, which kangaroos are native to.
Characteristics
[
edit
]
Appearance
[
edit
]
Rooney is a kangaroo who is primarily light blue, with a shiny black nose and a lime green underbelly. A small portion of his tail's underside is also lime green. He has semi-circular eyes with gray eyebrows, green irises and no pupils. The eyes slant downwards, making him appear stern or angry. His ears are lime green on the inside, and appear to be covered with a brown marking resembling hair, which also covers some of his snout. His feet are black, and his hands are red, each hand having a black stripe across it. These traits make it appear as though Rooney is wearing gloves and shoes. Rooney's sporty appearance may cause players to mistake him for a jock.
Personality
[
edit
]
Below is a brief description of the cranky personality. For more information, click here.
As a cranky villager, Rooney will appear mature but unkind. He will be rude to most villagers, including the player at first. Once the player builds a friendship with Rooney, he will appear kinder to them. He will be annoyed by jock villagers for criticising his age and fitness, and peppy villagers, whose childish, upbeat nature runs in opposition to his more sophisticated and grumpy nature. In addition, the arrogance of smug villagers will also inhibit his ability to get along with them. He can sometimes get along with sisterly villagers, but the two tend to clash a lot as both are blunt and heavily opinionated. He will usually get along with normal villagers, who are kind to all personalities, but may upset them with something he says, usually an unpleasant comment concerning another villager. He will get along with most lazy villagers due to admiring their laid-back lifestyle, and snooty villagers due to both personalities being more mature and sophisticated.
Preferences
[
edit
]
In New Leaf

[

edit

]
Picture
Bob and weave! Bob and weave!
Biography
Siblings
Eldest of two
Skill
Doing push-ups
Goal
Boxer
Fear
Bug mask
Favorites
Clothing
Sporty
Modern
Color
Red
Coffee
Type
Blue Mountain
Milk
A little
Sugar
1 spoonful
Ideal Gifts for Rooney – Red Sporty
https://dodo.ac/np/images/8/8b/RooneyPicACNL.pngEldest of twoDoing push-upsBoxerBug maskSportyModernRedBlue MountainA little1 spoonful
In New Horizons

[

edit

]
Ideal Gifts for Rooney – Gray / Black Active Items
https://dodo.ac/np/images/8/8b/RooneyPicACNL.pngUnknownUnknownUnknownUnknownUnknownUnknownUnknownUnknownUnknownUnknown
In New Leaf

[

edit

]
Style:
No style
Items:

 

Blue Corner

 

Boxing Mat

 

Butterfly Machine

 

Cassette Player

 

Exercise Bike

 

Sandbag

 

Sleek Bed

 

Small Spotlight

 

Speed Bag

 

Treadmill

 

Weight Bench

Wallpaper:
 

Shanty Wall

Floor:
 

Modern Tile

Music:
K.K. Adventure
In New Horizons

[

edit

]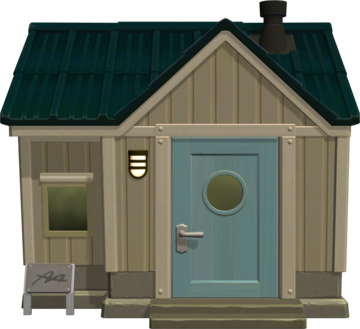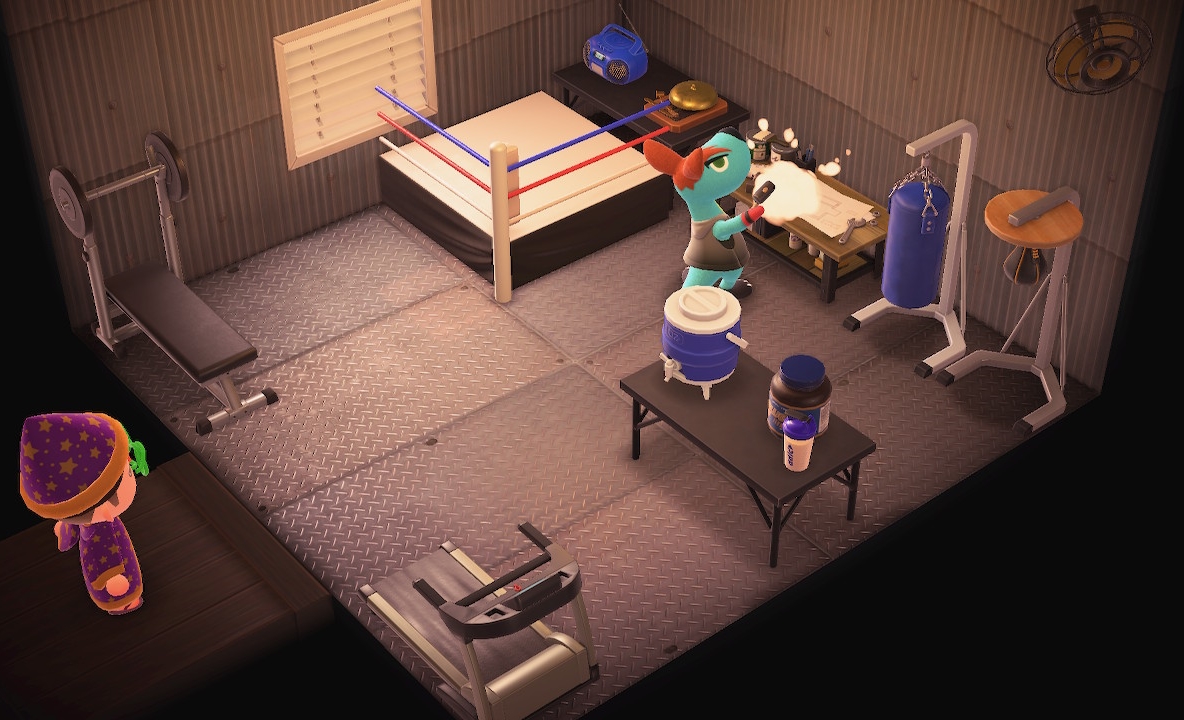 Card profiles
[
edit
]
Animal Crossing amiibo card

Card back

#270 Rooney -

Series 3

| | |
| --- | --- |
| Type: | Kangaroo |
| Star sign: | Sagittarius |
| Birthday: | December 1st |
| Dice value: | 1 |
| Hand sign: | Rock |
Gallery
[
edit
]
Names in other languages
[
edit
]
マイク


Maiku

Mike

---

마이크




Mike

---

麦克


Mài kè

---

Rooney

-

---

Robert

-

---

Cerillo

-

---

Mike

Same as Japanese name.

---

Balzak

From balzo, "leap".
マイクMaikuMike마이크MikeUnknownUnknownMike麦克UnknownMài kèUnknownUnknownUnknownUnknownUnknownRooney-Robert-Cerillo-UnknownUnknownMikeSame as Japanese name.UnknownUnknownBalzakFrom balzo, "leap".UnknownUnknown