Hopkins
Jump to navigation
Jump to search
Hopkins
 

 

プースケ

 

홉킨스

 

风杰

 

Grignote

 

Azeglio

 

Saltiago

 

Poldi

 

Hopkins

 

Хопкинс

Birthday
March 11th
Phrase
thumper

More languages

 ぷぅ (Pū)
 뿌우
 风
 風
 pfiu
 siiigh
 vida extra
 fiiiiú
 puschel
 stamper
 топ-топ

Clothes
Racer Tee

*

Saying
A wise man gives danger a wide berth.


君子危うきに近寄らず

Main Games
Other Games

Hopkins is a lazy rabbit villager from the Animal Crossing series, first appearing in the Japanese exclusive Doubutsu no Mori e+. Like other villagers from this game, he also appears in Animal Crossing: New Leaf - Welcome amiibo as one of the first new characters unveiled. Hopkins' name is derived from "hopping", a common behavior of rabbits, while his catchphrase is a reference to the Bambi character of the same name, who is also a rabbit.
Characteristics
[
edit
]
Appearance
[
edit
]

Hopkins is a bright blue rabbit with dark blue freckles, and thin, blue eyebrows. The inside of his ears are yellow. On the back of his head there appears to be a closed air hole, implying that Hopkins may be a blow up bunny doll.
Personality
[
edit
]
Below is a brief description of the lazy personality. For more information, click here.
Hopkins has a lazy personality, which means he will enjoy eating and sleeping. Being a lazy villager means he gets along poorly with jock villagers, who have opposite life styles. Hopkins also will also not get along with snooty villagers, since he cares little about his physical appearance, which the snooty villager will dislike. Cranky villagers will admire his laid-back life style, and Hopkins will also get along with other lazy villagers due to similar interests and personalities. Hopkins will also get along with normal villagers, who are the female counterparts of lazy villagers, as well as smug and sisterly villagers.
Preferences
[
edit
]
In New Leaf

[

edit

]
Picture
A wise man gives danger a wide berth.
Biography
Siblings
Youngest quintuplet
Skill
Oversleeping
Goal
Chef
Fear
Ghost Hood
Favorites
Clothing
Sporty
Ornate
Color
Yellow
Coffee
Type
Blend
Milk
A little bit
Sugar
One spoonful
Ideal Gifts for Hopkins – Yellow Sporty
https://dodo.ac/np/images/c/c7/HopkinsPicACNL.pngYoungest quintupletOversleepingChefGhost HoodSportyOrnateYellowBlendA little bitOne spoonful
In New Horizons

[

edit

]
Ideal Gifts for Hopkins – Blue / Yellow Simple and Active Items
https://dodo.ac/np/images/c/c7/HopkinsPicACNL.pngUnknownUnknownUnknownUnknownUnknownUnknownUnknownUnknownUnknownUnknown
Hopkins' house in Doubutsu no Mori e+ is the same as Dizzy's house, only that he uses the Plaster Wall and the Kiddie Flooring. Hopkins's house has a slightly childish feel to it, with an Elephant Slide, a Train Set, and a Kiddie Carpet. The rest of his house includes a Blue Chair, a Toilet, a Cabin Bed, an Alarm Clock, a Wee Dingloid, a Mega Timpanoid, a Mega Lamentoid, a One-Ball Shirt, and a Plaster Wall.
In Welcome amiibo, his house and RV are based on a child's room, which has a TV, a couple game consoles and food on the table, which references his Lazy personality. If he has a stereo in his home, it will play I Love You.
In New Horizons, his house is themed after an arcade, with various consoles, a TV, and snack machines.
In Doubutsu no Mori e+

[

edit

]
In Welcome amiibo

[

edit

]
In Welcome amiibo

[

edit

]
In New Horizons

[

edit

]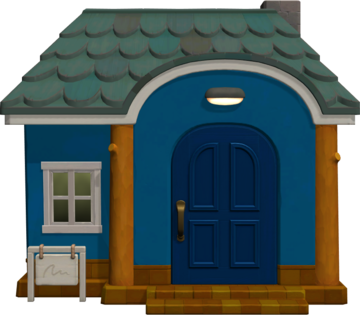 Style:
No style
Items:
Wallpaper:
 

Concrete Wall

Flooring:
 

Cool Vinyl Flooring

Music:
Pondering
Other appearances
[
edit
]
In Pocket Camp

[

edit

]
Animal Crossing: Pocket Camp Character Info

Needed to Invite:

| | | | | |
| --- | --- | --- | --- | --- |
| | | | | |
| Fruit Drink | Fluffy Rug | Round Cushion | Pastel Low Table | Laptop |

Friendship Rewards:


Racer Tee
and Sparkle Stone


Sparkle Stone


Giant Game Boy
Craft Unlock
Level 7
Level 9
Level 15


Pic of Hopkins‎‎
and Sparkle Stone


Sparkle Stone


Sparkle Stone

Level 20
Level 25
Level 30

| | | |
| --- | --- | --- |
| Sparkle Stone | Sparkle Stone | Sparkle Stone |
| Level 35 | Level 40 | Level 45 |

Hopkins


Just a heads-up: Hopkins is not to be trusted. He's always full of hot air. If he wasn't properly moored to the ground, I bet even a light breeze could blow him away.

 Preferred theme:
 Primary reward:
 Wood
Card profiles
[
edit
]
Animal Crossing: New Leaf - Welcome amiibo amiibo card

[

edit

]
Animal Crossing: New Leaf - Welcome amiibo card

Card back

#2 Hopkins

Furniture


Kiddie Wall


Yellow Flooring


Disk Writer


Giant Game Boy


Milk Carton


New Nintendo 3DS XL


Pastel Low Table


Round Cushion


Standing TV

Gallery
[
edit
]
Names in other languages
[
edit
]
プースケ


Pūsuke

-

---

홉킨스


Hopkinseu

Hopkins

---

风杰




---

Хопкинс


Khopkins

-

---

Hopkins

-

---

Poldi

-

---

Saltiago

-

---

Grignote

-

---

Azeglio

-
プースケPūsuke-홉킨스HopkinseuHopkinsUnknownUnknown-风杰UnknownUnknownUnknownUnknownUnknownХопкинсKhopkins-Hopkins-Poldi-Saltiago-UnknownUnknownGrignote-UnknownUnknownAzeglio-UnknownUnknown