Viché
From Nookipedia, the Animal Crossing wiki
"It's Inkopolis News time! Stay fresh!"
— Wisp imitating Viché, Animal Crossing: New Leaf - Welcome amiibo


Species
Personality
Gender
Squirrel
Normal
Female
Birthday
July 7th
Favorite saying
"TWO heads are better than one!"
Catchphrase
"splatastic"
Clothing
Marie shirt
Umbrella
Gelato umbrella
Main appearances


Other appearances

Phrase in other languages

 

N/A

 

marébasse

 

costina

 

N/A

 

N/A

 

marébasse

 

costina

 

N/A
Viché is a normal squirrel villager in Animal Crossing: New Leaf - Welcome amiibo. She bears a resemblance to Marie from Splatoon, whom she cosplays as. Viché is the older sister of Cece.[1]
Viché can only move to the player's town if Marie's amiibo is scanned and she is invited to move in from the campground. She cannot be asked to move in from another player's town or campground.
Characteristics
[
edit
]
Appearance
[
edit
]
As a Marie cosplayer, Viché's overall color scheme consists of light green, white, and black, with the insides of her ears and her nose being yellow and lime, respectively. Her fur is light green, and her hair is a whitish color. She wears a green-and-white hat, and her brown eyes are heavily outlined in black, representing a droopy-eyed mask. She appears to be wearing the Marie shoes and Marie tights.
Personality
[
edit
]
Below is a brief description of the normal personality. For more information, click here.
Like most normal villagers, Viché will be very sensitive and kind. She will be easily upset or offended by other villagers, particularly lazy or cranky villagers. She enjoys the usual hobbies, such as fashion, bug catching, fishing, and furniture. As with all other villagers, she will enjoy the player's company at her house where she may tell the player to "ignore the mess" - a concern she shares with other normal villagers. She will get along well with other normal villagers and peppy villagers, appearing motherly in conversation. She often alludes to Marie and Splatoon in conversation.
Villager information
[
edit
]
In Welcome amiibo

[

edit

]
In Animal Crossing: New Leaf - Welcome amiibo, Viché's skill of "cosplay" references her Marie cosplay. Viché's goal of "illustrator" may be an indirect reference to the gameplay in Splatoon, which involves covering surfaces in ink, much like colorful paint.
Birthday
Personality
Catchphrase
July 7
Normal
splatastic
Default clothing
Marie shirt
Default umbrella
Gelato umbrella
Favorites
Favorite style
Sporty
Least favorite style
Cute
Favorite color

 

None

Biography
Siblings
Eldest of 2 kids
Skill
Cosplay
Goal
Illustrator
Halloween fear
Skeleton hood
Coffee preferences
Type of beans
Blue Mountain
Amount of milk
Lots
Amount of sugar
Three spoonfuls
In Welcome amiibo

[

edit

]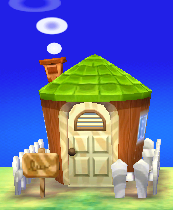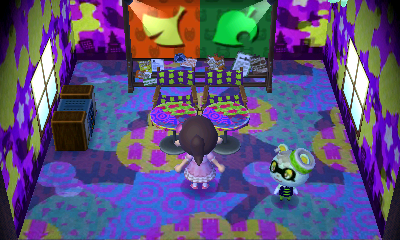 Viché's RV shares its colors with Cece and Inkwell's.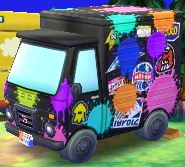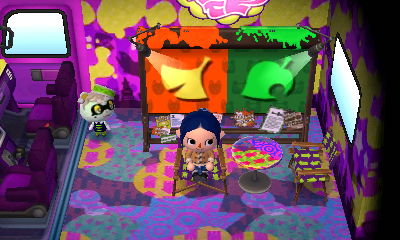 | | |
| --- | --- |
| Description: | Viché and her sister love traveling to different conventions to show off their latest cosplay—now featuring Marie of the Squid Sisters. |
| Items: | |
| Wall: |  Inkopolis Wall |
| Floor: |  Inkopolis Floor |
| Music: |  Bubblegum K.K. |
"Order furniture" in Viché's RV
The player can only order from campers up to three times per day. The items arrive via mail.
Includes data sourced from the Data Spreadsheet for Animal Crossing: New Leaf, compiled by TimeSword3D, AlexBot2004, AlgebraManiacABC, Chubby Bub, Cuyler, HylianAngel, Kalina70, PanchamBro, SuperHamster, and vmario.
Gallery
[
edit
]
Cece and Viché's names combine to form the word "ceviche," a seafood dish. This references how Callie and Marie's names combine to form "calamari," another seafood dish.

Their favorite sayings go together, as well. In Cece's, she says that "Too heads are better than one!", which Viché corrects as "TWO heads are better than one!"
Names in other languages
[
edit
]
みさき


Misaki
Cape

---

미사키


Misaki
Same as Japanese name.

---

L-Pyon
-

---

Ardelta

From ardilla meaning "squirrel," and referencing her sister's name (Arduna).

---

Mara

Referencing the French word calamar, meaning squid or calamari, and her sister's name (Kala).

---

Vicky

Similar to her English name.
See also
[
edit
]
References
[
edit
]