Blaire
Jump to navigation
Jump to search
Blaire
 

 

シルエット

 

실루엣

 

小影

 

Cachou

 

Ghianda

 

Azabache

 

Klara

 

Blaire

 

Блер

Birthday
July 3rd
Phrase
nutlet

More languages

 ふふん

(fu fun)

 헤헤헤

(hehehe)

 哼哼

(hēnghēng)

 coquille
 scrick
 bayita
 ñicuá
 knack
 notendop
 крошка

Clothes
Peachy Tee[nb 1]
Prior to New Horizons
Layered Tank Dress (Berry Red)
New Horizons
Saying
Practice makes perfect.
Main Games
Other Games

Blaire is a snooty squirrel villager from the Animal Crossing series that resembles a skunk. She has appeared in every game so far, except Pocket Camp.
Characteristics
[
edit
]
Appearance
[
edit
]

Blaire is a squirrel, although she closely resembles a skunk. Her skunk-like appearance might in fact be a play on words of her assigned "snooty" personality, as the term "skunk" can also be used to refer to a contemptible person. She has a caramel-brown nose. She has three white stripes on her forehead and white eyelashes. The insides of her ears are brown. Due to her seemingly innocent appearance, players could mistake her for a normal or even a peppy villager. Her appearance is quite similar to Tasha, another snooty squirrel.
Personality
[
edit
]
Below is a brief description of the snooty personality. For more information, click here.
Blaire has a snooty personality, which means that she is very concerned about fashion, often talking about her appearance to the player and to other villagers. Blaire may seem a little haughty toward strangers; once players spend time with her, she may warm up to them. She will also chat with players about past relationships, which goes along with her snooty personality. Cranky, normal and smug villagers will find it easy to get along with Blaire. However, lazy, peppy and jock villagers typically get into arguments with her.
Preferences
[
edit
]
In Wild World

[

edit

]
Ideal Clothing for Blaire – Fancy
https://dodo.ac/np/images/b/b5/BlairePicACNL.pngUnknownUnknownUnknownUnknownFancyCoolUnknownUnknownUnknownUnknown
In City Folk

[

edit

]
Favorites
Clothing
Fancy
Cool
Furniture Genre
Trendy/Dignified
Furniture Series
Ranch
Furniture Color
Orange
Ideal Furniture for Blaire – Orange Trendy/Dignified
https://dodo.ac/np/images/b/b5/BlairePicACNL.pngUnknownUnknownUnknownUnknownFancyCoolOrangeUnknownUnknownUnknown
In New Leaf

[

edit

]
Picture
"Practice makes perfect"
Biography
Siblings
Fourth of 5 kids
Skill
Calligraphy
Goal
Doctor
Fear
Werewolf Hood
Favorites
Clothing
Official
Flashy
Color
Orange
Coffee
Type
Blend
Milk
None of all
Sugar
None of all
Ideal Gifts for Blaire – Orange Official
https://dodo.ac/np/images/b/b5/BlairePicACNL.pngFourth of 5 kidsCalligraphyDoctorWerewolf HoodOfficialFlashyOrangeBlendNone of allNone of all
In New Horizons

[

edit

]
Ideal Gifts for Blaire – Orange / Brown Gorgeous and Elegant Items
https://dodo.ac/np/images/b/b5/BlairePicACNL.pngUnknownUnknownUnknownUnknownUnknownUnknownUnknownUnknownUnknownUnknown
Blaire has a citrus-themed house, along with some red furniture. The music that is played in her house is "K.K. Jazz" when she has a stereo. The wallpaper in her house is Citrus Wallpaper and her flooring is Ceramic Tile. Her house is very similar to Eloise's.
In New Leaf, her favorite theme is now changed to "K.K. Island."
In New Horizons

[

edit

]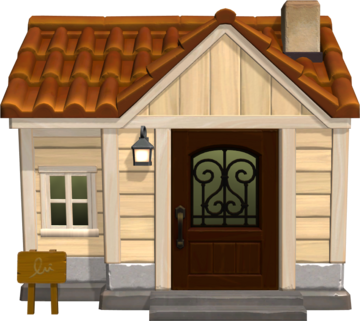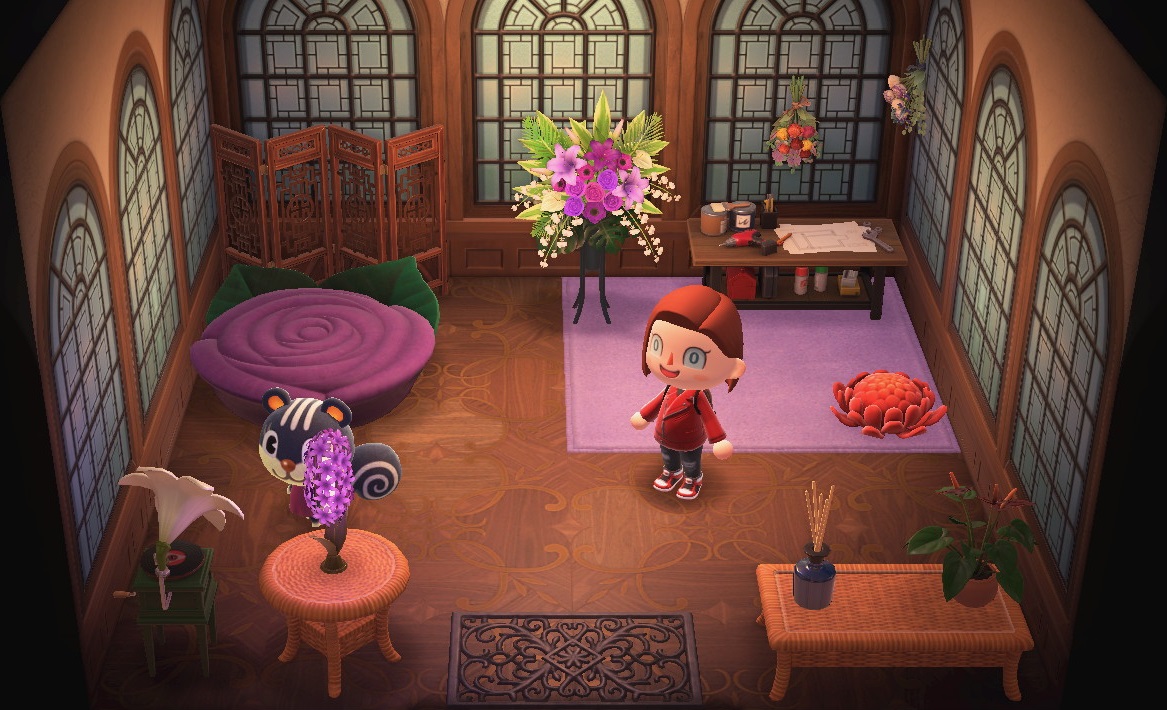 Card profiles
[
edit
]
Animal Crossing-e card

Card back

#135 Blaire -

Series 3

Gender:
Female
Species:
Squirrel
Clothes:
peachy shirt
Sign:
Cancer
Phrase:
nutlet
Password:
ptN8vK4yh@J&PS
WKU6#Afqpz5qSr
Profile:

 
Blaire doesn't really worry about anything in life because she figures she can just get by on cuteness alone. It's worked so far, but what happens when she has a problem that cuteness can't solve?
Animal Crossing amiibo card

Card back

#139 Blaire -

Series 2

| | |
| --- | --- |
| Type: | Squirrel |
| Star sign: | Cancer |
| Birthday: | July 3rd |
| Dice value: | 4 |
| Hand sign: | Paper |
Gallery
[
edit
]
Names in other languages
[
edit
]
シルエット


Shiruetto
From silhouette, likewise refers to her black color

---

실루엣


Silluet

Silhouette

---

小云

 (iQue)
Xiǎoyún

Literally "little cloud"

---

小影


Xiǎoyǐng

-

---

Блер


Bler

-

---

Blaire

-

---

Klara

-

---

Azabache

"Jet-black" color

---

Cachou

-

---

Ghianda

Italian word for "acorn"
シルエットShiruettoFrom silhouette, likewise refers to her black color실루엣SilluetSilhouette小云XiǎoyúnLiterally "little cloud"小影UnknownXiǎoyǐng-UnknownUnknownUnknownБлерBler-Blaire-Klara-Azabache"Jet-black" colorUnknownUnknownCachou-UnknownUnknownGhiandaItalian word for "acorn"UnknownUnknown
↑ Called Peachy Shirt prior to New Leaf