Tasha
Jump to navigation
Jump to search


Species
Personality
Gender
Squirrel
Snooty
Female
Birthday
November 30th
Quote
"There's no such thing as a safe secret."
Catchphrase
"nice nice"
Clothing
Leather Jerkin[nb 1]
Shearling Coat[nb 2]
Collarless Coat (Beige)[nb 3]
Main appearances
Other appearances
Name in other languages


 ナターシャ
 나타샤
 Teresa
 Natalja

 娜塔丽
 Nadeige
 Tania
 Tasha

 娜塔麗
 Nadeige
 Tania
 Таша

Phrase in other languages


 やるわね
 굿굿
 munch
 tjaja

 做得好
 ptigri
 pincel
 jaja

 做得好
 ptigri
 bi-buá
 ладно
Tasha is a snooty squirrel from the Animal Crossing series. She made her debut in Doubutsu no Mori e+, which would be her only appearance in any Animal Crossing series media until she made a reappearance in Animal Crossing: New Leaf - Welcome amiibo. This was later followed by an appearance in Animal Crossing: Pocket Camp, as one of several villagers unlockable through Blathers's Treasure Trek.
Characteristics
[
edit
]
Appearance
[
edit
]

Tasha is a squirrel with black fur and blue outlines, along with white inside of her ears and on the lower part of her face. Her appearance is slightly similar to Blaire, another snooty squirrel villager. The way that her eyes are half closed hints that she is uninterested, reflecting on her snooty personality. Her coloration makes her resemble a skunk.
Personality
[
edit
]
Below is a brief description of the snooty personality. For more information, click here.
As a snooty villager, Tasha will appear uptown, classy, and chic. With this, however, she will appear rude, belittling, and snobbish when talking to the player or other villagers in the town, usually criticizing their dress sense or fashion. When talking to the player enough times, she will befriend them but still remain subtly rude. As with all snooty villagers, she has an interest in clothes over other hobbies. She will have problems socializing with other villagers, usually lazy villagers by disagreeing with their choice of lifestyle or getting offended by a jock villager, who has questioned her physical fitness.
Preferences
[
edit
]
In New Leaf

[

edit

]
Picture
There's no such thing as a safe secret.
Biography
Siblings
Third of five
Skill
Photography
Goal
Hairstylist
Fear
Werewolf Hood
Favorites
Clothing
Cute
Historical
Color
Green
Coffee
Type
Mocha
Milk
The regular amount
Sugar
Two spoonfuls
Ideal Gifts for Tasha – Green Cute
https://dodo.ac/np/images/a/a8/TashaPicACNH.pngThird of fivePhotographyHairstylistWerewolf HoodCuteHistoricalGreenMochaThe regular amountTwo spoonfuls
In New Horizons

[

edit

]
Ideal Gifts for Tasha – Beige / Gray Elegant and Gorgeous Items
https://dodo.ac/np/images/a/a8/TashaPicACNH.pngUnknownUnknownUnknownUnknownUnknownUnknownUnknownUnknownUnknownUnknown
In Doubutsu no Mori e+, her house is the same as Buck's, with the difference that she has a Cowhide Rug as carpet and Arched Window wallpaper. She also has K.K. Steppe in her stereo.
In Animal Crossing: New Leaf - Welcome amiibo, her house now resembles a hair styling salon, having furniture items like the Salon Cart and Basket Chair in her house. If Tasha has a stereo in her house, K.K. Disco will play.
In New Horizons

[

edit

]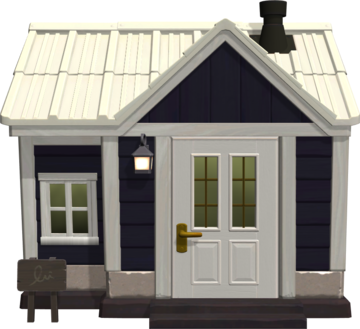 Other appearances
[
edit
]
In Pocket Camp

[

edit

]
Animal Crossing: Pocket Camp Character Info

Needed to Invite:

  This villager can be unlocked through Blathers's Treasure Trek.

Friendship Rewards:


Shearling Coat
and Sparkle Stone


Sparkle Stone


Beauty Salon Cart
Craft Unlock
Level 7
Level 9
Level 15


Pic of Tasha‎‎
and Sparkle Stone


Sparkle Stone


Sparkle Stone

Level 20
Level 25
Level 30

| | | |
| --- | --- | --- |
| Sparkle Stone | Sparkle Stone | Sparkle Stone |
| Level 35 | Level 40 | Level 45 |

Tasha


Tasha has an air of mystery about her... Either she's a secret agent or she's constantly in the throes of planning a surprise party.

 Preferred theme:
 Primary reward:
 Wood
Card profiles
[
edit
]
Welcome amiibo card

[

edit

]
Animal Crossing: New Leaf - Welcome amiibo card

Card back

#50 Tasha

Furniture


Floral Wall


Modern Wood Flooring


Basket Chair


Beauty-Salon Cart


Fruit Drink


Ivy Partition


Metal-and-Wood Table


Rolling Closet


Salon Chair

Gallery
[
edit
]
Names in other languages
[
edit
]
ナターシャ


Natasha

Natasha

---

나타샤


Natasya

Natasha

---

Таша


Tasha

Same as English name

---

Tasha

-

---

Natalja

Same as Japanese name

---

Tania

-

---

Nadeige

French given name

---

Teresa

-
ナターシャNatashaNatasha나타샤NatasyaNatashaUnknownUnknownUnknownUnknownUnknownUnknownUnknownТашаTashaSame as English nameTasha-NataljaSame as Japanese nameTania-UnknownUnknownNadeigeFrench given nameUnknownUnknownTeresa-UnknownUnknown