Fountain
From Nookipedia, the Animal Crossing wiki


Function
Public Works Project (New Leaf)
Services
Axe upgrade (City Folk)
Opening Hours
All day
Main appearances


Other appearances

Names in other languages

 

ふんすい

 

분수

 

fontana

 

Springbrunnen

 

Unknown

 

fontaine

 

fuente

 

Unknown

 

Unknown

 

fontaine

 

fuente

 

Unknown
The Fountain is a landmark in Animal Crossing: City Folk and Animal Crossing: New Leaf, and can be found in both the city and the town. The town's Fountain is also inhabited by Serena. After the player donates 200,000 Bells to the town fund and a bridge has been built, the player can donate an additional 400,000 Bells to the town fund. As a result, a Fountain will be built in front of the Bus Stop a week later.
A fountain adorned with a statue of Serena is situated in the center of the plaza in the city.
In Animal Crossing: New Leaf, the Fountain is one of the many public works projects. It is available by default, costs 99,800 Bells to build, and takes up 4x4 space.
In Animal Crossing: New Horizons, the Fountain is now a furniture item available via crafting. The fountain will also react when the hour chimes on the island, briefly playing a water show.
Golden and Silver Axe
[
edit
]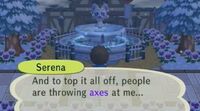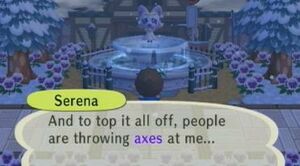 If the player throws a regular Axe into the town's Fountain, the goddess, Serena, will appear and will usually (she occasionally takes the player's Axe without doing so) begin to ask the player a variety of questions, including the type of the axe that was thrown into the Fountain. Depending on how the player answers her questions, she will either return their regular axe, or she will reward them with a Silver Axe, a Golden Axe, or nothing.
This may come from a Korean story/legend. In the story, an old man accidentally lost his axe in a lake. He was crying because he was a poor woodcutter and cutting down trees was his only livelihood. Suddenly a goddess appears in the lake and asks what kind of axe he lost. He said it was an axe made of wood and iron. The goddess was impressed by his truthful answer and rewarded him with a gold axe. When he returned home, his jealous and ambitious cousin heard and went to the lake, where he deliberately threw an axe into the lake. As a result, the same goddess appeared and questioned him about his axe. He said it was an axe made of solid gold, when in truth, it was a simple axe. The goddess was disgusted by his lying and swam down, giving him nothing.
Gallery
[
edit
]
The player throwing an axe into the fountain in Animal Crossing: City Folk
The day the fountain is built, Tortimer can be found standing in front of the newly constructed landmark. Upon talking to the mayor, he will inform the player of the Fountain's completion, and that there would be an opening ceremony. However, he tells the player that he uses the term "ceremony" rather loosely, as all of the town's funds have been depleted by the fountain.[1]
References
[
edit
]
↑ "Of course, I use the term "ceremony" rather loosely, as all our funds have been depleted by the fountain. But you should smile, because smiles are free! And because party hats cost money!" — Tortimer (Animal Crossing: City Folk)