Victoria
Jump to navigation
Jump to search
"Don't put the cart before the horse."
— Victoria, Animal Crossing: New Leaf
Victoria
 

 

セントアロー

 

센트엘로

 

圣萝

 

Victoria

 

Vittoria

 

Victoria

 

Emma

 

Victoria

 

Виктория

Birthday
July 11th
Phrase
sugar cube

More languages

 いくわよ
 달리자
 走哦
 走囉
 susucre
 zolletta
 terroncito
 clic-cloc
 gimazuka
 klontje
 сахарок

Clothes
Racer 6 Shirt
Doub. no Mori e+
One-Ball Tee[nb 1]
Wild World onward
Saying
Don't put the cart before the horse.
CATERWAULING CARROT CAKE!


小船の宵ごしらえ

Main Games
Other Games

Victoria is a peppy horse villager who appears in the Animal Crossing series, being introduced in Doubutsu no Mori e+, and appearing in every game up to Animal Crossing: New Leaf - Welcome amiibo since that point. Considering she looks like a race horse, her name may simply relate to "victory". It could also come from the Victoria Derby, or the famous racehorse Victoria Park. Her Japanese name has been the name of several racehorses, as well as sounding similar to "centaur." Her initial phrase relates to sugar cubes being given to horses as a treat. This catchphrase is very similar to Cleo's catchphrase.
Characteristics
[
edit
]
Appearance
[
edit
]

Victoria is a chestnut-colored horse with an orange mane and tail. She has large, dark eyes with long eyelashes. Her lower nose and ears appear to be darker than the rest of her head, though most of it is obscured by a yellow blinker hood giving her the appearance of a race horse.
Personality
[
edit
]
Below is a brief description of the peppy personality. For more information, click here.
As a peppy villager, Victoria will always be in a good mood. She will get along other villagers including the player, making it easy to befriend her. As with other peppy villagers, she loves candy and sweet food. Peppy villagers take offense quite easily and may walk away upset rather than angry when the wrong things are said in a conversation between her and the player or another villager. She may be the target for cranky villagers' jokes and pranks.
Preferences
[
edit
]
In Wild World

[

edit

]
Ideal Clothing for Victoria – Cute
https://dodo.ac/np/images/8/8e/VictoriaPicACNL.pngUnknownUnknownUnknownUnknownCuteStrangeUnknownUnknownUnknownUnknown
In City Folk

[

edit

]
Favorites
Clothing
Cute
Strange
Furniture Genre
Retro/Playful
Furniture Series
Ranch
Furniture Color
Red
Ideal Furniture for Victoria – Red Retro/Playful
https://dodo.ac/np/images/8/8e/VictoriaPicACNL.pngUnknownUnknownUnknownUnknownCuteStrangeRedUnknownUnknownUnknown
In New Leaf

[

edit

]
Picture
Don't put the cart before the horse.
Biography
Siblings
One of 4
Skill
Playing horseshoes
Goal
Marathon runner
Fear
Wolves
Favorites
Clothing
Sporty
Formal
Color
Red
Coffee
Type
Mocha
Milk
A little bit
Sugar
1 spoonful
Ideal Gifts for Victoria – Red Sporty
https://dodo.ac/np/images/8/8e/VictoriaPicACNL.pngOne of 4Playing horseshoesMarathon runnerWolvesSportyFormalRedMochaA little bit1 spoonful
In New Horizons

[

edit

]
Ideal Gifts for Victoria – Yellow / Orange Active and Simple Items
https://dodo.ac/np/images/8/8e/VictoriaPicACNL.pngUnknownUnknownUnknownUnknownUnknownUnknownUnknownUnknownUnknownUnknown
In Doub. no Mori e+

[

edit

] Style:
No style
Items:

 

Red Boom Box

 

Lullaboid

 

Dingloid

 

Harmonoid

 

Nebuloid

 

Daffodil Chair

 

Elephant Slide

 

Iris Table

 

Refrigerator

 

Stove

 

Alarm Clock

 

Kitschy Clock

 

Glow Clock

 

Red Clock

Wallpaper:
 

Backyard Wallpaper

Flooring:
 

Daisy Meadow

Music:
K.K. Country
In Wild World and City Folk

[

edit

] Style:
No style
Items:

 

Lovely Couch

 

Tulip Chair

 

Tulip Table

 

Watermelon Table

 

Storefront

 

Watering Trough

 

Kitschy Clock

Wallpaper:
 

No Wallpaper

Flooring:
 

No Carpet

Music:
K.K. Country
In New Leaf

[

edit

] Style:
No style
Items:

 

Cactus

 

Phonograph

Wallpaper:
 

No Wallpaper

Flooring:
 

No Carpet

Music:
K.K. Country
In New Horizons

[

edit

]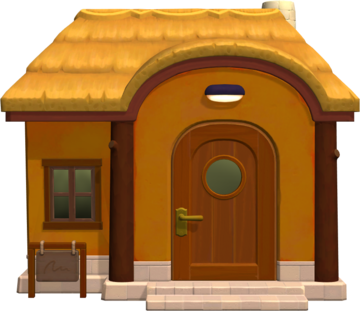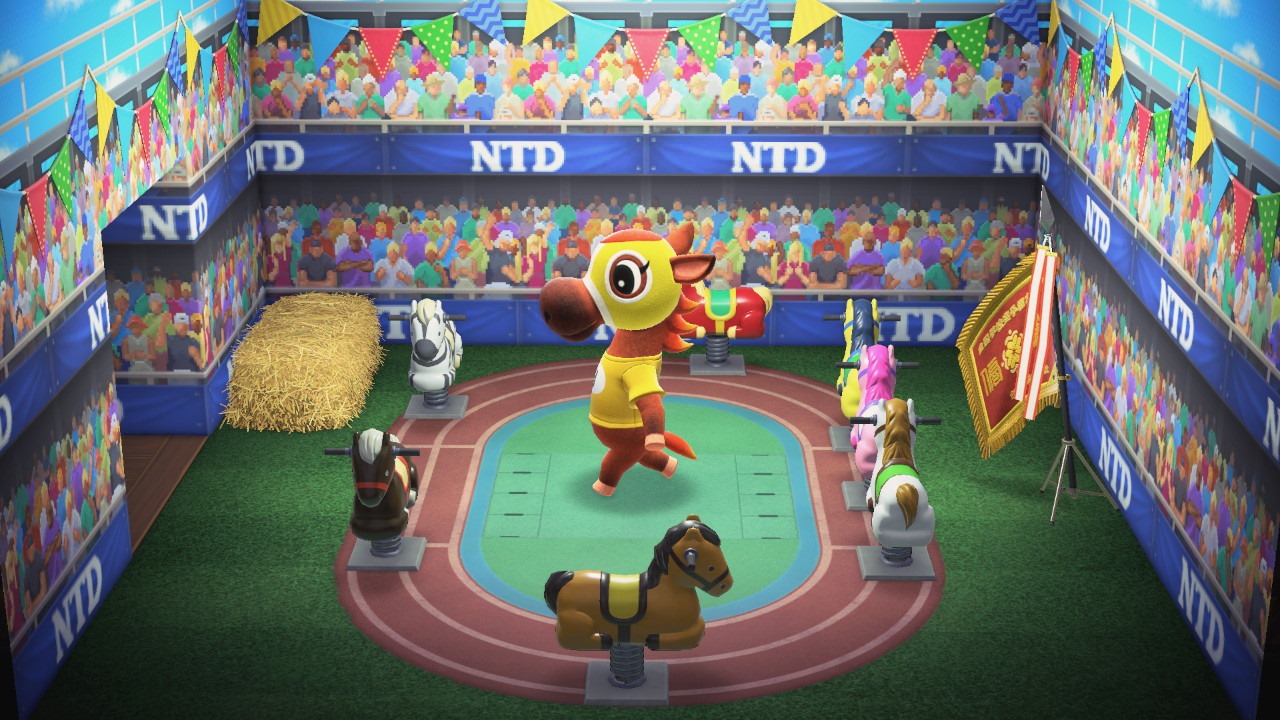 Style:
No style
Items:
Wallpaper:
 

Stadium Wall

Flooring:
 

Racetrack Flooring

Music:
K.K. Adventure
Other appearances
[
edit
]
In Happy Home Designer

[

edit

]
Happy Home Designer House Info

Victoria

| | |
| --- | --- |
| Type: | Peppy Horse |
| Client's Vision: | A lucky yellow room |
| Required Items: | Sunflower Stereo, Yellow Bench |
| Favorite Song: | DJ K.K. |
| Favorite Saying: | Don't put the cart before the horse. |
Card profiles
[
edit
]
Animal Crossing amiibo card

Card back

#280 Victoria -

Series 3

| | |
| --- | --- |
| Type: | Horse |
| Star sign: | Cancer |
| Birthday: | July 11th |
| Dice value: | 6 |
| Hand sign: | Rock |
Gallery
[
edit
]
Names in other languages
[
edit
]
セントアロー


Sentoarō

St. Arrow

---

센트엘로


Sentellow

Similar to Japanese name

---

圣萝


Shèng luó

---

Виктория


Unknown

---

Victoria

-

---

Emma

-

---

Victoria

-

---

Victoria

-

---

Vittoria

-
セントアローSentoarōSt. Arrow센트엘로SentellowSimilar to Japanese nameUnknownUnknownSimilar to Japanese name圣萝UnknownShèng luóUnknownUnknownUnknownUnknownВикторияUnknownVictoria-Emma-Victoria-UnknownUnknownVictoria-UnknownUnknownVittoria-UnknownUnknown
↑ Called One-Ball Shirt prior to New Leaf