Backyard lawn (New Horizons)
From Nookipedia, the Animal Crossing wiki
The backyard lawn is a floor item in Animal Crossing: New Horizons.
The backyard lawn can be obtained from crafting, which requires

30× clump of weeds. The recipe for this item can be obtained from peppy villagers, either when they are crafting in their house, or when the player receives their message bottle from the beach.
This item appears in the homes of

Astrid,

Benedict,

Biskit,

Derwin,

Dizzy,

Dom,

Elmer,

Jitters,

Ketchup,

Mallary,

Scoot,

Winnie, and

Zucker as the default flooring.
In Happy Home Paradise, this item is unlocked for use in designing when doing a vacation home request for

Anabelle,

Astrid,

Bea,

Beau,

Biskit,

Bob,

Butch,

Cally,

Carrie,

Coach,

Curt,

Frett,

Gayle,

Hamlet,

Jitters,

Mac,

Maggie,

Pietro,

Poppy,

Rudy,

Sally,

Scoot,

Sylvia,

Tipper,

Tybalt, and

Winnie. The item can also be unlocked when tasked by Lottie to design the school.
Appearance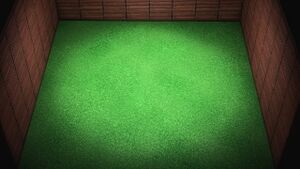 The backyard lawn is an brightly-colored grass floor, featuring a texture that almost resembles AstroTurf.
When stepping on the floor, the backyard lawn produces a grass-textured sound.
Gallery
References