Design
From Nookipedia, the Animal Crossing wiki

Designs are custom-made patterns comprised of 32x32 pixels that can be created in each game (excluding Doubutsu no Mori) through an editing interface. The created design can be applied to clothing, umbrellas, hats, carpeting, and wallpaper. Designs can also be placed as paintings and, from Wild World onward, overlaid on the ground. Designs that are placed on the ground will prevent anything from growing or spawning in that tile and, prior to New Horizons, cause items dropped from trees and fallen balloon presents to disappear if there is not enough space for them to land. In Animal Crossing only, players can also place a design on their front door. In Wild World, Wendell will give out a unique design depending on the type of edible item he is given. In New Leaf and New Horizons, designs can be used to customize furniture. Befriending Sable in the latter game will unlock a variety of pre-made designs that can be applied to certain furniture.
Designs can be displayed in the Able Sisters where villagers may start wearing them and other players may copy the designs for themselves. In Animal Crossing: Wild World and Animal Crossing: City Folk, each player may hold 8 designs on them at a time, although the latter game allow 64 additional designs to be stored with Mabel. Animal Crossing: New Leaf ups the design limit to 10 designs and Mabel will store 72 designs. Animal Crossing: Happy Home Designer allows the player to hold 120 designs. Animal Crossing: New Horizons allows up to 90 designs and 90 pro-designs to be held as of version 1.9.0 though this is shared between all players on the island. Mabel no longer stores designs, but the player can upload up to 130 of their own designs to share with other players. Unlike previous games, there is no way for the player to store designs made by others.
Color palettes
[
edit
]
A design can feature up to 15 different colors. From Animal Crossing until City Folk the editor has 16 pre-configured color palettes that can be selected, however the exact colors within each palette are fixed and cannot be changed. New Leaf has 12 pre-configured color palettes and New Horizons has 14 palettes, but in both games the individual colors in the palette can be fully customized from an expanded range of shades. New Horizons introduces a full HSV color spectrum, allowing for a vastly greater selection of possible colors.
New Leaf and New Horizons designs support transparency, though in the former game transparency is not actually displayed in-game and will instead be rendered as the first color in the design's palette. As there is no in-game mechanism to add transparency in New Leaf this can generally only be achieved through third-party tools. New Leaf designs with transparency information will display this properly if they are imported into New Horizons via NookLink.
Transparency is displayed in New Horizons as an additional color selection that cannot be modified, and does not appear on the palette when creating pro designs. Transparency will be rendered as white if the design is applied to certain objects, such as the Plain Wooden Shop Sign or the town's flag.
Palette
Colors
1
2
3
4
5
6
7
8
9
10
11
12
13
14
15
16
Palette
Colors
1
2
3
4
5
6
7
8
9
10
11
12
13
14
15
16
Colors
1
2
3
4
5
6
7
8
9
10
11
12
13
14
15
16
Pro designs
[
edit
]
Beginning in City Folk, pro designs (formatted as Pro designs in City Folk), which are comprised of multiple different patterns that are applied to different parts of clothing, can be created. Tops can be comprised of separate patterns for the left sleeve, right sleeve, front, and back. New Leaf introduces new styles of pro designs, such as sleeveless and long-sleeve shirts, dresses with all three options for sleeves, and designs that can be applied to the face-cutout standee Public works project. The categories of pro designs that can be created in New Horizons is greatly expanded from previous games, with the addition of sweaters, hoodies, coats, round and balloon-hem dresses, robes, baseball caps, and wide-brim hats. The 1.9.0 Free Update introduces umbrellas, uchiwa fans, and handheld flags, and reintroduces face-cutout standees.
It costs 350 Bells to create a pro design in City Folk, 500 Bells in New Leaf, and is free in Happy Home Designer and New Horizons, though in the latter the Custom Design Pro Editor upgrade must first be purchased for 800 Nook Miles. Variety goods can only be created after purchasing the Custom Design Pro Editor+ upgrade introduced in 1.9.0.
Style
Appearance by game
City Folk
New Leaf
New Horizons
Tops
Tank top
Short-sleeve tee
Long-sleeve
dress shirt
Sweater
Hoodie
Coat
Dress-Up
Sleeveless dress
Short-sleeve
dress
Long-sleeve
dress
Round dress
Balloon-hem
dress
Robe
Headwear
Horned hat
Import from 3DS only
Brimmed Cap
Knit cap
Brimmed hat
Variety Goods
Umbrella
v1.9.0
Uchiwa fan
v1.9.0
Handheld flag
v1.9.0
Face-cutout
standee
v1.9.0
Sharing
[
edit
]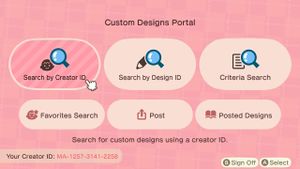 New Leaf and Happy Home Designer can generate QR codes to share custom designs. To unlock the feature in New Leaf, the player must first befriend Sable who will bring in a new sewing machine that will allow them to create and read QR codes. In Happy Home Designer, the machine is available in the upstairs of Nook's Homes after completing the lesson "Even More Designs" in exchange for 5 Play Coins. QR codes are stored as images on the SD card inserted into the Nintendo 3DS. Normal designs use one QR code, but pro designs are comprised of four separate codes. Once the codes have been scanned, a slot must be selected for the design to be saved to.
New Horizons is backwards compatible with QR codes created for these previous titles via the NookLink service of the Nintendo Switch Online app for iOS and Android (Face-cutout standees can only be imported after an update following the release of the 1.9.0 Free Update). The app can scan valid QR codes, saving up to one design at a time and overwriting any previously scanned design. The player must then select the Download function of the Custom Designs NookPhone app to import the design from the app into the game itself. Imported designs retain the formats used in New Leaf, which have different appearances and dimensions to the changed formats used in New Horizons. Importing a Horned hat pro design from New Leaf is the only way to obtain this style of headwear in New Horizons. Although Happy Home Paradise introduces the ability to apply custom designs directly to a character when remodelling their home, designs that were imported from a Nintendo 3DS title cannot be used.
Designs that are created in New Horizons can be shared after befriending Sable once again. In this game, shared designs do not use QR codes. Instead they are uploaded to Nintendo's servers and can be shared with other players by having them input an alphanumeric code. A Nintendo Switch Online subscription is required for this service.
In all games, imported designs cannot be modified. The metadata for each design contains the author's name, their town name, and a hidden identifier. Should this metadata somehow match that of another player, the game will treat the design as if it is their own and allow them to modify it.
Official designs
[
edit
]
Each game in the Animal Crossing series has several designs that have been created by Nintendo. These can be found as the default selection of player-held designs, and a distinct selection are displayed in Able Sisters. Some designs are shown in strategy guides for Animal Crossing, and certain Animal Crossing-e cards can be scanned with an e-Reader to receive exclusive designs. In City Folk, several unique designs were distributed as DLC and were received from Wendell. In New Leaf, many officially-created designs were made available through QR codes on the official website, and others could be directly retrieved from Wendell in Nintendo's official dream towns. In New Horizons some designs have been made available from the official Nintendo design address on the Custom Design portal.
Sable's designs
[
edit
]
After befriending Sable in New Horizons, she will give the player several different categories of textures that can be used when customizing furniture. These categories of patterns can be accessed from a workbench when customizing furniture items that have fabrics. With the Ver. 2.0 update, these patterns can be worn as clothing or applied to walls and floors inside the player's house, similar to how regular designs can be used. Additionally, Happy Home Paradise adds one new category to these designs: Variety.
None
Polka-dot print
Striped
Checkered 1
Checkered 2
Traditional 1
Traditional 2
Retro
Natural
Playful
Cool
Variety (only available with Happy Home Paradise)
Gallery
[
edit
]
Sprites and models
[
edit
]
Screenshots
[
edit
]

Fashion